Spiga = Deliciousness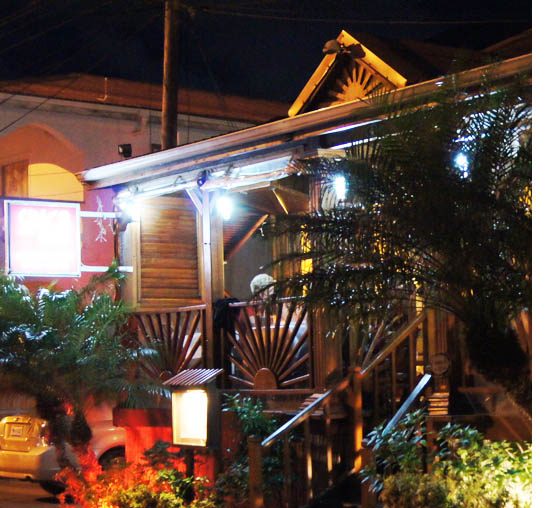 When folk talk about going out to dine and Spiga is mentioned you hear many say "Be still, my beating heart!" This restaurant is very popular. In the last more than quarter century that I have been living here I have never had the good fortune to eat there. Finally, an opportunity came for me to join some foodie friends at this popular establishment.
And now I know why it is so popular!
From outside the restaurant looks small. It appears to be housed in a traditional wee wooden house. Palms grace the entrance stairway and dimmed lights give a warm welcome to the patrons eager to have dinner.
As we stepped through the door we were warmly welcomed (this always sets the mood, doesn't it?) A bar runs along one side to the main room, through arches one sees tables in the next room and to the rear is the kitchen. It was a surprise to see how spacious the dining area actually is.
We had booked and were given a table in the main room near the bar. We were later than we expected to be, but this turned out okay. It seemed that we all recognized other patrons so there were many greetings taking place – Yes, this is a popular food-lovers venue, even in the middle of the week.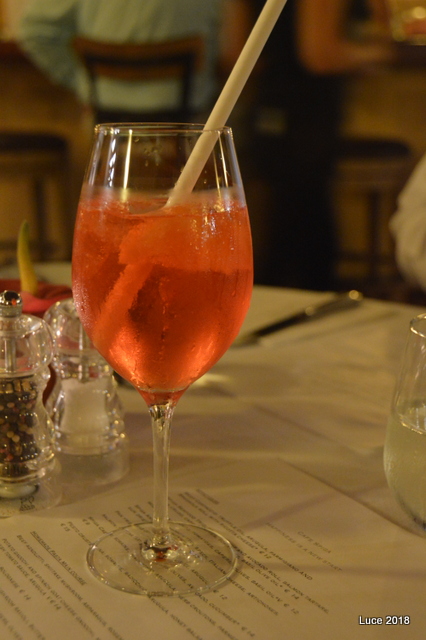 The menu is not large, yet it still took some time to decide just what we would order, every dish sounded wonderful. On this particular evening our tastes differed for the most part so there were not too many orders being doubled up (a good thing if one wants to mention as many dishes as possible.)
I enjoyed an Aperol with my starter, followed by a nice glass of rose. Red wine and "dragon's drink" were the other orders. I really am not sure what the pink dragon drink was, and I forgot to ask.
Starters were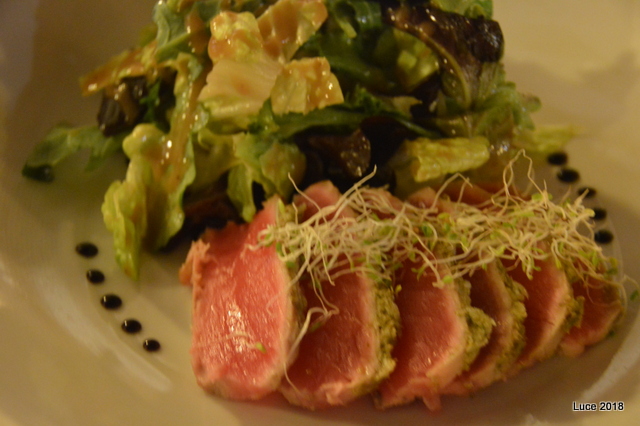 A fabulous seared tuna and salad – I forgot to ask for the vinaigrette on the side. Usually I end up not eating the salad as I am not a lover of dressings but on this occasion, everything was perfect. I cleaned the plate; not least because the tuna was also done to perfection.
I was beginning to understand the love for this place.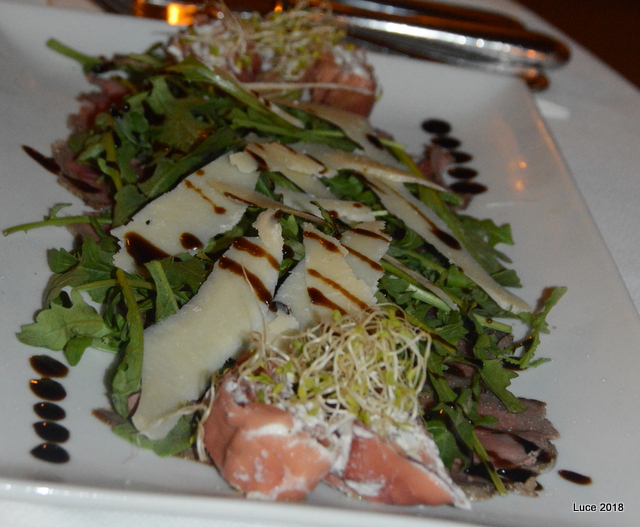 Carpaccio as only Spiga knows how to make it – very fresh, beautifully plated with quite a lot of cheese and drizzled with a balsamic glaze.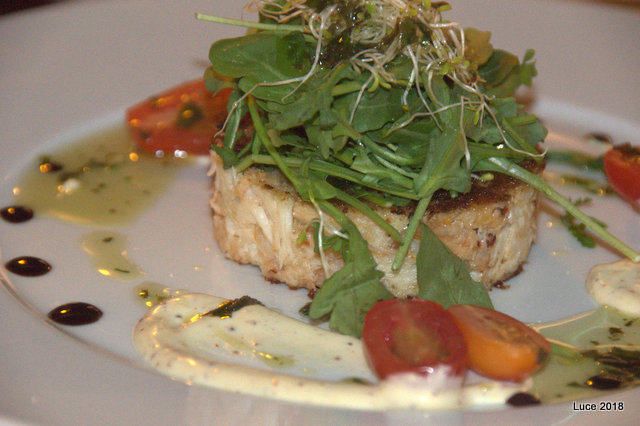 Crab cakes – These were large and really very tasty. I believe these will be what I order next time. The first time I had crab cakes remotely like this was when staying with friends in Maryland. We went crabbing and then they showed me how the best crab cakes were prepped. Since then I have tried crab cakes from many a menu and been disappointed more often than not. Now I know where to go!
Our mains were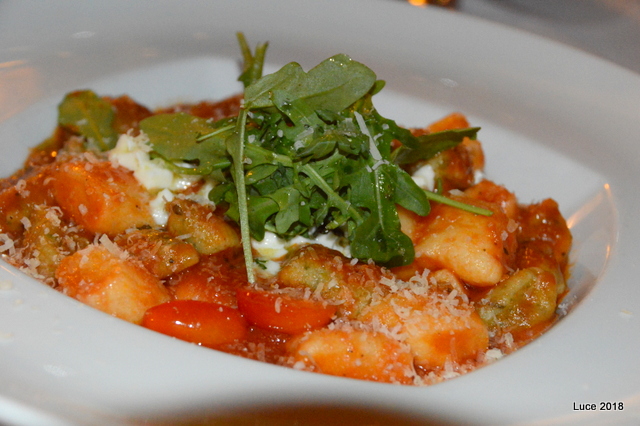 A dish of gnocchi. The duo of homemade morsels were made of potato and also spinach and goat cheese. They were gently coated with a fresh tomato sauce and topped with arugula. The dish was not overpowering, only a fleeting taste of spiciness in the sauce. Next time I will ask for a good grinding of fresh black pepper with the fresh parmesan they sprinkle over at the table.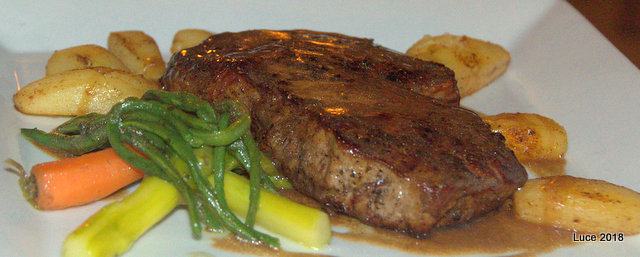 On the special menu was rib eye. The steak was large, served with a nice gravy and roasted potatoes. A good dish that appeals to meat lovers.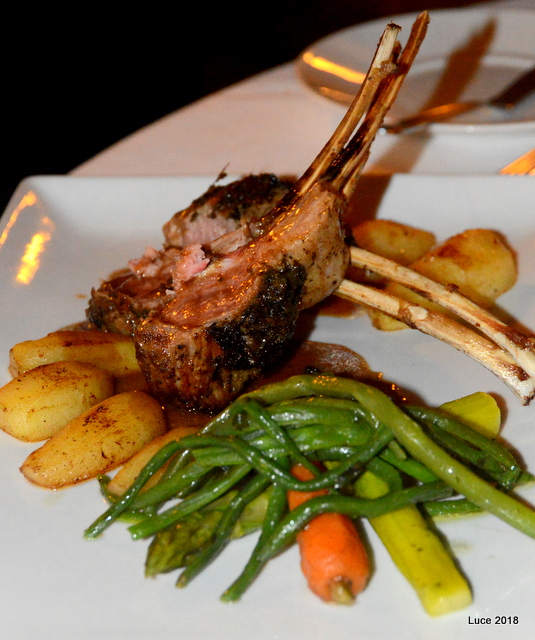 Lamb rack – what can I say about this dish of perfection. Every single mouthful brought delight to the diner who declared afterwards – "This is the best lamb I have ever had!" Now from a foodie, that is saying something!
Desserts were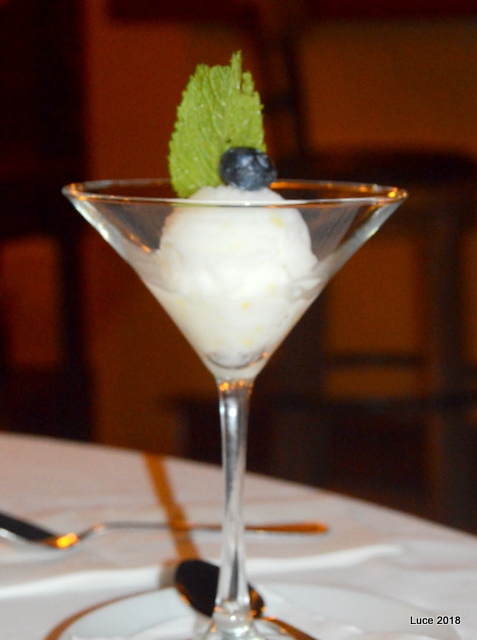 Lemon sorbet sitting perkily in a tall glass – lovely and refreshing it would also make a good amuse bouche.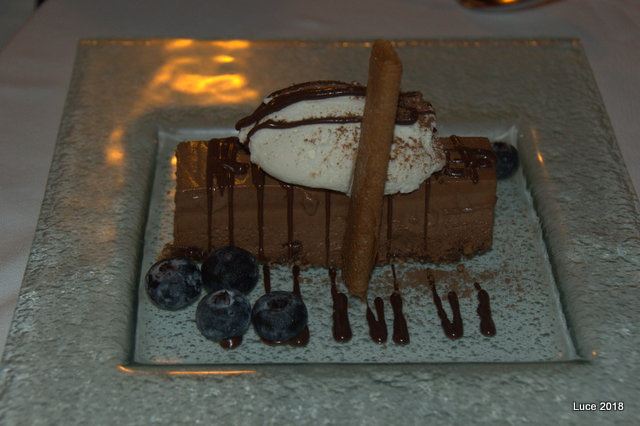 A chocolate Nutella creation that ensured the plates were pretty-well licked clean.
This meal was followed by the house offering of limoncello.
Thank you Spiga from another convert – With decor that is unpretentious the food is the highlight with beautiful colours and plating . Excellent evening, food, service, ambiance.
Spiga (here)