Rainbow Café
Rainbow Café Beach Bar and Lounge, simply called Rainbow by those of us who live here, is a wonderful place to hang out day or night. Breakfast, lunch or dinner and anytime in between this watering hole has been a fav for quite some time. Rainbow Cafe (here) and (here)

With all that in mind why would one turn down an invite to join friends for a long ladies lunch?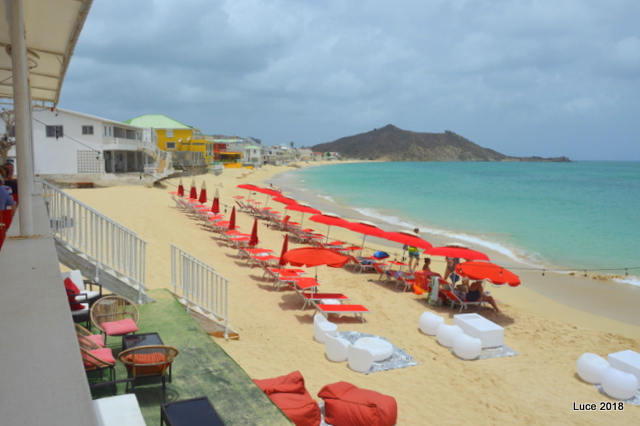 Every so often members of the St. Maarten Yacht Club do a luncheon, sometimes at the Yacht Club and on occasion somewhere out – this time the choice was to meet at Rainbow!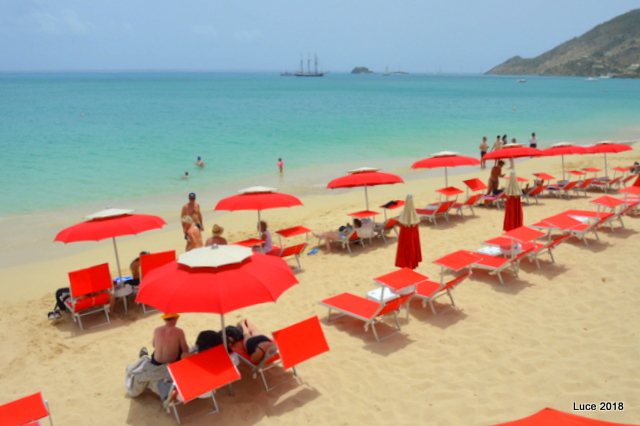 I hoped to find the valet service but on my first drive-by I did not see the chap, so I did a loop and parked in the empty lot that has a Rainbow sign on it. The walk to the restaurant is a sad yet positive walk in that even though the state of the road and buildings is deplorable after Hurricane Irma, work is being done on the street and the houses. The road is rough and dusty and very uneven due to being dug up presumably to bury overhead wires and many buildings are in an extremely sad state – but – work is being done. Slowly, slowly things will be rebuilt.
Which makes the entrance into Rainbow all the more remarkable!
Rainbow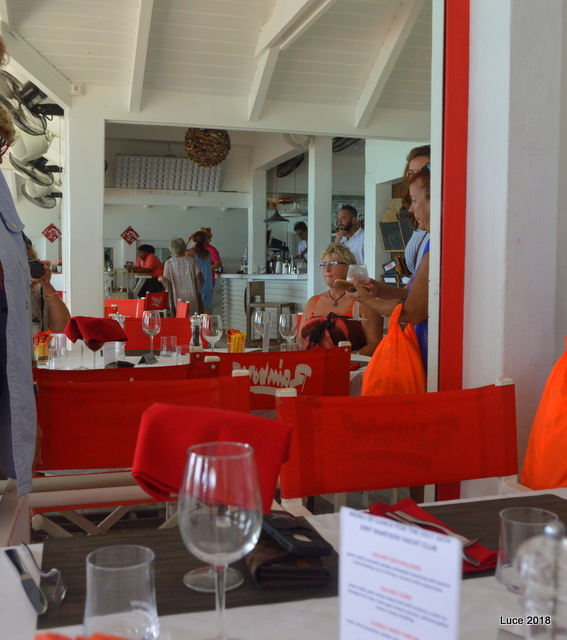 Painted bright red the team at Rainbow were out there as soon as they could be (after Irma left Grande Case in a pile of rubble) rebuilding, refurbishing and re-imagining Rainbow Café. What a fabulous job they have done.
The entrance has been moved a couple of feet so one climbs a few stairs from the street and enters into a newly tiled floor with a large mirror right in front of you.
"Hmmmm," you say as you can't help but notice yourself, "I think I better not imbibe too much today, I'm looking quite good.  Let's keep it that way!"
Oh, I kid you!
"Hmmmmm," you say as you look at yourself, "Is that really me? OH, OH! Well, today I will be good and NOT imbibe in anything much!"
Famous last thoughts because you then notice on either side of you the walls are of glass. On the right is a full-length case displaying some wonderful bottles of wine and on the left a long glass window that allows you to see the wonderful dishes the chefs are preparing.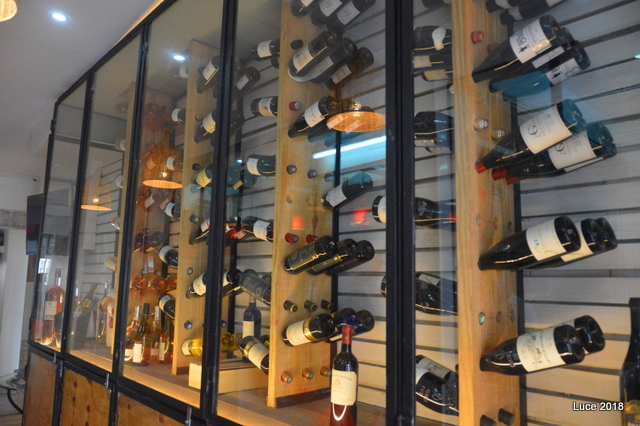 A quick zig-zag of the passage and you come out into a heavenly place. The bright, gay red and white décor of the restaurant with a view of turquoise water and white sand beach. Warm smiles and greetings from staff and Douglas absolutely make the day.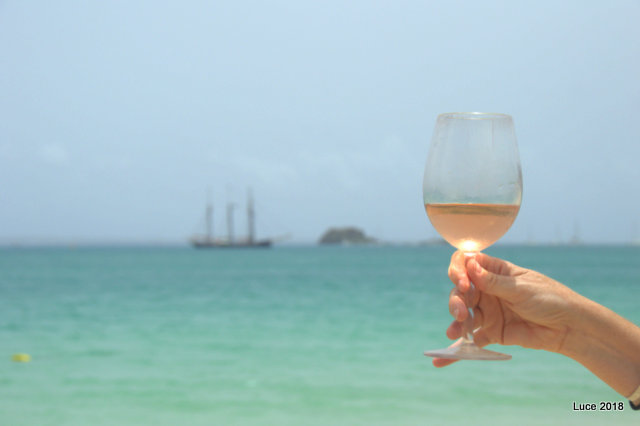 I arrived a tad early to have a little beachtime. The other early birds already there had a rather refreshing looking bottle of Rose on ice. "Hmmmmm," I thought weakly, "I'll hang on and have just one glass with lunch."
The water here is marvelous, clean, crisp, invigorating, and the sand tickling between the toes is amazing.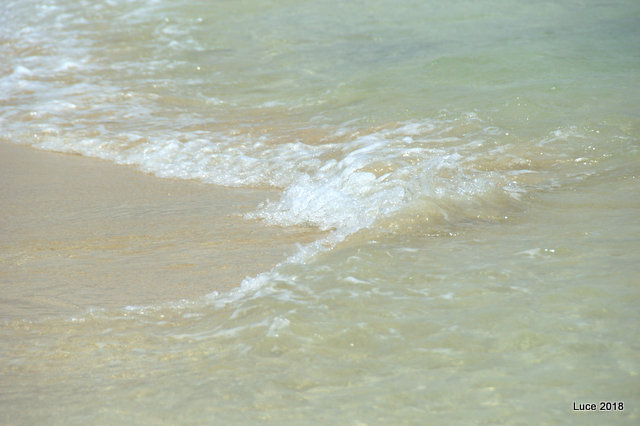 Lunch
We made our way to the table we booked and checked out the menu. Being "Ladies Lunch" we had a fabulous deal of a choice of a drink, a main and a dessert. It was hard to choose as every option sounded really good.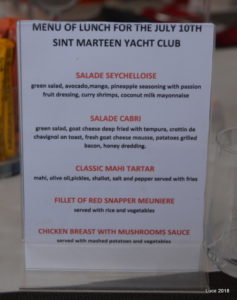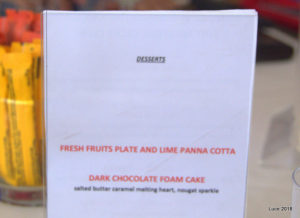 First up a couple of us ordered a pina colada. This delicious drink came adorned by a dehydrated slice of pineapple, it is a delicious morsel to eat.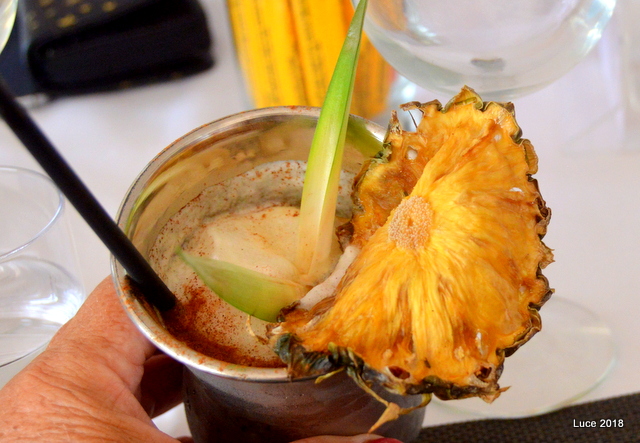 Actually although we ordered a cooling pina colada, a glass of pink was mysteriously sitting right alongside calling out "drink me!"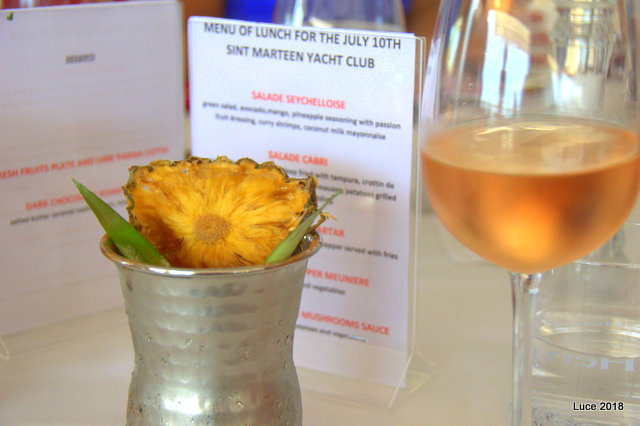 The Rose bottle is a great collector's bottle especially for those who love cats.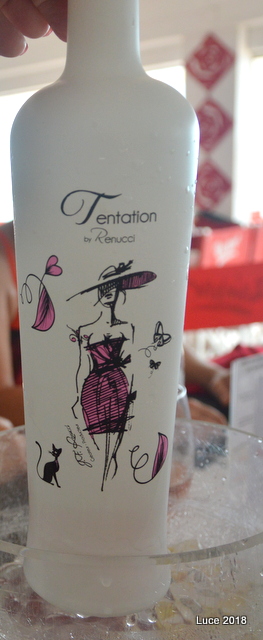 Cheers to fun times, good food, great wine and wonderful friendship. Rainbow is a party place.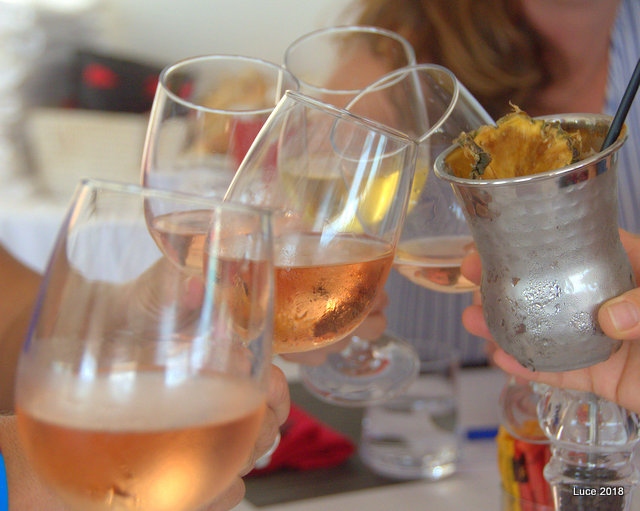 Oh, another bottle? Dimly I remembered telling myself something important as I arrived!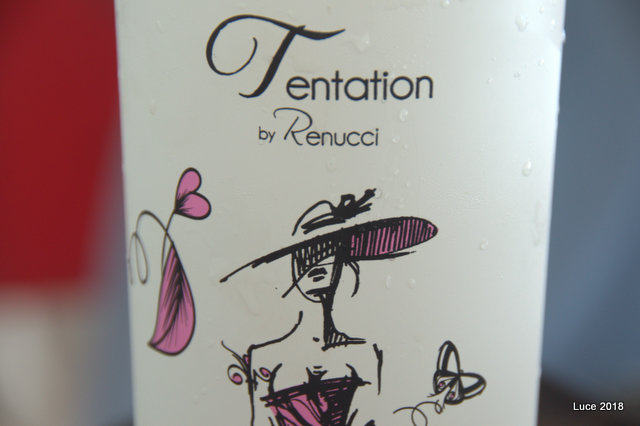 I ordered the goat cheese salad which was simply divine. The remarks from all at our table was how delicious and fresh the greens were – lamb's tongue lettuce (mache) is perfect for the salad.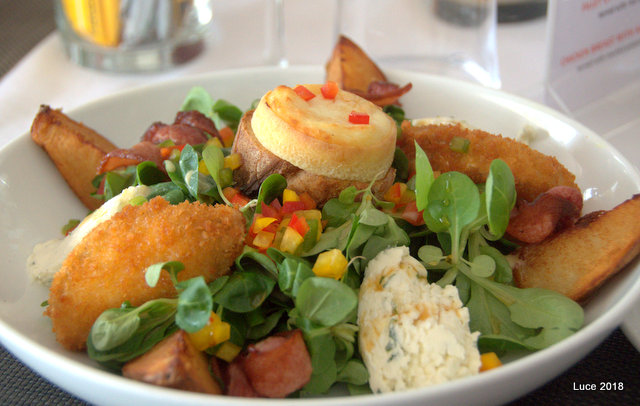 A couple of orders were for the shrimp and fruit salad – this was declared amazing. Everything we ate from the menu at Rainbow was sublime including the chicken breast.

Someone brought over a large bottle of wine – but it was a mistake sadly, look at the cork – it actually was filled with another liquid – What a shame!
So we drowned our sorrow with another regular bottle……………………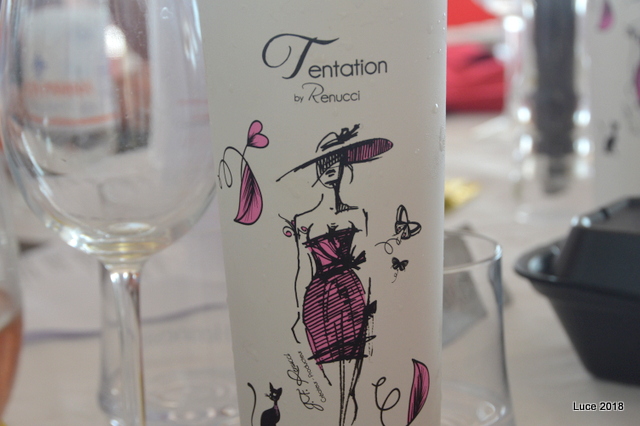 ………………alright, no more about the wine but it did play an important part in our lunch.
Desserts
Desserts were from a choice of two options. The chocolate cake was otherwordly but the fruit and panna cotta did not quite match up.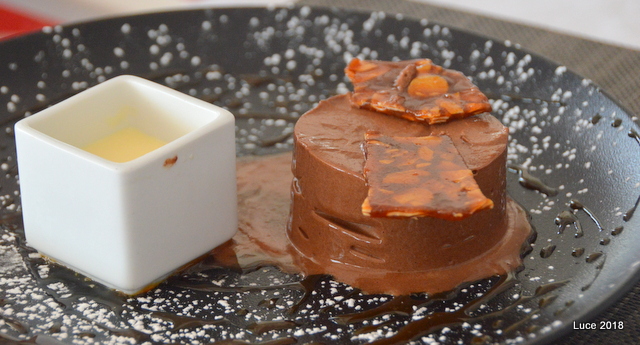 Not that it was not good, mind you, just that it was cheesy. The vanilla was replaced by lime or lemon and the end result was different; not quite as smooth and after a platter of cheese salad it was a poor choice I made.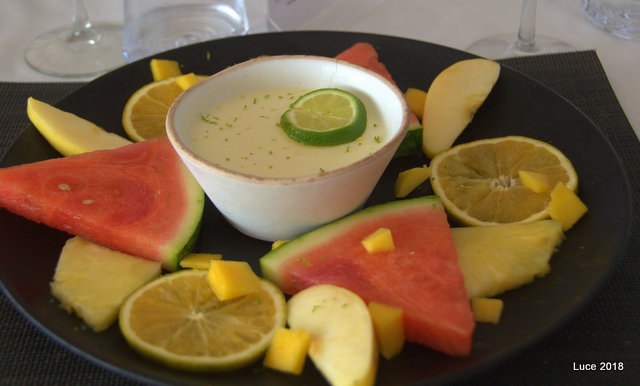 In the meantime there was an air of jubilation taking place with those who were watching the WC games on TV.
We celebrated the victory with countless shots of my favourite passionfruit rum digestif the French serve at the end of a meal. Rainbow does a superb job!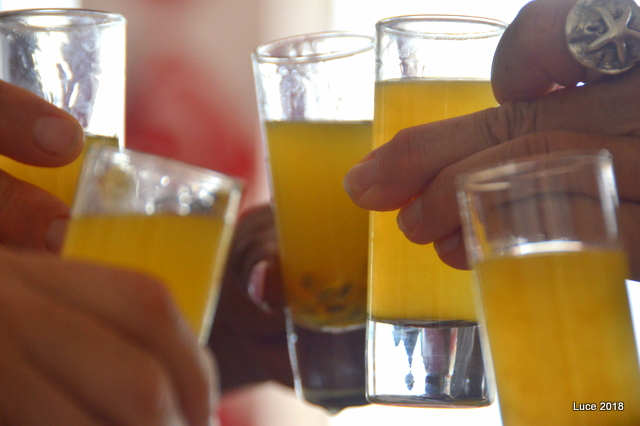 The drive home showed that many on the Frenchside of the island were still celebrating – well done.