Day Trip: – Boat ride – Bus tour – Gin tasting – Lunch and back to St. Maarten!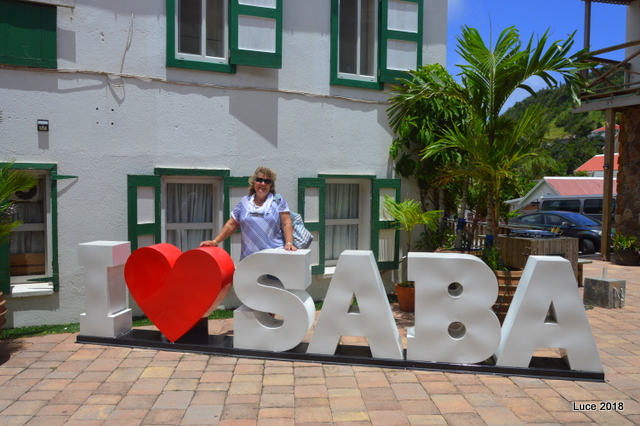 Visibility was not good when we went daytripping but the captain got us to the island of Saba – the day we went the sea was quite lumpy!
This map image is from (here) – you can see the general layout of the island. We docked in Fort Bay at the harbour. Follow the black line road through The Bottom, Windwardside and Hell's Gate and you will see our tour route.
The St. Maarten Yacht Club began planning for a fun day trip to Saba  awhile ago, which duly fell into place in a timely fashion and there we all were, early one morning, at the immigration/police station in Simpson Bay, waiting to be cleared for take-off – well, actually waiting to board The Edge.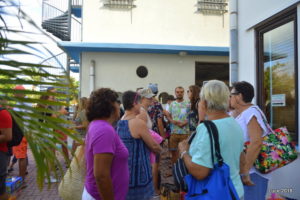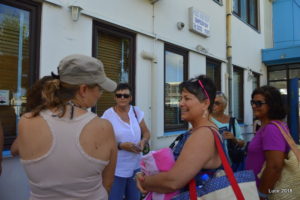 The Edge is the ferry that makes daily trips to Saba (weather permitting) from Simpson Bay. The Edge is not a luxury yacht by any means but it is a safe, stable and fairly fast vessel that takes about 1 ¾ hours each way to Saba over 30 miles away from St. Maarten – ably driven by Captain Ian.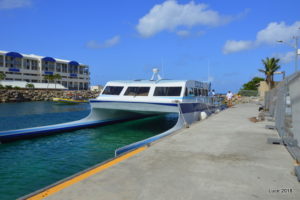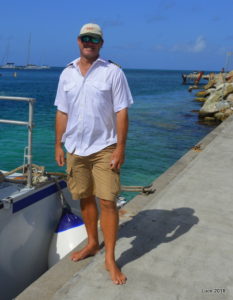 As a group we were excited, this trip was no ordinary trip; this trip was a "Gin" tasting trip!
The other folk on board heading for Saba were going: To hike Mt. Scenery – there is a pretty steep climb up stone stairs through the tropical forests; To dive – there are some of the deepest diving spots off Saba. Some folk were going to stay over for a night or longer – but us?? We were off to taste Gin!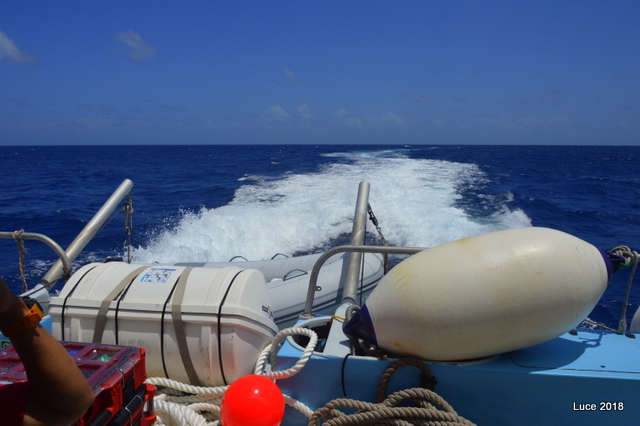 The ride is long, more than an hour and a half. As we neared Saba folk started to perk up a bit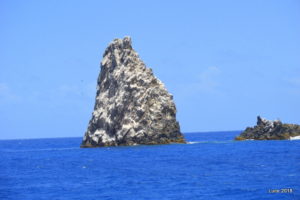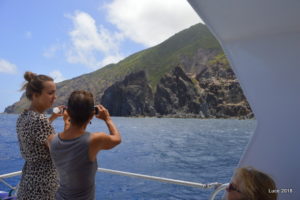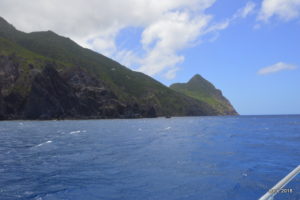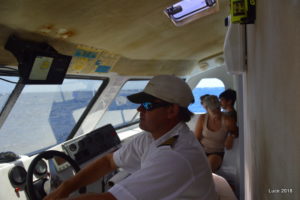 Arriving in the very deep and small harbour is interesting, it is a commercial harbour, we were welcomed alongside, tied up and offload very efficiently.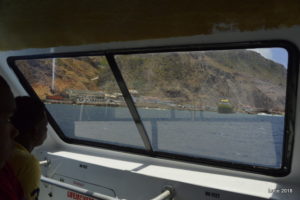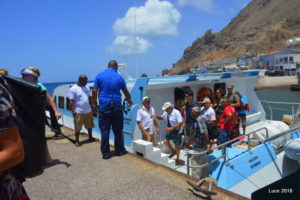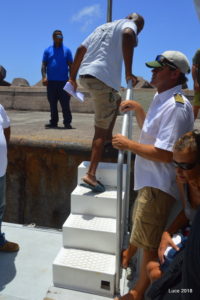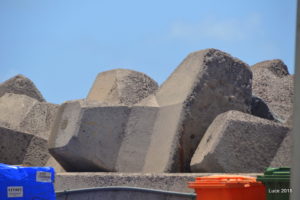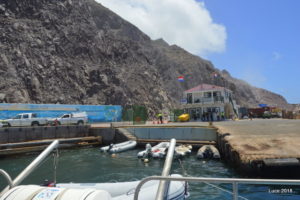 After clearing customs, we made our way to the buses that were waiting for us. But before boarding we all had a tasty croissant or two – these were much needed by those who had inadvertently emptied their stomachs on the trip over.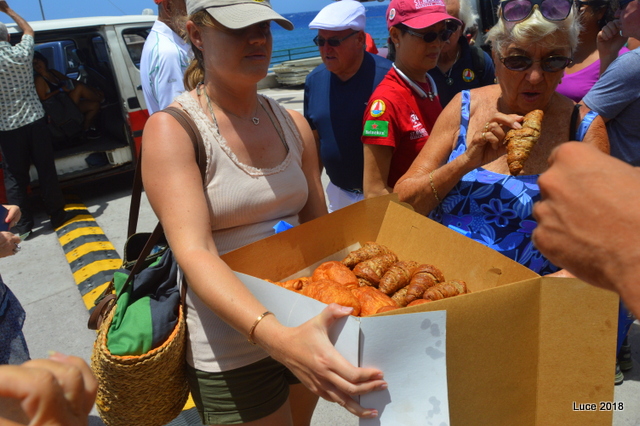 Bus Tour
Once in the bus we were driven to various sightseeing spots. Saba is proud of all their incredible roads – and who wouldn't be when once they were told the island was far too steep to build a road. These days buses and cars and other big heavy vehicles whizz all over the island – there is a bit of labouring up some of the steep hills but it beats having to walk, that is for sure!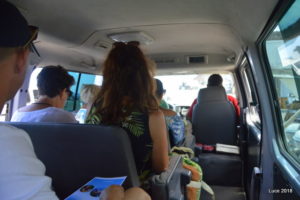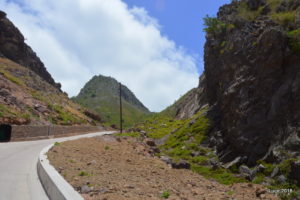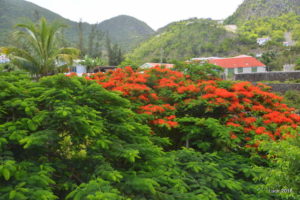 The lovely small village we first came to is called The Bottom! Of course, what else would a village at the bottom of a volcanic mountain be called. The cottages and homes, school and medical university are all built to a certain code. Red rooves, shutters and white walls. The entire island is absolutely gorgeous. With a backdrop of the most incredible tropical vegetation and tall trees covering large sections of the island it is really worth the trip over.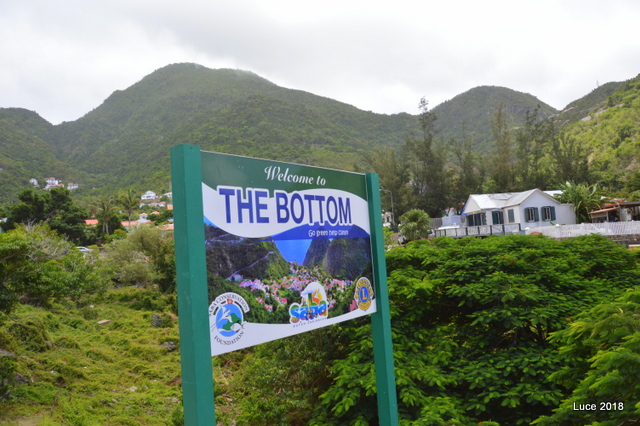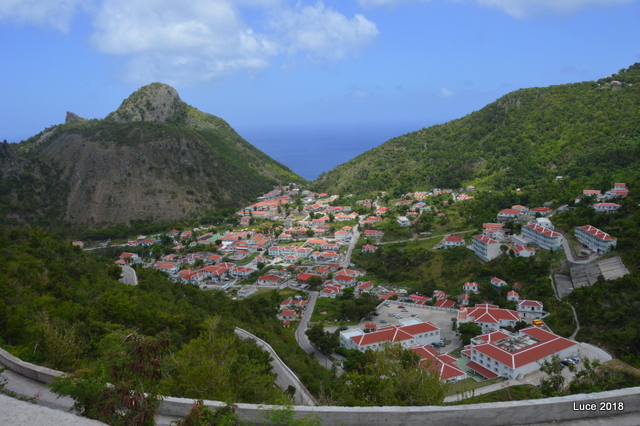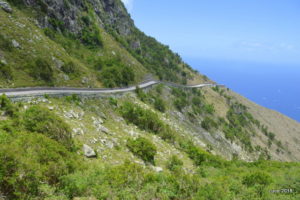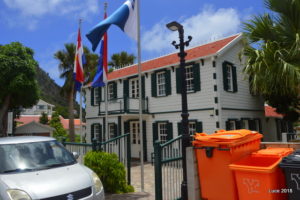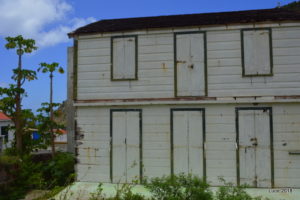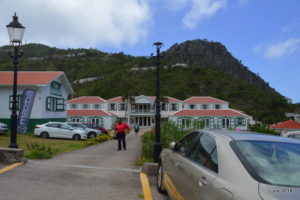 Back in the "Olden Days" it was said that the island was too steep to build roads – Joseph Lambert Hassel proved them wrong.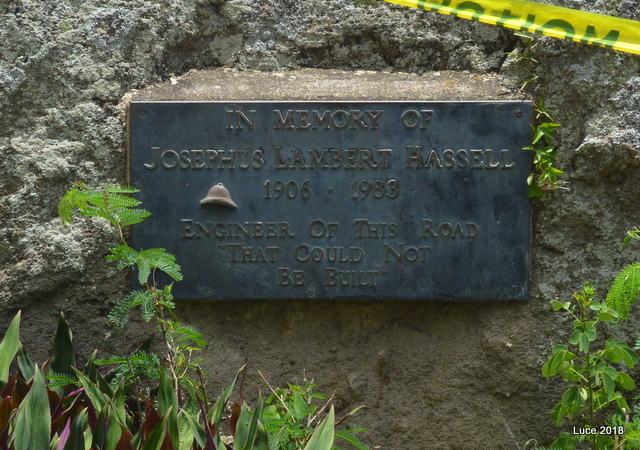 The bus tour took us to Hell's Gate from where we could look down to the airport. The runway is extremely short.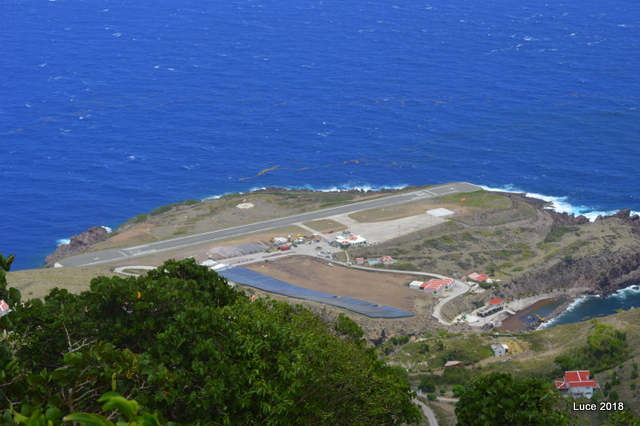 Right near the airport is a bank of solar panels – the Saba Solar Park produces 64% of all power on the island. Leaders in this field they hope to produce full capacity in the very near future. Other islands nearby should follow suit.
The bus tour took us back on our tracks and let us off in a small village to wander about for a bit. The neatness of the villages is awesome. One sees hardly any damage from Hurricane Irma – Sep 2017.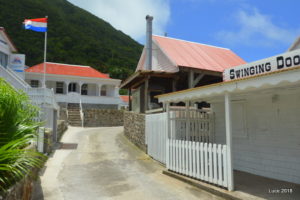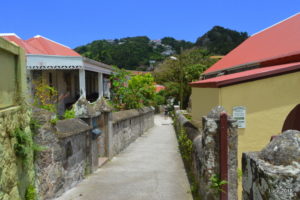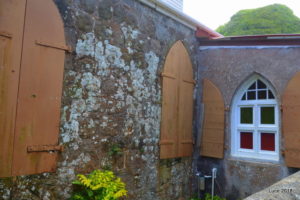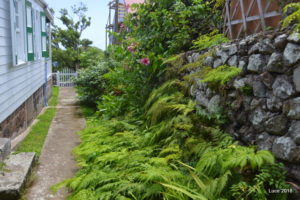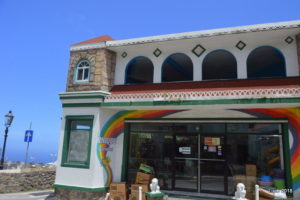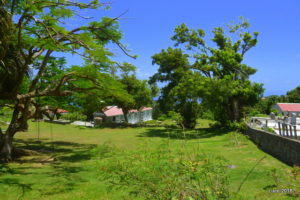 Queen's Gardens Resort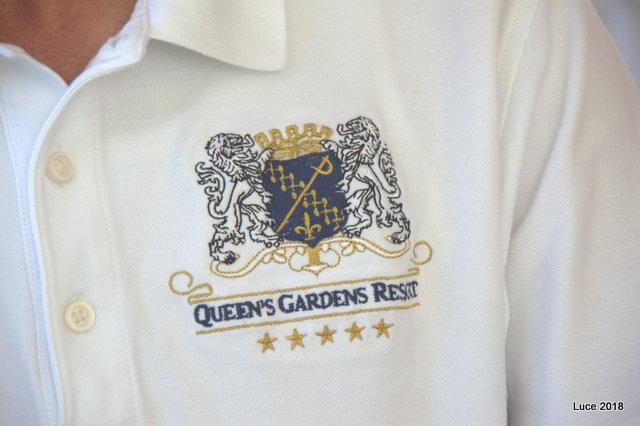 Finally it was time to make our way to Queen's Gardens Resort where we were to partake in the Gin Tasting!
The resort is just gorgeous. Built on many levels the luxury of the resort and the vegetation is awe-inspiring. We made our way to the outdoor bar with our jaws dropped. The hotel is situated high atop the mountain, the views are stupendous.
Enjoy the photos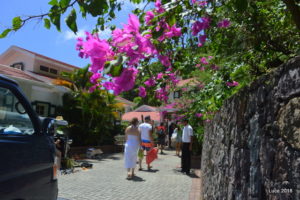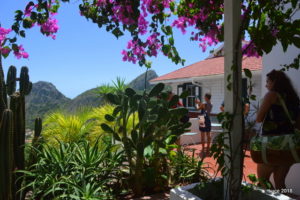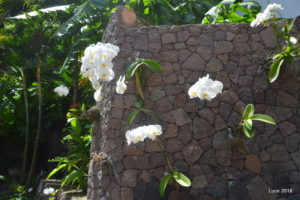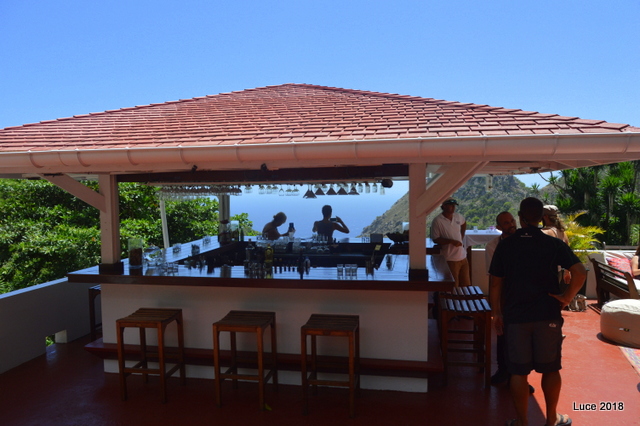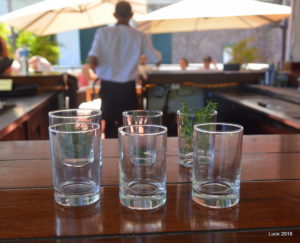 Three glasses were laid out ready and waiting for us; three more glasses were set next to them, one had thyme, one mint leaves and the last one had some rosemary leaves. Each brand of Gin had a flavoured ice cube added to it with one of the leaves and then topped up with tonic water – each glass had a corresponding snack to go with it. I and the others declared each Gin drink to be the best we had ever had!
No ordinary G & Ts – these were out of this world.
Earl Grey flavoured gin had an Earl Grey ice cube, thyme and Fever Tree Tonic and a cheese snack.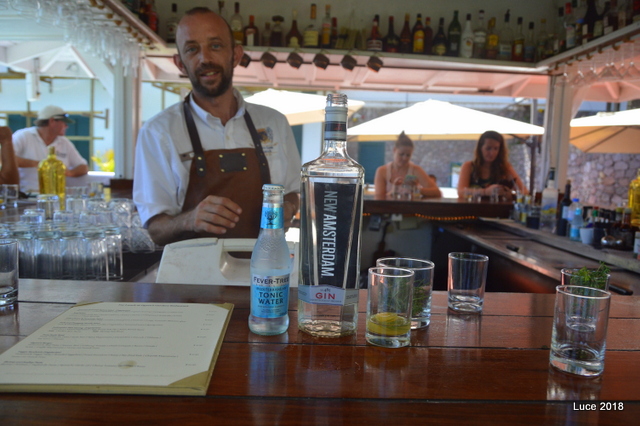 New Amsterdam gin had an orange and lime flavoured ice cube and rosemary leaves with a meatball snack.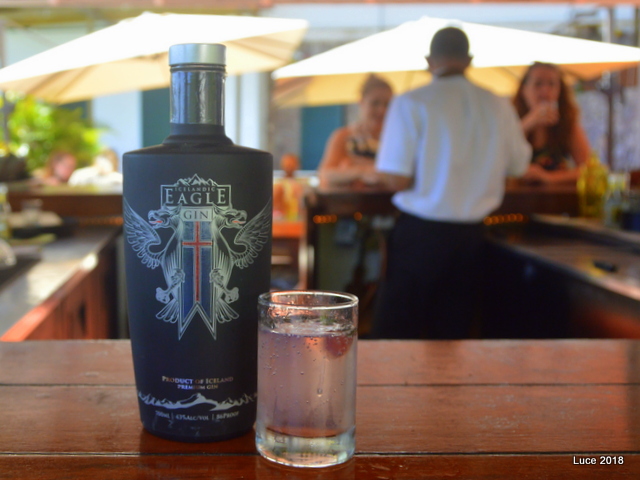 The Icelandic gin had berry tones so the ice cube was cranberry and rosemary leaves, we had a dumpling was a snack.
Still feeling a little peckish we also had something to eat. Excellent hamburgers, delightful Nasi Goring, the most amazing fresh tuna bowl – lunch was ever so good.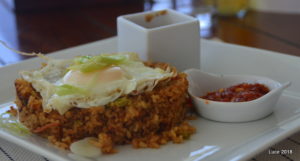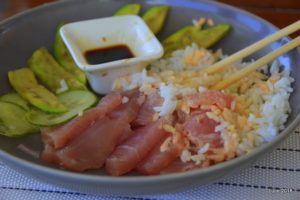 The variety of gins in this bar collection is astounding. Duco is a whizz at producing the best G&Ts ever. You really should get a chance to try them. One of those memes of "before you die you should….go to Saba for a gin tasting at the Queen's Gardens Resort."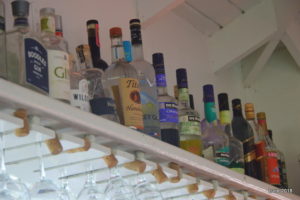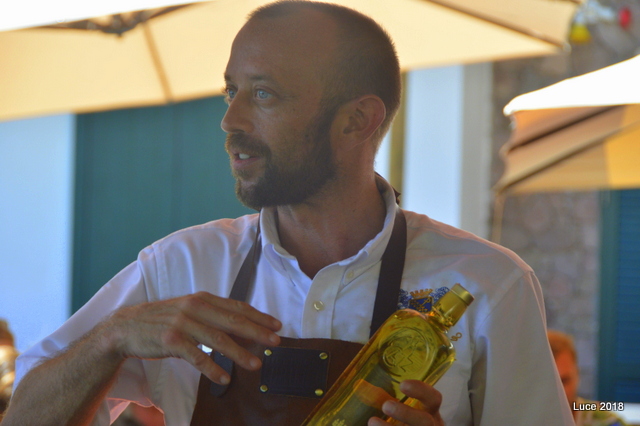 There were some very happy campers on this outing.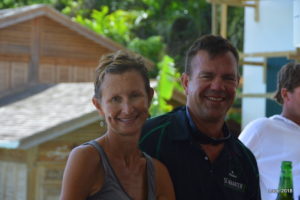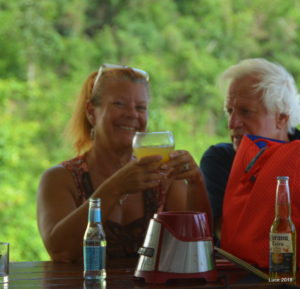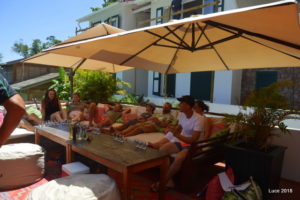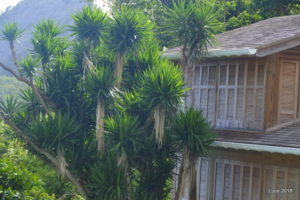 The dining room of the hotel is beautiful and the pool area is breathtaking. This boutique hotel is elegant, romantic and simply stunning.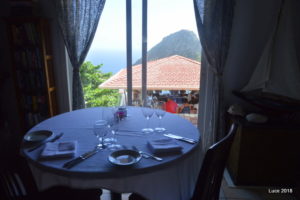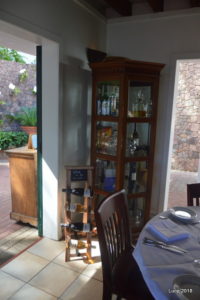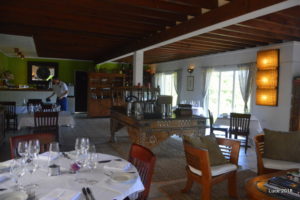 As always all good things come to an end. We had to say good bye – but we will return soon.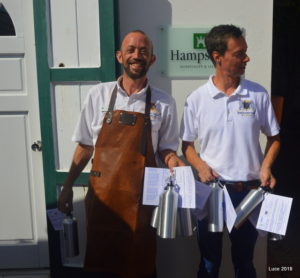 Cheers to the Queen's Gardens Resort crew who gave us a perfect time.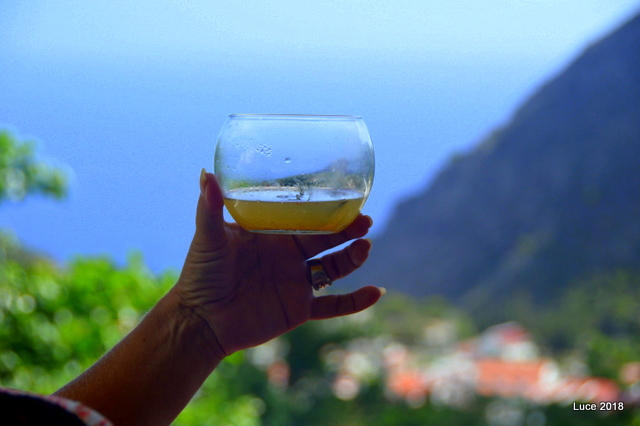 Queen's Gardens Resort and Spa (here)
There were some who did not return by The Edge. These folk chanced a quick flight back to St. Maarten – luckily those who suffer "mal de mer" do have another choice of transport.