Having a few delightful dishes to produce at the drop of a hat is a good thing. With this in mind I set out to make crackers to be used as a base for snacks with cocktails.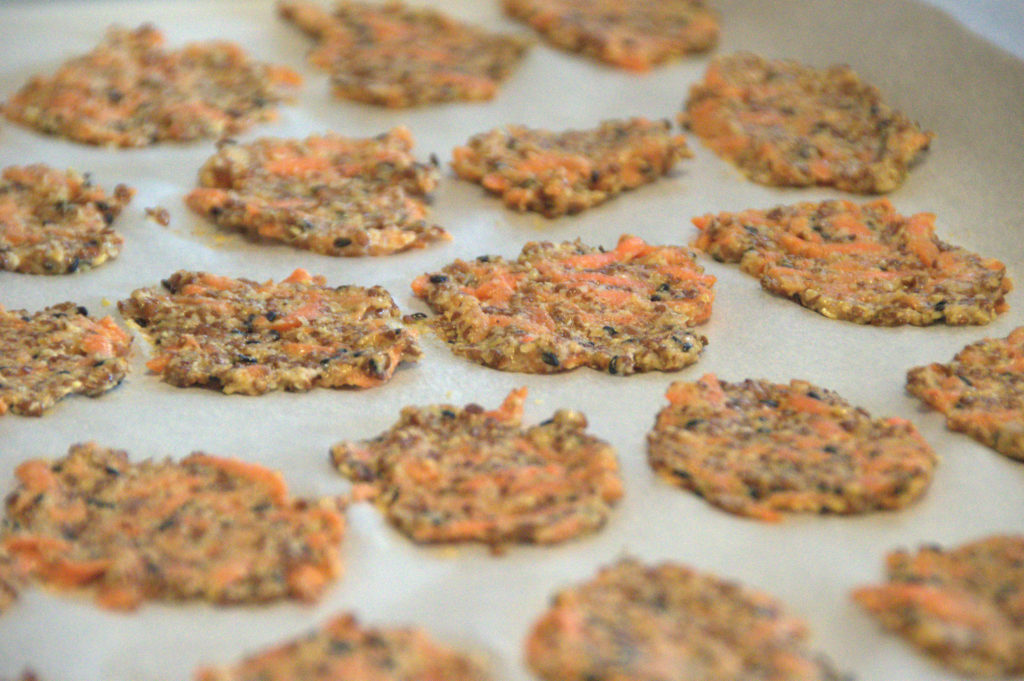 While the recipe calls for a scant teaspoon of the mixture spread to 2mm thickness in slightly larger than bite-size circles I found this a tad time consuming so I spread half the mixture out in the baking sheet and cut it into squares with a pizza knife. These worked out very well but the main advantage is, you can cook all the crackers at once on two baking sheets.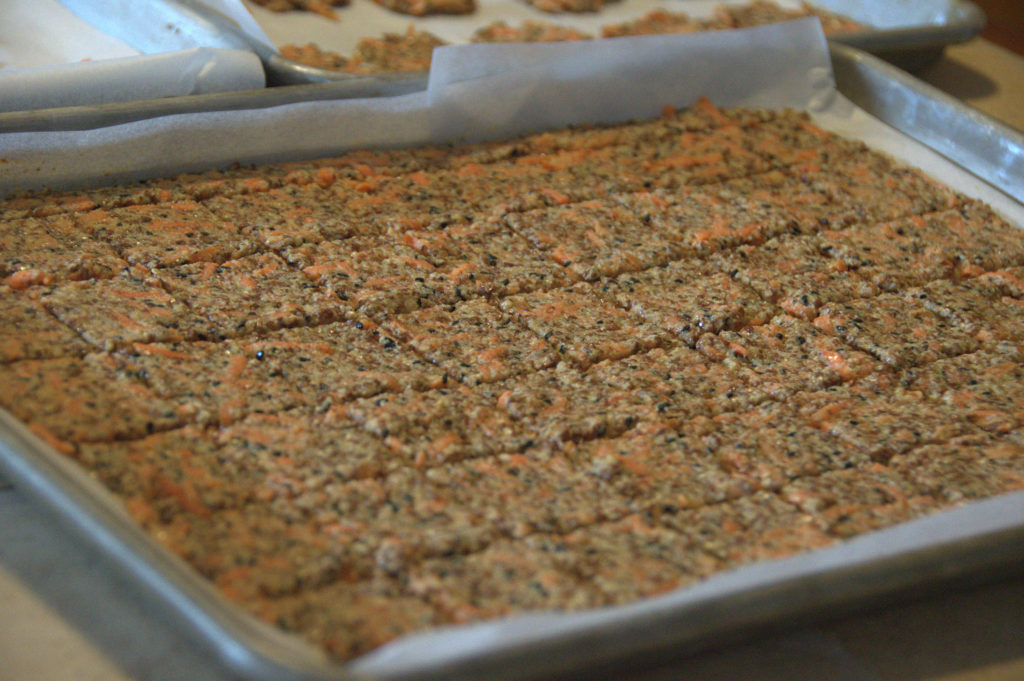 Having soaked the linseeds and cashews for about an hour I drained them well and while still in the sieve I dabbed them on  a wad of paper towel.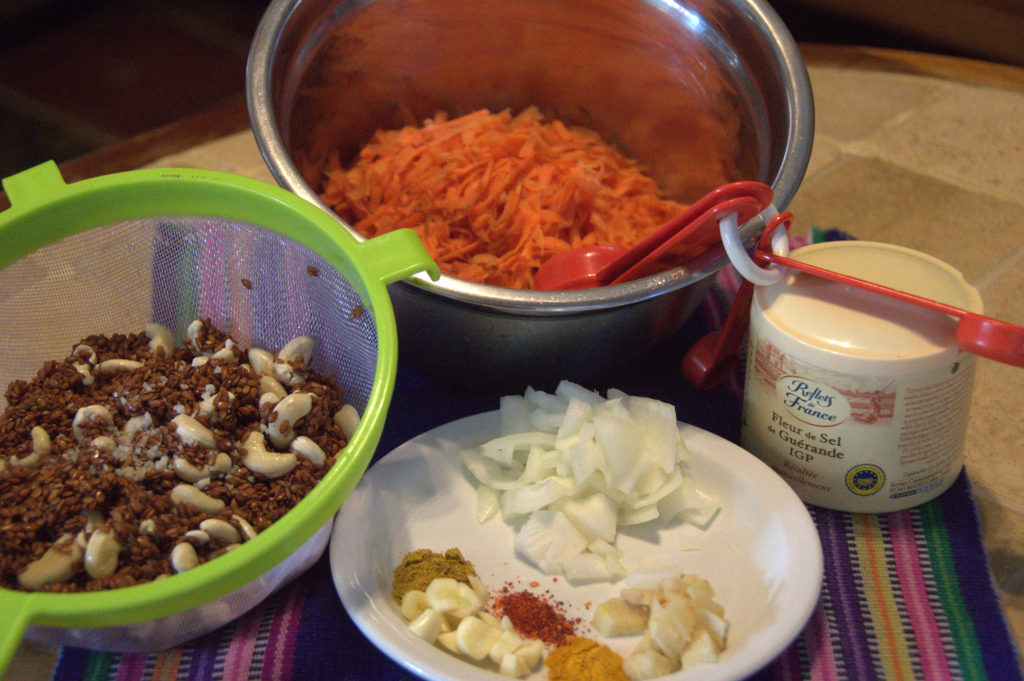 The whizzed mixture turned more cheese like after being processed with the maple syrup.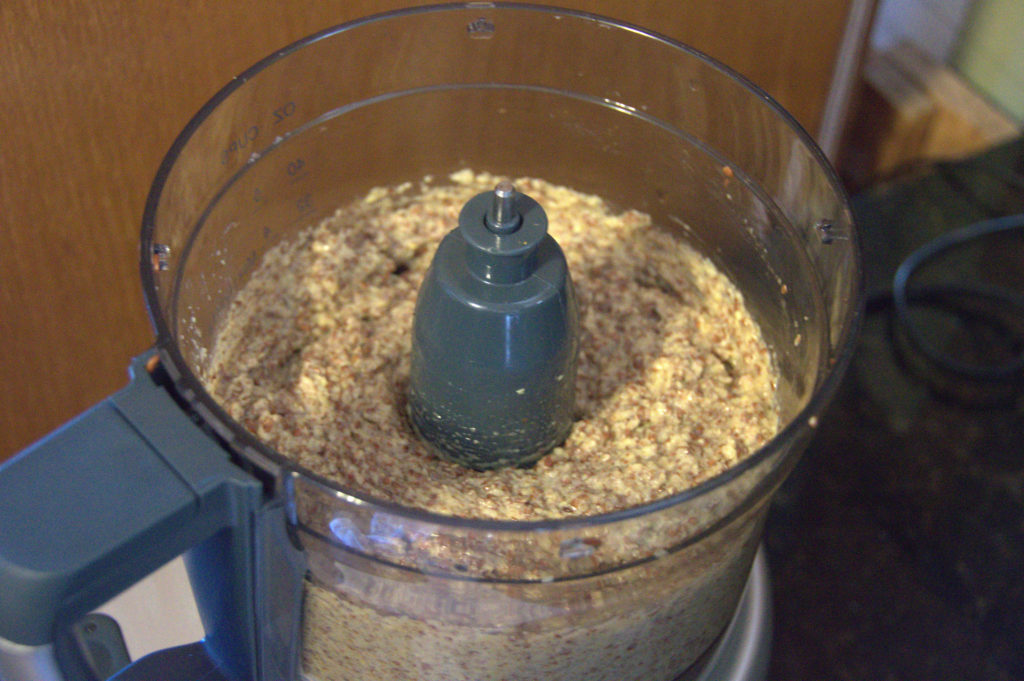 Overnight Carrot Crackers
Ingredients
4 TBL minced onion
1 tsp minced ginger
1 tsp minced garlic
5oz linseeds, soaked in water and drained
3 1/2oz cashew nuts, soaked in water and drained
6 TBL maple syrup
Good pinch turmeric, curry powder and cayenne pepper
5oz toasted sesame seeds
14oz raw finely grated carrot
Method
Preheat the oven to 150*F
Line a baking tray with greaseproof paper.
Pop the onion, ginger, garlic, linseeds, cashews, turmeric, curry powder, maple syrup and cayenne pepper into a processor and process until smooth.
Stir in the sesame seeds and then fold in the carrots.
Put a scant teaspoon of the mix on a baking sheet lined with greaseproof paper, flattening each one to about 2 mm thick, use the back of a spoon to do this. Pop the tray into the oven and leave it to dry for 12 hours. Just don't plan on doing a roast that evening.
These crackers can be topped with a multitude of simple yet delicious toppings – think tomato tartare, avocado guacamole, pickled cucumber.