Shrimp @ Sale & Pepe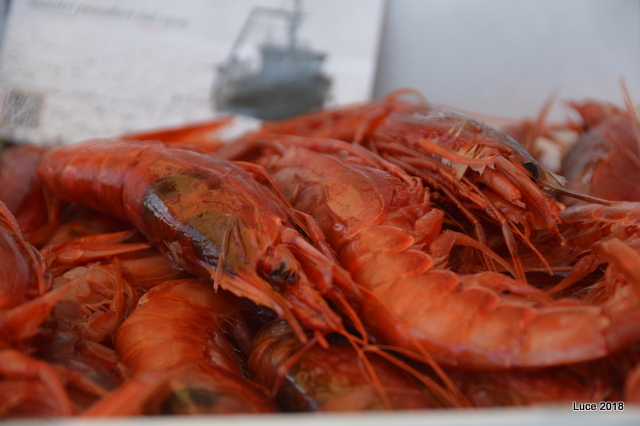 Now I know I seem to be at Sale & Pepe a lot. It is so! The locale is just so convenient for many reasons; none the least because the food is simply so good and there are choices – if one is just feeling peckish or not one can choose either a filling or a light meal – depending on one's mood.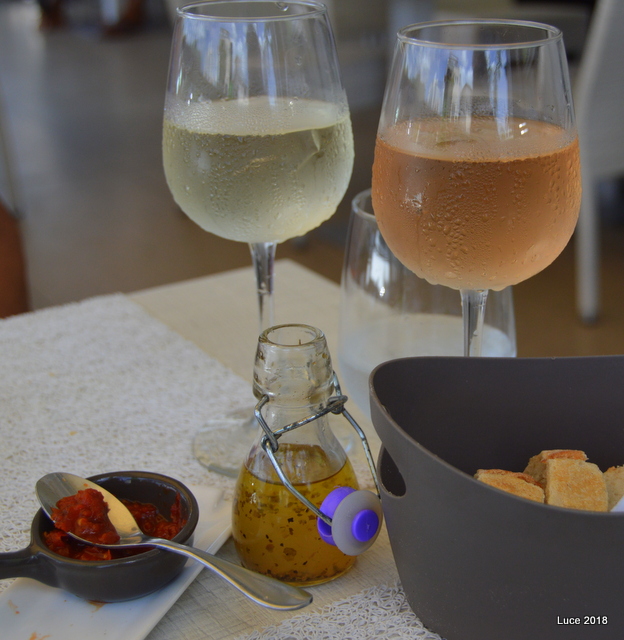 Sometimes I go there because I want to try something new that they have just received – such as the shrimp from Sicily they brought in the other day. If I had to choose a final meal, these shrimp would be right up there at the top of the list.
I arrived with a friend for lunch, we were met with a quick smile from the busy staff. They do buzz around these girls. We said we were there to try some shrimp and in a few minutes the chef/owner Davide came out to us with a box of the shrimp. He proudly showed us a kilo box filled with these red/purple shellfish and explained a bit about them. He has brought in a container of 1 kilo boxes direct from Sicily, (only for the restaurant, I asked to buy a box, of course.) The shrimp are caught and individually flash frozen and boxed and sent on their way. We could not get anything fresher on our little island.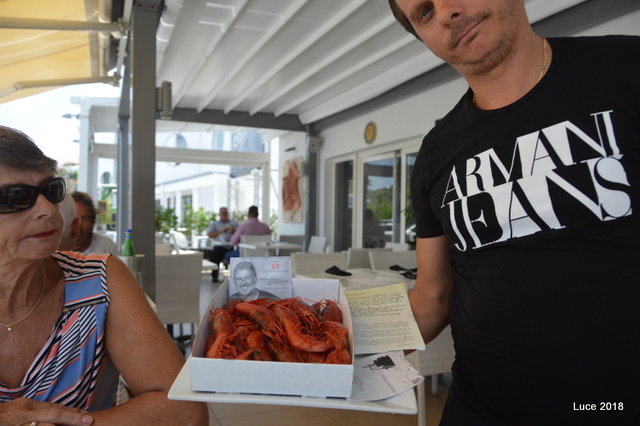 These shrimp are like nothing I have ever had in the Caribbean before. I am lucky to have traveled to Europe and had amazing shrimp there but were they these particular ones? I don't know, they were good, these are excellent.
Of course others who were there for lunch also had to smell the freshness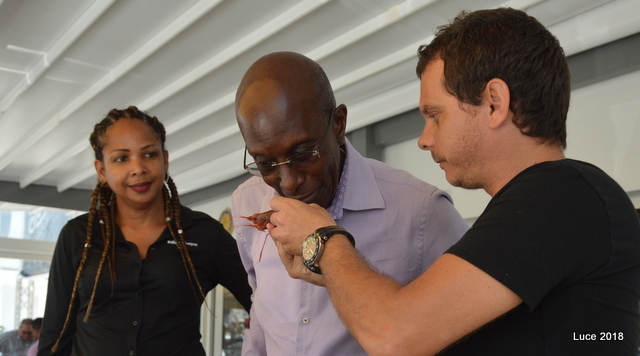 This is what I found online:
The Gambero Rosso
Aristaeomorpha foliacea
It lives about 700 meters deep where it is caressed by strong sea currents that make it pure. The high evaporation of the Mediterranean Sea enriches it with mineral salts giving it that unmistakable and unique taste in the world.
Sensory Notes
Colour: an enchanting purple red
Taste: decided, with slightly sweet notes that stimulate the senses. A pleasant feeling of smoke at the end of the tasting
Consistency: very iodized meat with superlative density for an easy and without fraying.
This is what each and every box comes with: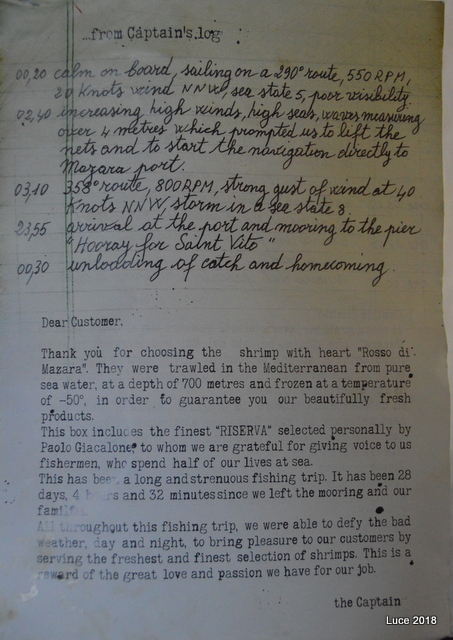 I have heard said by some folk, who love coming to the island that they think it most odd that folk want to eat out at some of the ethnic restaurants on island when they come to visit becuse where they come from there are so many restuarants especially Italian – the answer to this I think is …… for those who live here who don't get to travel out of the Caribbean much and don't get to experience these yummy things unless someone brings them to the island this is a good plce to eat out at……there are those who visit the island and like to eat ethnic because the town or village where they live does not have a good ethnic restaurants (such as Sicilian Sale & Pepe)……..and, there are those who don't get to eat out much due to work so they love to experience as much as they can when on holiday……and then there are those who don't want to eat Creole all the time!
From our side we are very happy to have numerous ethnic places to go to on this little rock!
And so it was that we ended up having lunch at Sale &Pepe
First up (Chef's choice)
Shrimp Tartare. Honestly? You can do tartare with shrimp???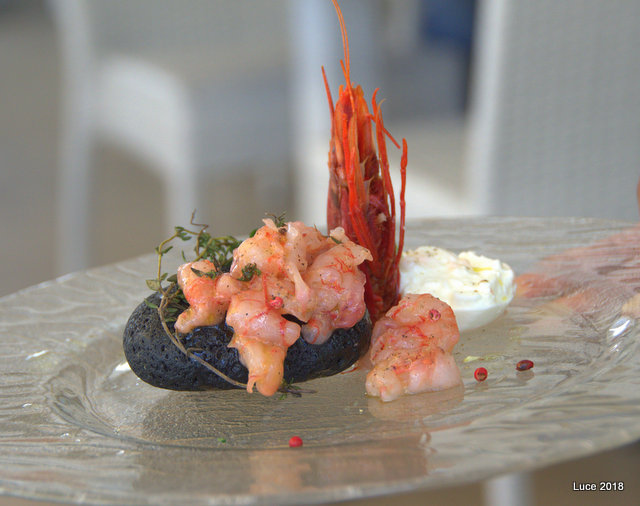 This was so sublime. It was so delicate and of such a gentle shrimp taste, reminiscent of bright springtime, windless days and the fresh, salty, ocean aroma. The contrast of basil, pink peppercorns and the smooth creaminess of the fresh Burrata was out of this world.
There was a moments silence as we slowly held each mouthful for a bit, not wanting the taste to go.
We then had a platter of pasta with shrimp, buttery garlic, parsley sauce topped with grated parmesan. Chef made us a special white two kinds of shrimp to taste. The ones in the pasta were amazing fat and perfectly cooked but the Sicilian shrimp blew us away. Again, barely cooked, the flavour was incredible.
I do hope that we get a chance to enjoy the delights of these shrimp again soon. They are quite pricey though, so if you order do ask about the price.
After a meal like this the only thing we wanted was a chilled shot of lemoncello. Just the perfect sweet ending to a perfect light seafood lunch.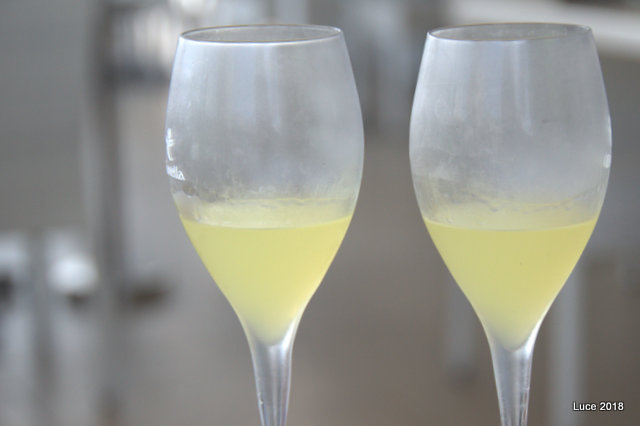 By the way, do ask about the new shipment of Sicilian wines when you dine at Sale & Pepe – they are superb!