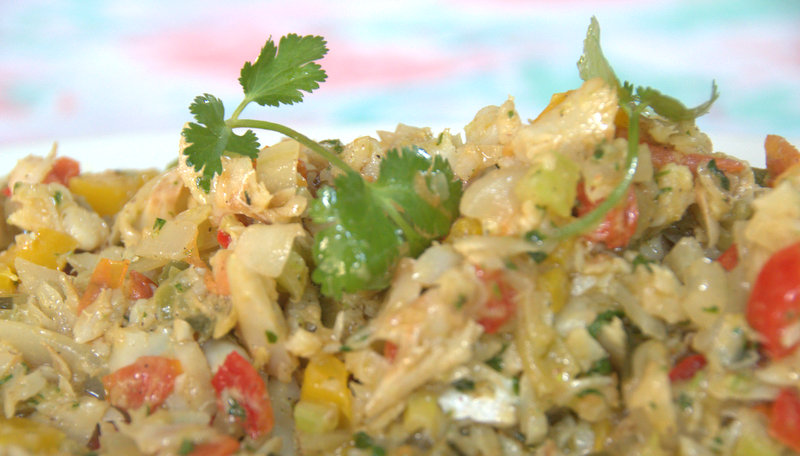 My friend and co-worker is Jamaican. She loves to cook as much as I do and in fact she put herself through a cooking course held here on island. She excelled in the two-year course.
I bought some salt fish so she could make us Jamaican style salt fish. In Jamaica they eat this dish with Johnny cake, festival (a fried dumpling) roast breadfruit, green boiled bananas. I am going to use this as a filling in puff pastry and serve it with Peachy, Apricot Chutney and lettuce. These are excellent in a school lunch box too.
You can double up this recipe easily. As with many "hand-me-down" recipes the quantities are not that important – a little more of this and less of that is just fine, you can even leave out an ingredient or add another not listed.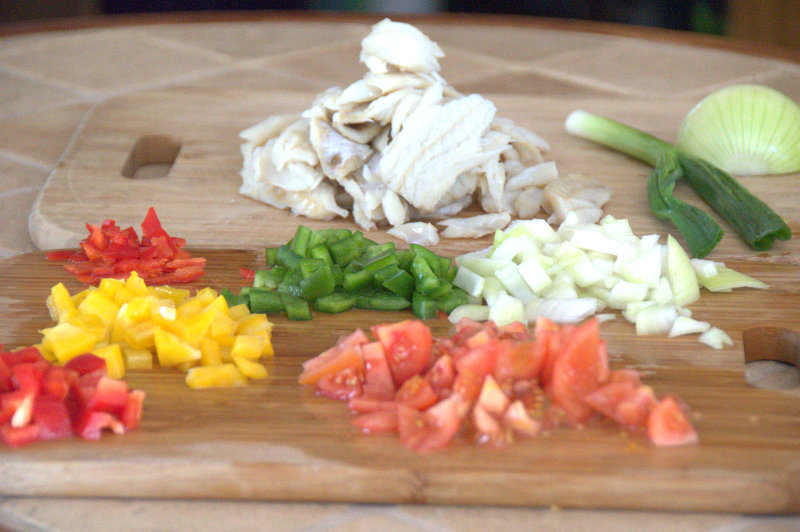 Ingredients
1LB Salt fish soaked, overnight in cold water
1 small onion, finely diced
1 spring onion, finely sliced
1 large tomato finely diced
Half each green, red, yellow peppers, diced small
Small chili, seeded and diced (depending on your heat preference)
Fresh ground black pepper
1 stalk celery, finely chopped
Whizz together
10 coriander stalks and leaves
1 large clove garlic
2 anchovies
¼ preserved lemon skin (washed and pith removed)
1/8 piece of ginger (I used Thai galangal as it is what I have)
Glug of olive oil
For Puffs
Puff pastry – how lucky are we island folk, there is such a choice of puff pastry from France, Holland and America; all of them will do the job.
Method
Sauté the veggies in a little oil until onion becomes translucent
Add fish and pepper and simmer for 15 mins
Stir in the dressing ingredients you have whizzed together
Simmer for a minute or two.+
Allow to cool and fill puff pastry rounds. Freeze on a baking sheet being careful not to let them touch. Take them straight from the freezer and place on silpat or greaseproof paper on a baking tray. Brush tops with beaten egg and bake in a hot preheated oven until tops are light brown.
L-O-M-L came through the kitchen as I was plating the fish to allow it to cool before using it as a filling for the puff pastry. He begged for a wee taste with his mid-morning tea, if he could he would have polished it all off then and there! He was placated by the promise that his lunch would be salt fish salad – boiled egg, lettuce, cucumber and salt fish.
The rest was quickly turned into the puffs and frozen.
Now I am ready for guests this weekend!