Celine 3 – Enigma (here)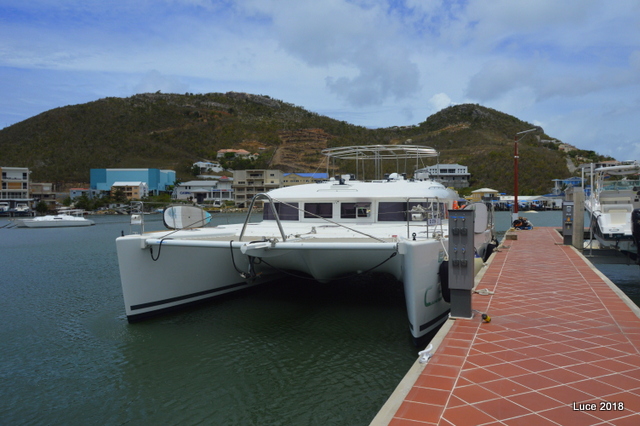 Day Sailing on St. Maarten on the Catamaran Celine 3 – Enigma.
Oh my, Captain Neil Robert is working so hard. A little visit to the catamaran put me in good spirits. Actually, Neil put me in good spirits even though his stories of what he has to deal with are woeful, (many of us who live here have similar stories. How one wants to tear one's hair out, scream, shout and jump about while trying to rebuild after that Irma blow.)  Neil wants to do all the above and one certainly can't blame him, but his stories are dotted with wry humour. Neil's humour is what is helping him through these trying times – what an inspiration he is.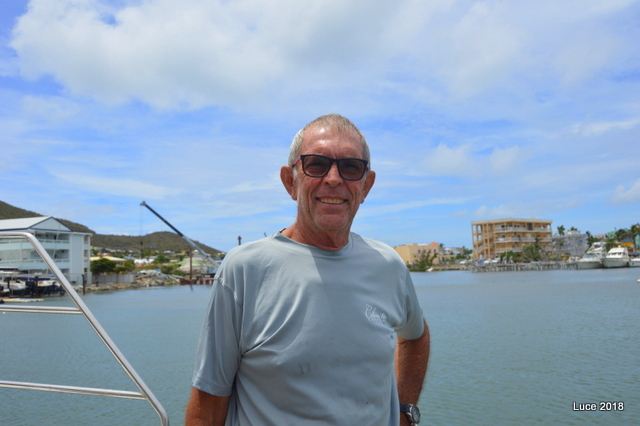 The outcome of all the hard work Neil is doing means soon, soon we will all be able to go sailing. Contact Neil about the special introductory trip offered this Saturday!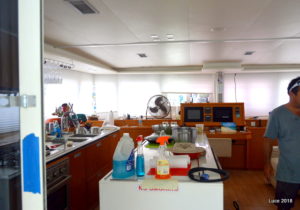 The spacious salon will be emptied of all superfluous clutter;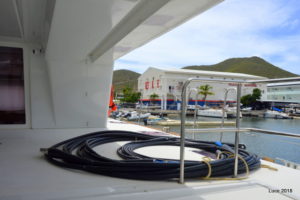 The mast needs to be stepped, this thick heavy wiring is for the mast;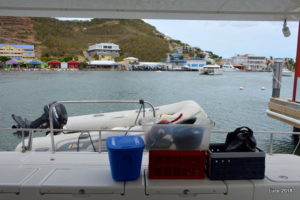 Extra "stuff" found in lockers will be taken off the boat;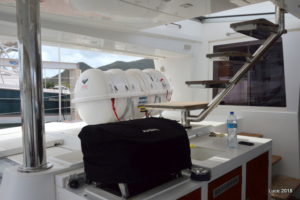 Super BBQ installed and ready.
Captain Neil is a superb cook, you know you won't go hungry when on a charter with him and his crew.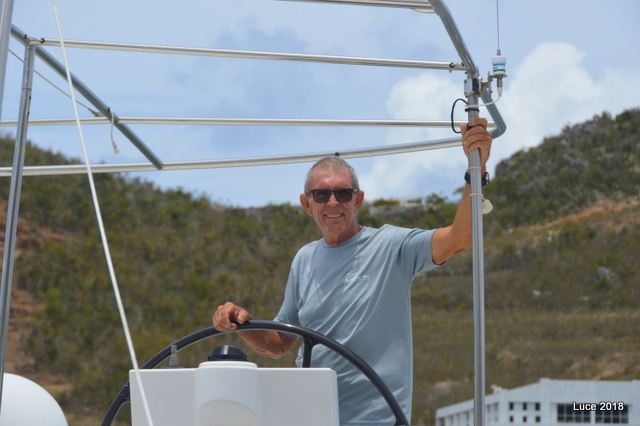 With Captain Neil at the helm the fun will once again be yours to enjoy all day.
If you are fortunate enough to go on a trip with Neil this weekend you will be blown away with how much he has had to do.
The many baby steps of fixing, clearing, restocking are all leading to a great finished project. The boat is a gorgeous party boat, make the most of a day out on the water.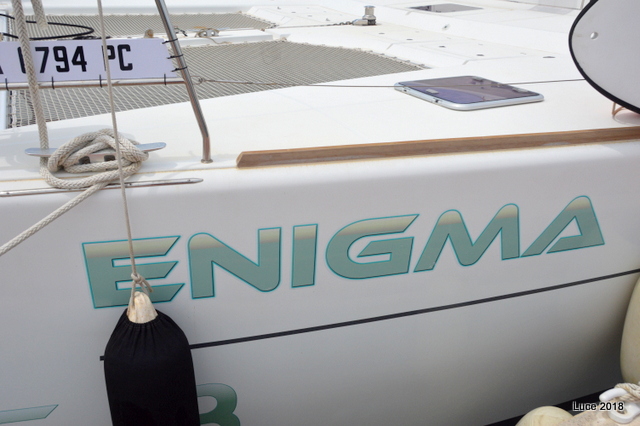 Watch this space for  – All about a sail (or two, or three and more)
You can contact Neil (here)
ENIGMA~CELINE 3 – Saturday Sail, July 28.
We are boarding at the Blue Pearl marina at 9.30 am on Saturday. Go through the 10:30 Dutch bridge. Go to Mullet bay. Open bar,beer,rum punch, vodka, soft drinks. Buffet Lunch on board.
Swim , snorkel or relax on board.
Return to dock at 3:30 pm
SPECIAL intro price $135 pp
Crew Gratuity 20%
Celine Charters SXM
1-721-526-1170