Peanut Butter Biscuit recipe – an oldie from the 1950s or before – never fails to please.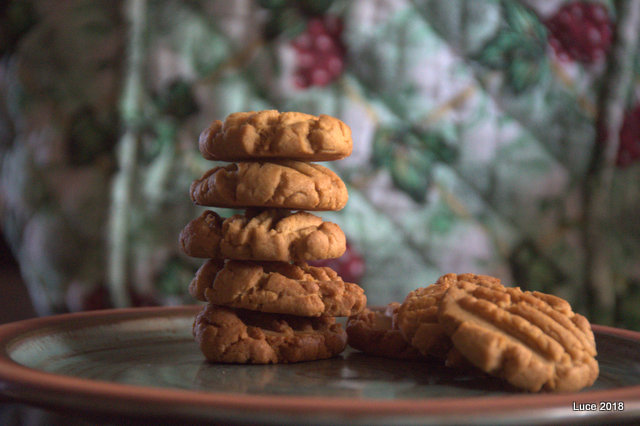 Sometimes I get the munchies for sweet crunchy biscuits. I am not that much of a lover of bought biscuits/cookies. (The few I do like are seldom in the house because they are too easy to nibble on – oops, there are none left!)
I do however love certain homemade biscuits. The ones my Mum used to make are the best. We would come home from school, walk in the front door and swoon, for the house would smell heavenly from her baking. A big pot of tea would be waiting laid out on the tray along with whatever she had made that morning. I did this for my children too and then came the day that there were no more school children in the house. The empty nest syndrome – we all have to live through it!
But the yearning for a yummy homemade biscuit always hovers just below the surface. Today was the day I could not put off making a childhood favourite, peanut butter biscuits, any longer. Mum always made them in conjunction with custard powder biscuits. She kept these in separate biscuit tins – we don't see those tins much at all on this Caribbean island we live on (they rust too quickly!) I did not make the custard powder ones for the simple reason I have no custard powder!
Today was conducive for a cooking morning.
Okay – so I am kind of here, and there and all over the place – yet still in the kitchen.
I made various curry dishes for the family supper (Love it when the grown-up school children and their children come over.) Busy morning produced – Eggplant curry with chicken; crispy celery and spinach curry; potato and butternut curry; red lentil dhal; all that is needed now is rice and poppadums' and a tomato, onion sambal.
I have one jar of homemade tomato chili chutney over from the batch I sold this past week – this and the apricot chutney are very popular!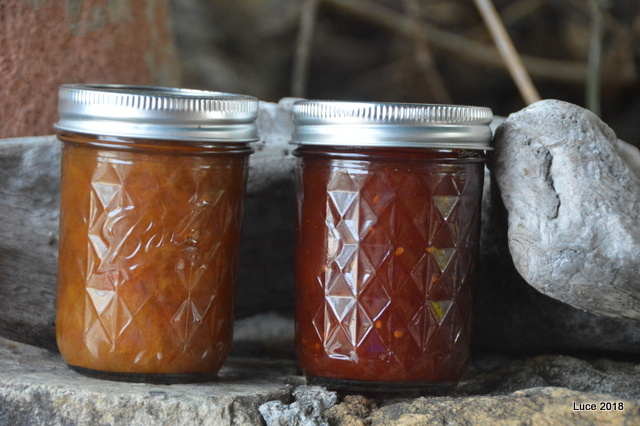 And then I made the biscuits. I used up the last jar of creamy peanut butter I had from last year's hurricane emergency stock. It is time to use up last year's emergency supplies as we need to stock up fresh again for this hurricane season!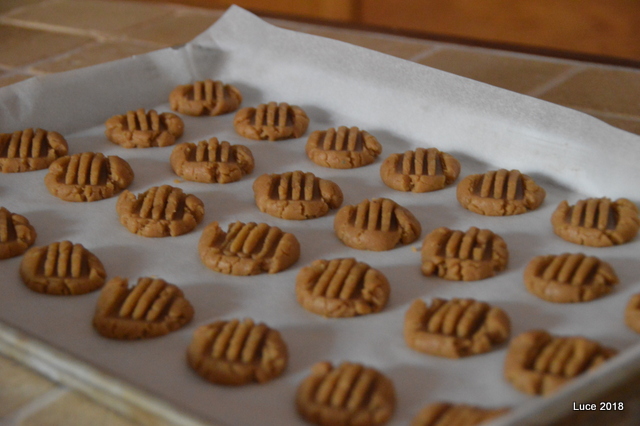 Peanut Butter Biscuits
Ingredients
25g butter
65g white sugar
65g brown sugar
½ tsp vanilla essence
150g peanut butter – smooth or crunch
1 extra-large egg, beaten
210g flour
Pinch salt
1 tsp bi-carb (baking soda)
Method
Cream the butter, sugars and vanilla
Beat in the peanut butter and egg
Sift remaining dry ingredients together
Add to the sugar mixture
Roll into small balls and place on grease proof paper lined baking trays
Press flat lightly using the tines of a fork
Bake in a preheated oven at 325*F 10 – 12 minutes
Cool on a wire rack
Message me if you are on island and want to buy some chutney. I will be making some more soon.