Movida – Simpson Bay – Tel # 1 721 5440440 / 1721 5278119
Fun hang-out for fun people.
The new kid on the block along the Simpson Bay strip is not really a kid at all. It is more like a sophisticated, laid-back adult who adds class to a scene of young swingers out for a good time.
You will find Movida on the ground floor beneath Avantika. Although sisters in the food and beverage industry, these restaurants offer quite different vibes and food.
The entire establishment has gone through an extensive refurbishment; the end result is definitely one of less is more. The dining area walls are tiled in stone coloured tiles. There are just a couple of indoor seating tables in here (necessary to follow the weird Covid era protocols.)
Indoor dining is not really that necessary in our climate. There is a large bar area on one side of this large room.
On one wall is a good sized TV screen with a delightful scene of grilling flames lending warmth and anticipation of what's to come.
The scene
Outside huge umbrellas shade the tables, of which there are many, and the vibe is one of laid-back sophistication.
I was lucky enough to get a quick tour of the kitchen. It was hot in there and the chef, bless him, was hard at it making a lovely sauce, the grill was alive with the fire as the fowl were spit roasting. It is great being in a lovely new kitchen, I wouldn't have minded doing some service there myself.
The night we went was the first of many and we were very intrigued to see the menu. This proved not to be large making our choices fairly easy. I thought I would order a couple plates of the tapas. I spied the spit-roast chicken and duck suggestion. Whole roast fowl is always a drawcard and the duck won; the duck is large enough for 2 people.
The menu says 2 sides will come with an order of whole chicken or duck at the price of just one side and we chose the mashed potato and asked for a green pepper sauce as well.
Our meal
Our orders came, our friend had the Kobe beef burger which she enjoyed.
My, oh my, was that duck delicious. It was the soft opening night and things were running pretty smoothly under the circumstances. The mashed potatoes were not up to par for fussy us. Mentioning this to the waitstaff was the right thing to do, the bowls were whisked away. Two new bowls of hot, perfectly mashed potatoes were placed before us in the blink of an eye.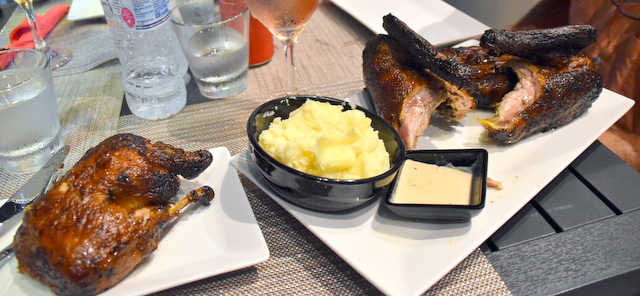 A lovely touch. Eating duck with the fingers is messy but a finger bowl of lovely warm water and lemon was placed alongside our duck.
We shared a wonderful chocolate mousse, to end this great meal. The waitstaff were very friendly and on top of things and the folk around us were having a good time! It is a sure is a fun hang-out for fun people.
That is what it is all about, is it not? Enjoying life!
The evening was all about a rich and satisfying meal. There was a good choice of wine served in a welcoming outdoor setting and good service is exactly what one looks for.
Good Vibes for sure at Movida (here)