On the Foodie scene SXM
On the Foodie scene SXM I finally made it out to try out some new places (new for me at least.) I collected a friend from Beirut in Jorden Village (she was having a business luncheon.) I did not even realize that Beirut had a restaurant there. I did not eat there this time. Boy, Jordan Village is like being somewhere else on this globe. It is a stunning little university village with some great, wee, watering holes to fill the bellies of hard-working students. Anyone from the island can go and enjoy meals at one of the dozen or so restaurants there.
Cape Cafe, Maho (here)
We ended up for another bit of networking at Maho. There is not much open there but there is a lot of buzz going on because the casino is very shortly going to be back on track. Shops are being upgraded and of course so is the Sonesta.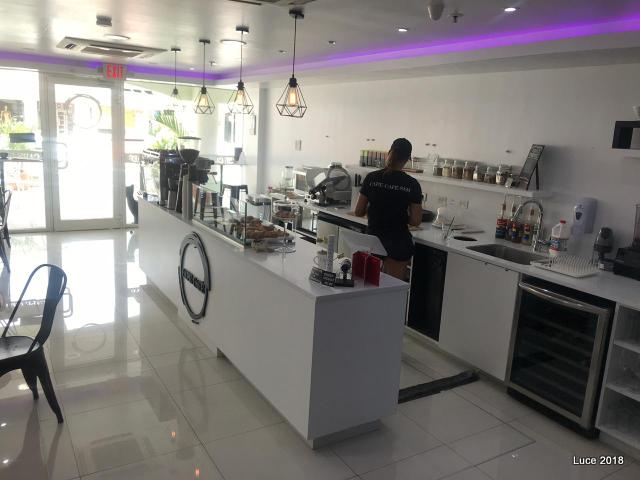 One of the places that is open is Cape Cafe, a very nice, modern and refined establishment. The menu small, but freshly made looked appealing.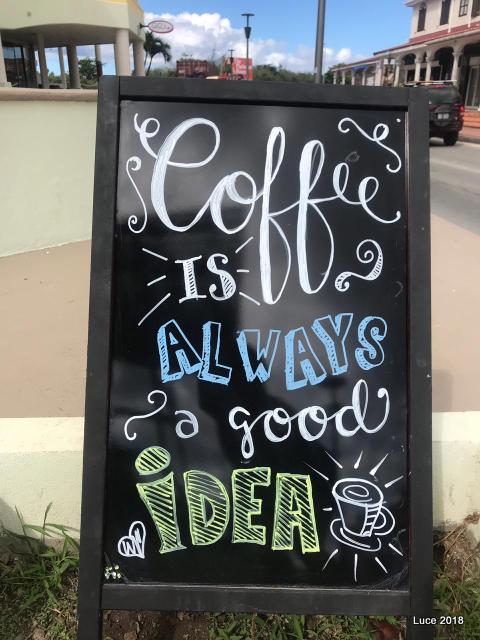 I opted for a croissant with prosciutto and cheddar cheese, and a cup of great coffee.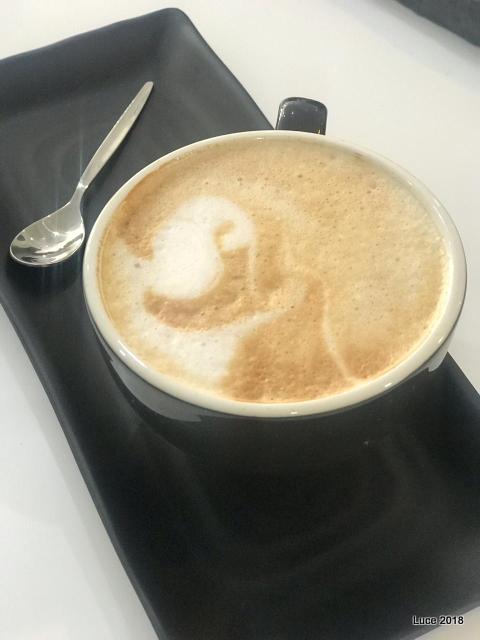 They offer a variety of coffee & espresso options, açai bowls, sandwiches, salads, fresh juices and pastries.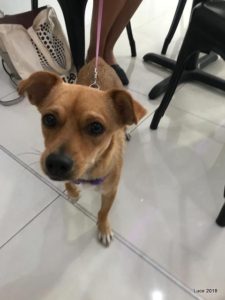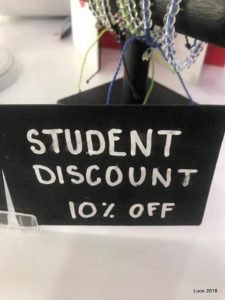 Cape Café is both kid and pet friendly and they have wi-fi. They also offer a discount to students.
Water is bought in cardboard boxes, not plastic bottles, a good start to going green.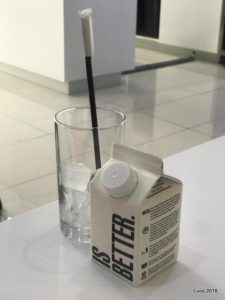 Cape Cafe – This great place is well worth a stop.
Aziana in Philipsburg (here)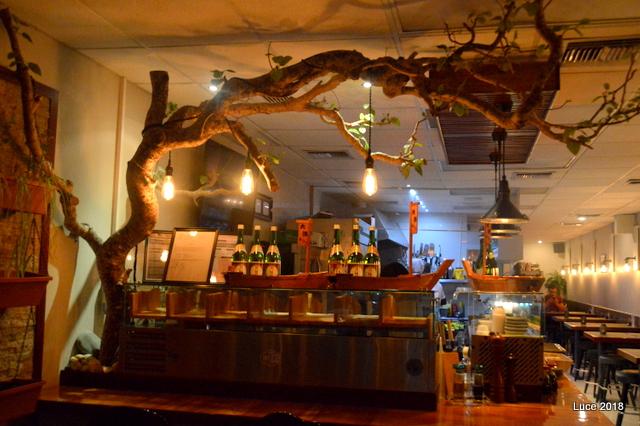 The final new spot on this particular day was Aziana, Front Street, Philipsburg. An Asian Fusion Restaurant. This little place is a gem. The simple layout is reminiscent to many in Europe. An open kitchen runs along the wall on one side of a long, narrow room. Opposite, along the wall, is a series of table tops set with two stools to a side. At the rear of the room the seating space opens up and besides the stools there are a couple of chairs with backs to sit on.
The menu is a card with one side offering a cross section of dishes and the other side offering sushi and sushimi.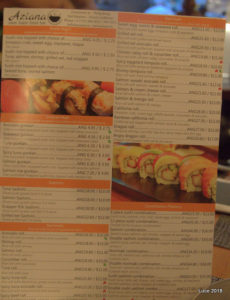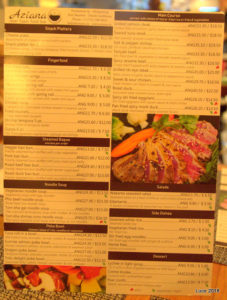 The wine list appeared limited, but we enjoyed a perfectly adequate Pinot Grigio.
We shared the nem plate. The sauce seemed to be from a bottle and there were no mint and lettuce leaves to wrap the nem in, but I think these were meant to be served differently to the way we have come to expect nem to be served. Delicate and crisp these nem were filled with pork and veg – soft cabbage or potato perhaps. They were very nice.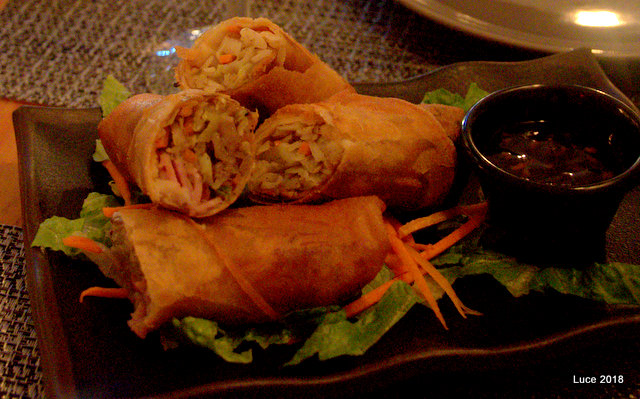 When I first entered the restaurant, I noticed a plate of crisply fried and breaded sticks. I asked what this was and was told it was salmon skin. I was served these as an amuse – they were the most delicious salmon skins I have ever had.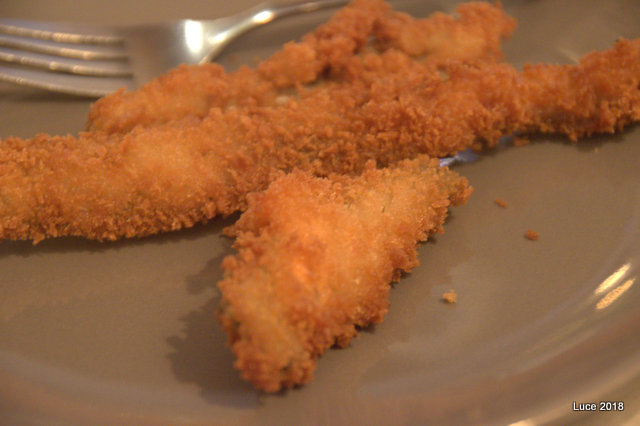 For my main I had the duck breast. The meat was tender and there was a lot of it. I am not partial to bones on the plate, they make for untidy eating; unfortunately, I had far too many wee bones. This did not detract from the sublime, melt-in-your-mouth tender, delicately flavoured duck meat. As a side I had some quick stir-fried rice noodles.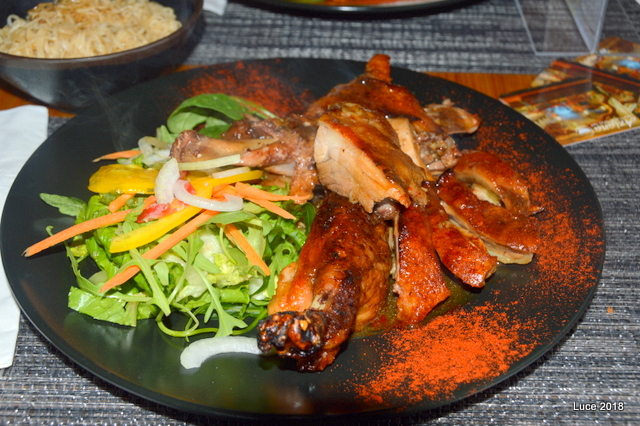 My dining companion had the teriyaki beef with rice which was a tasty and quite filling, she ordered white rice as her side.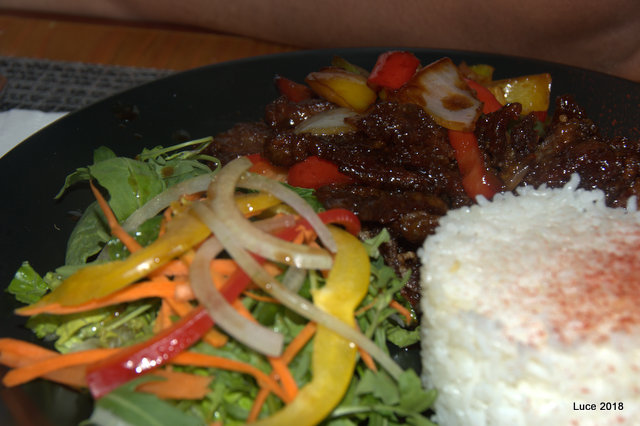 Both of us had a house salad on our plates. This was fresh and not covered in an overpowering dressing.
Prices are reasonable, service is efficient and friendly
Repleat we had no space to consider dessert. Next time, for sure!