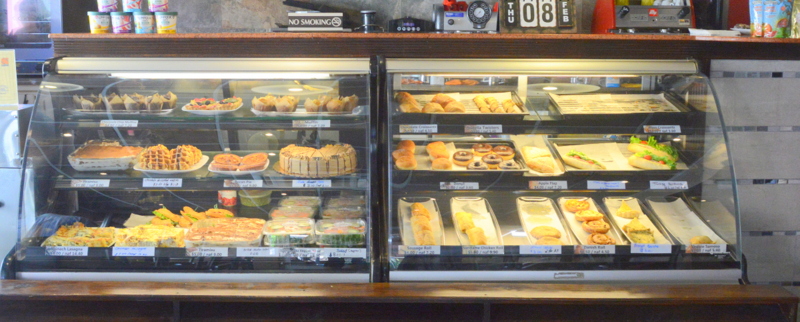 The Coffee Lounge has a fantastic, cool vibe, it is where friends meet friends! Stop by to pick up a mouthwatering take out for a picnic on the beach or linger over a light meal from breakfast until late afternoon tea.
You will find probably one of the most delicious Frappes you have ever had right here at the Coffee Lounge which is located near the Clem Lebaga Square end of Front Street. As you walk along Front Street from the square you will see a couple of alleyways to your left, just at the entrance to an alley you will notice a fairly steep white tiles staircase rising up to a balcony. Make your way up there, you are in for a surprise.
The Coffee Lounge has tables and chairs both inside and out, it also has comfortable lounges to settle back on and enjoy some delicious repast. And when I say delicious think of homemade deliciousness. The display case is filled with sweet and savoury delights that are not the same every day. Possibly the item you are hoping to devour has already been devoured by others who reached before you did. Never fear you will find something else to try that is just as delicious.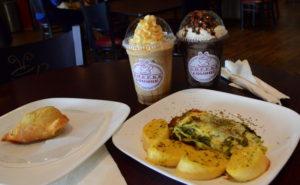 This happened to me, I love the samosas but seldom get there in time to have one. However, this has led me one to try so many other choices I would not have had, the spinach lasagna being one of them.
The choice of frappes is mindboggling, these they will not run out of – do go and try them out – my fav is most definitely the coffee, caramel frappe. Indulgently rich, this more-ish drink disappears far too quickly.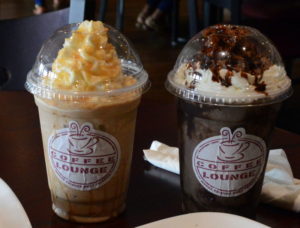 The Coffee Lounge is introducing "high-tea" to St. Maarten in the near future. Think a tiered server filled with delicious sandwiches, scones, petit-fours and savoury pies and pots of hot tea (they have some awesome tea flavours too.)
Of, course you can have coffee if you prefer, they serve the best coffee in Philipsburg.
The Coffee Lounge has wifi.