Day Charter aboard Celine 3 – Enigma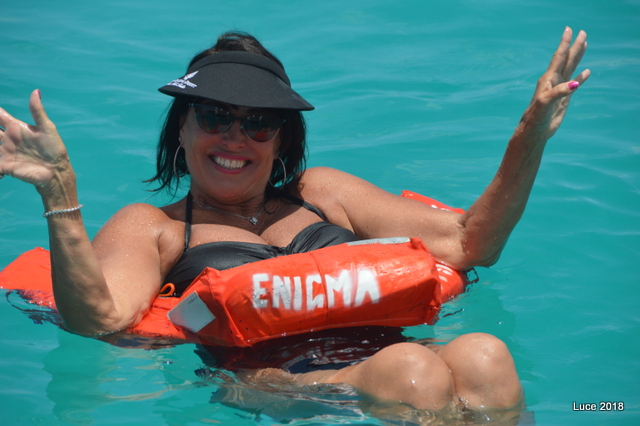 This post is about fun in the sun! To show you the fun (so you can feel as if you are there enjoying yourselves too) here are some pictures of people having a good time, good food sorta fun and messing about in boats on the gorgeous blue Caribbean Sea fun!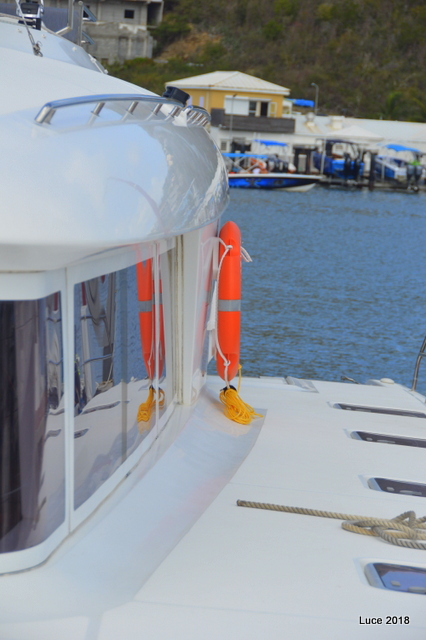 Nothing could be more fun than a day charter on Celine 3 with Captain Neil. Don't feel bad if you were not here on this day – you can enjoy the same sort of day the very next time you get to visit St. Maarten.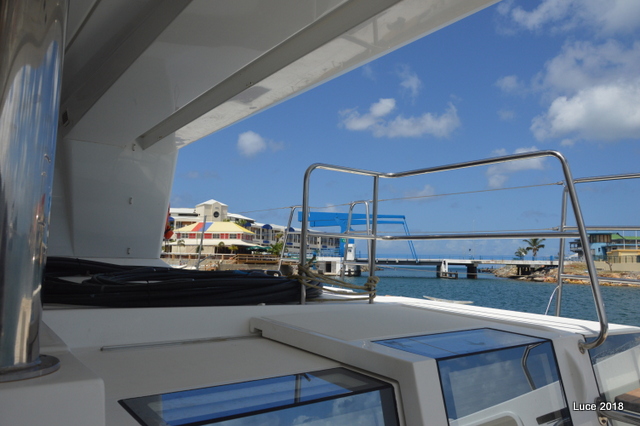 Captain Neil has some great ideas for you to enjoy in the near future. He plans "term" charters – that is he will take you on a two or three day charter. This is when you get to sleep on board!  Anchorages where you could perhaps overnight will be in the waters around St. Maarten, Anguila, and St. Barths. Depending on the weather and what you would like to do these personalised charters are yours. Contact Capt Neil (here) to find out more about when, where and what these charters are about.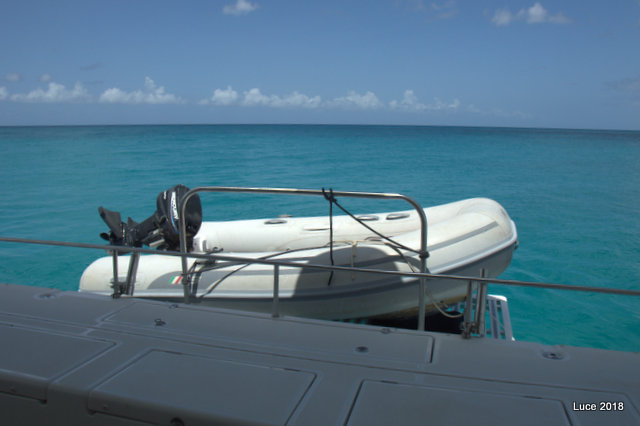 On the day we went out for our day charter the weather was stunning.
We all mustered onboard at the appointed time and as always a delicious light snack was ready for us.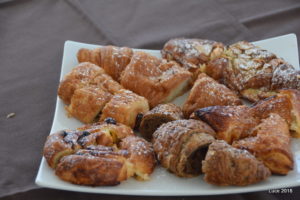 Fresh fruit, pastries and French bread along with Rum Punch….great start to the day!!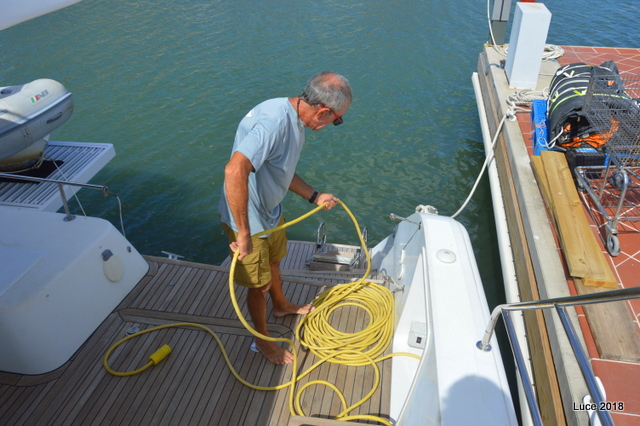 Captain Neil getting the boat ready to leave the dock while we settled in with our morning cocktails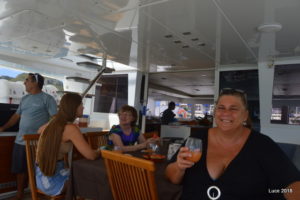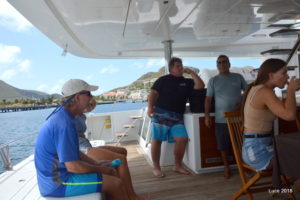 Crewman Francewa ran through the necessary story of "Heads" details – on this boat it is a case of how many buttons to push! What a pleasure!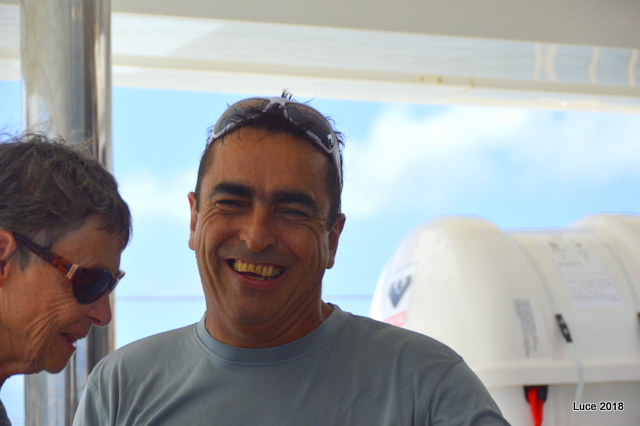 Then it was through the bridge and across Simpson Bay on our way to Long Beach for lunch.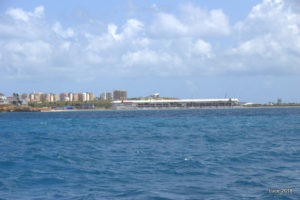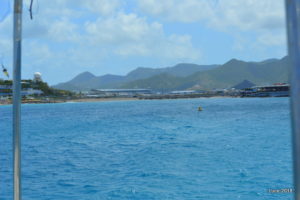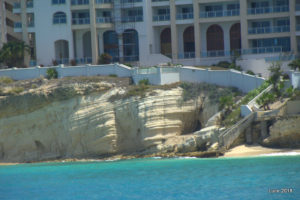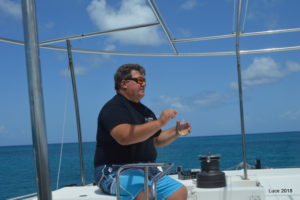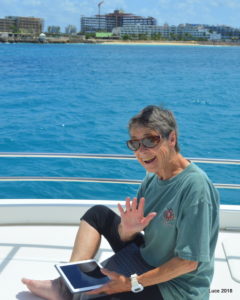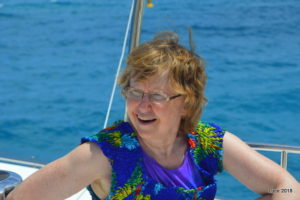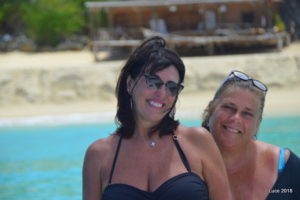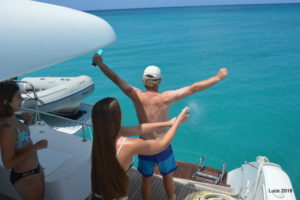 Yes, we were served our refreshing drinks by the always smiling Francewa while we were in the water.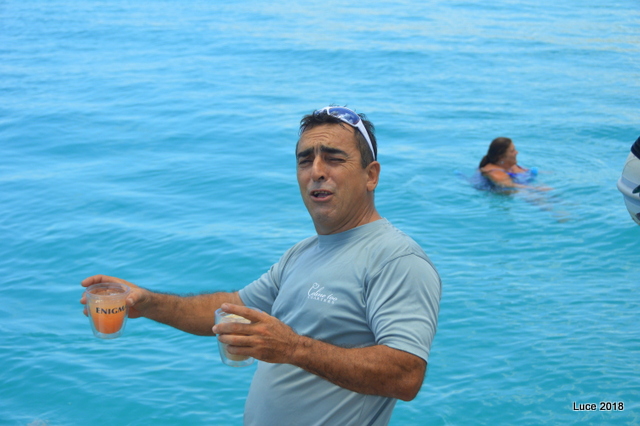 We could not wait to jump into the pristine water and there we stayed until called for lunch.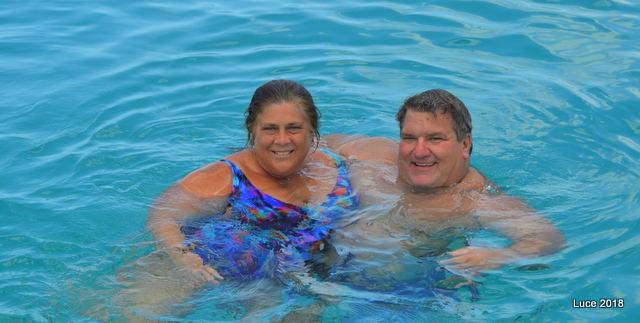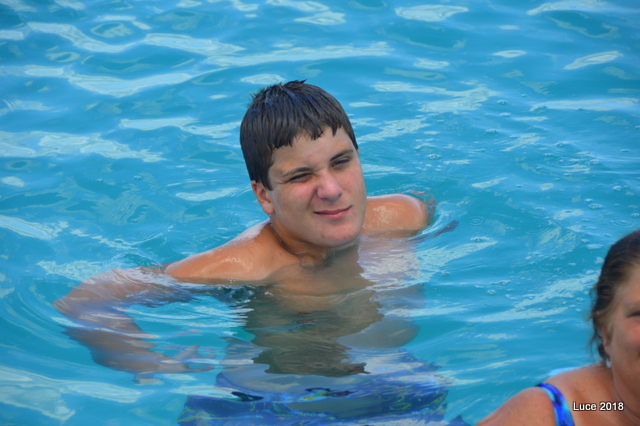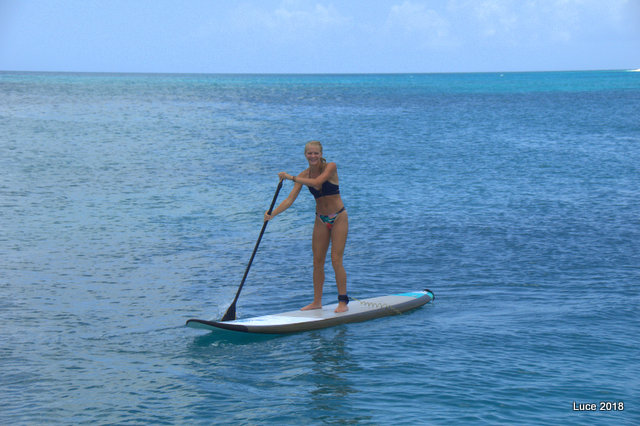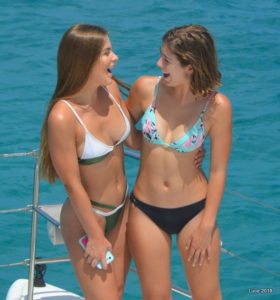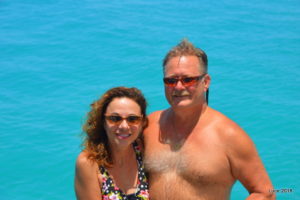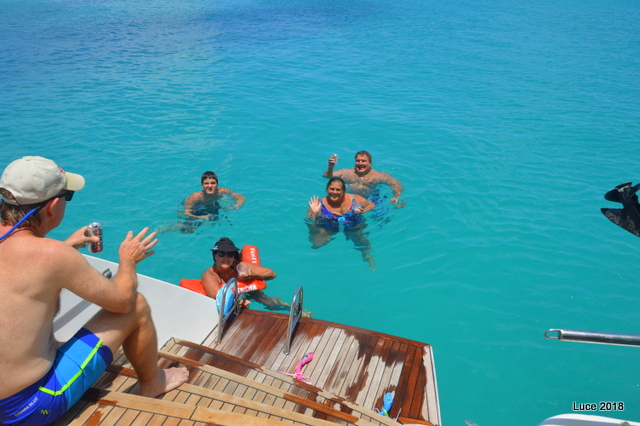 Ahhh. Lunch.
Surely the best day-charter lunch is made fresh right in the galley by the captain and crew on board the Celine 3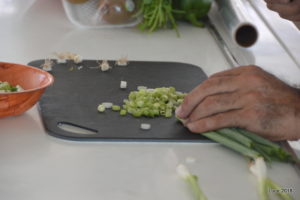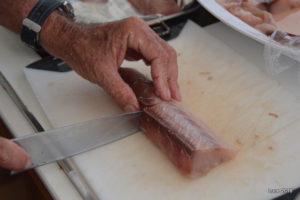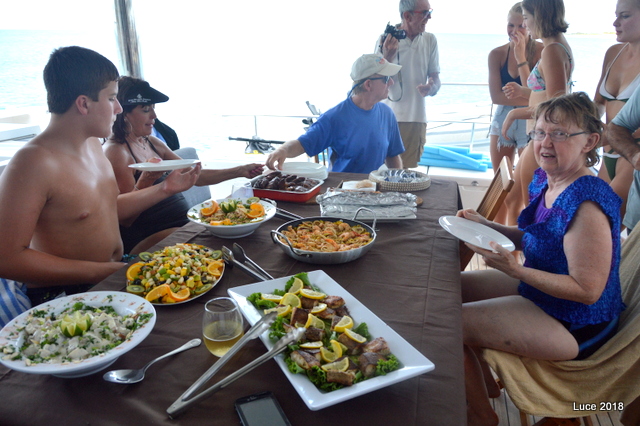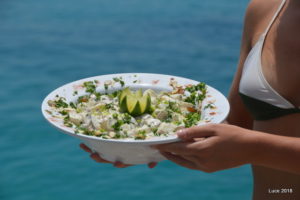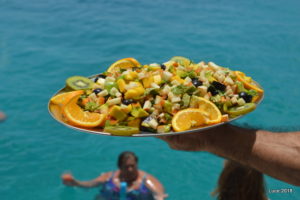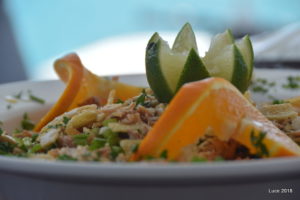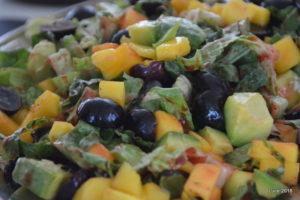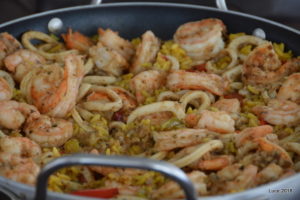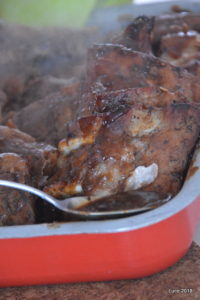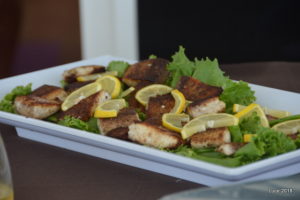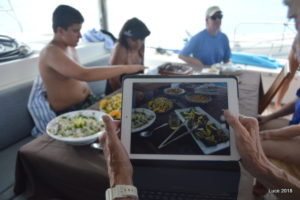 Captain Neil serves a number of different dishes. There are vegan/vegetarian dishes as well as shellfish and meat dishes. He uses nuts too but if you have any allergies at all please speak to him re  your dietry requirements when you make your booking.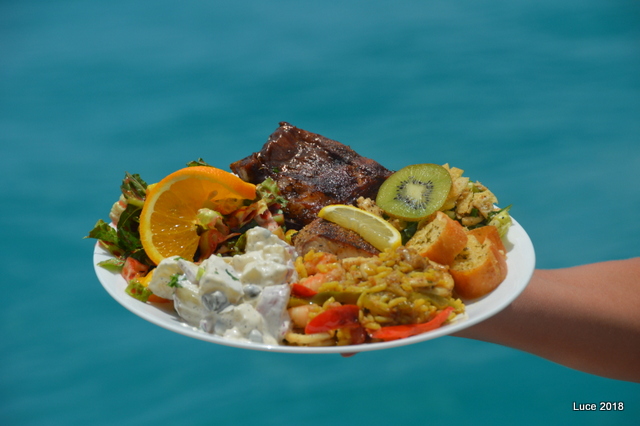 This is a very colourful plate with a little of everything served for lunch. There is a potato salad; an Asian chicken salad; a fruit and avocado salad; a seafood paella the recipe gleaned from a Spanish crew member (nice story, ask Cpt, Neil about it); garlic bread, ribs and blackened mahi-mahi. You will never be hungry when onboard Celine 3.
While we were eating the boat moved to Mullet Bay – Once again we all took to the water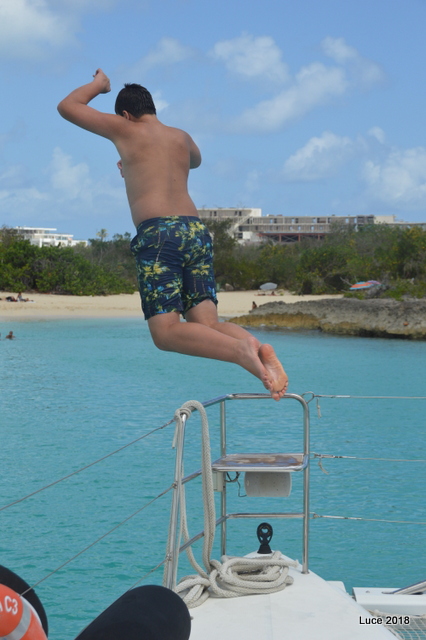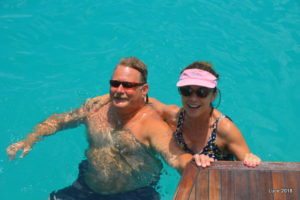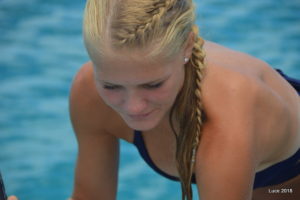 The sail back to the dock in the lagoon had some very happy and satisfied people on board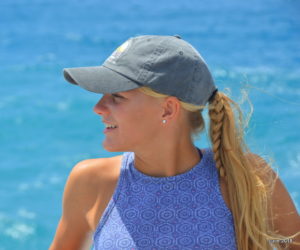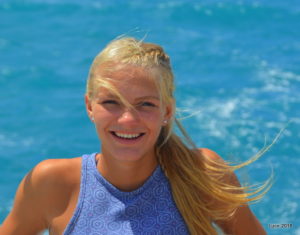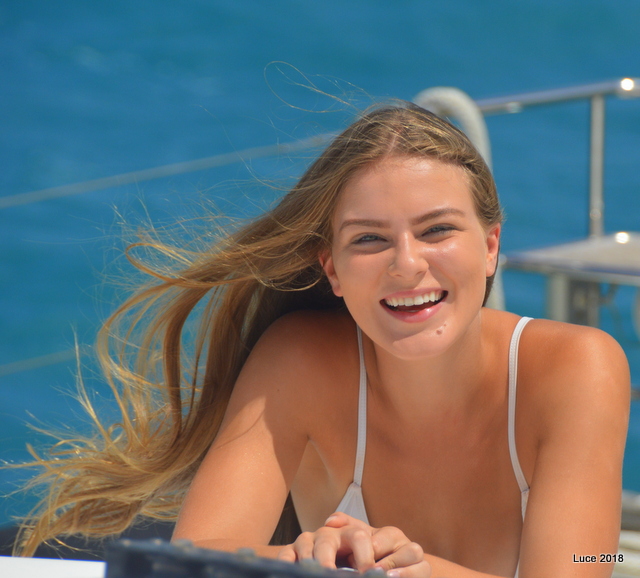 Oh yes, the birds followed the boat snatching at the bread thrown to them!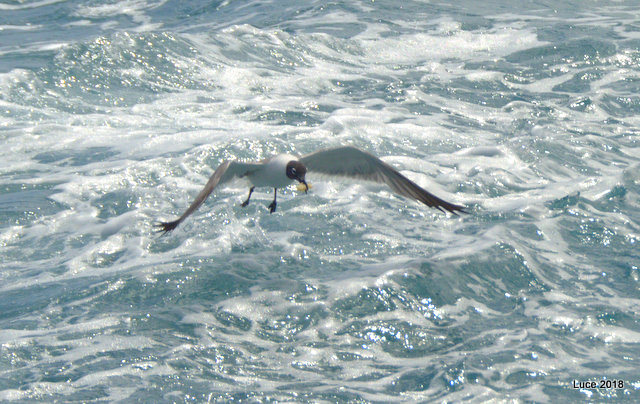 By the way the day charter price for the 10.30am to 3.30pm trip is $175 and the gratuity is 20%.
Contact Captain Neil( here) if you would like to join in a fun day on the water.