I love this cheese these days. I find that I love it best when it is prepped by frying or better yet, grilling over hot coals. Halloumi is a firm, salty cheese with a kind of rubbery texture. It is a cheese one could compare with feta in saltiness, we like it best if Halloumi is warmed before eating.
Halloumi Cheese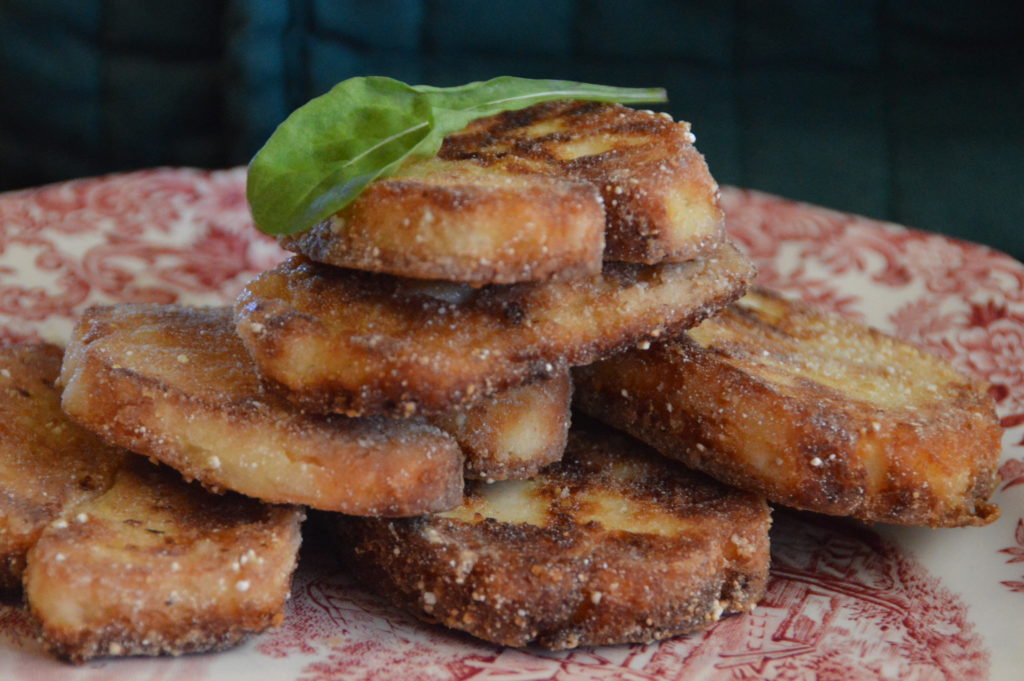 After a couple of attempts at cooking it myself some years ago I gave up as my Halloumi always became rubbery almost immediately – loved the flavour, hated the texture. My brother in law prepared it the best – by grilling it on his braai. I seldom get to enjoy his meals as they live too far away from us these days, I felt I had to come up with a way of making this a satisfactory dish for us to enjoy. I think I nailed it! I think this is  a serious contender to BIL's "braaied" Halloumi (Braai = South African BBQ)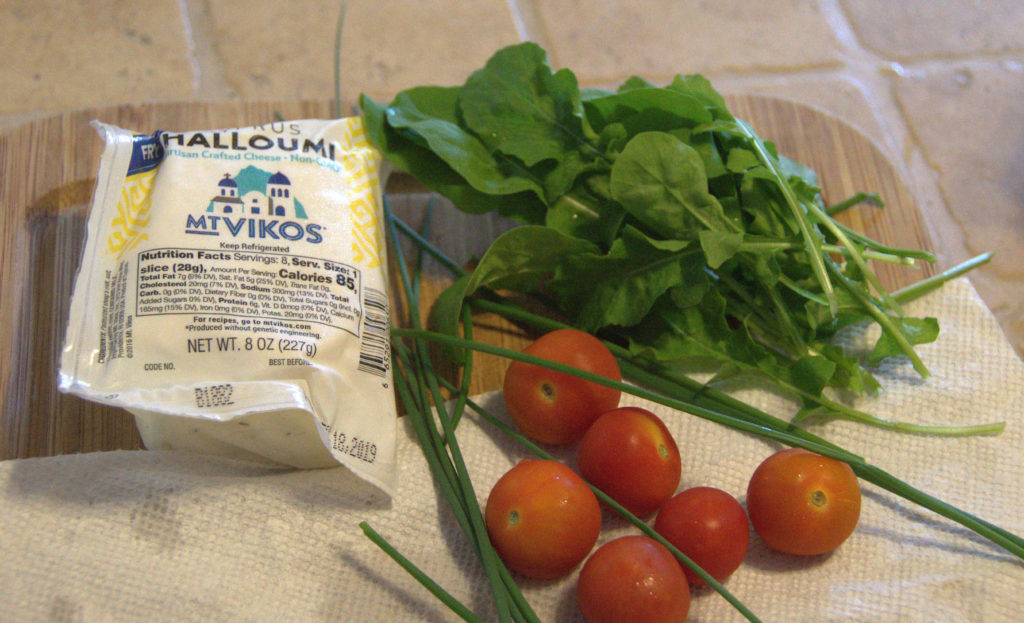 This recipe is one of those recipes that does not have to be exact in measurement – The quantities are general, you can add a little more, or less, as you please – just remember do not add salt.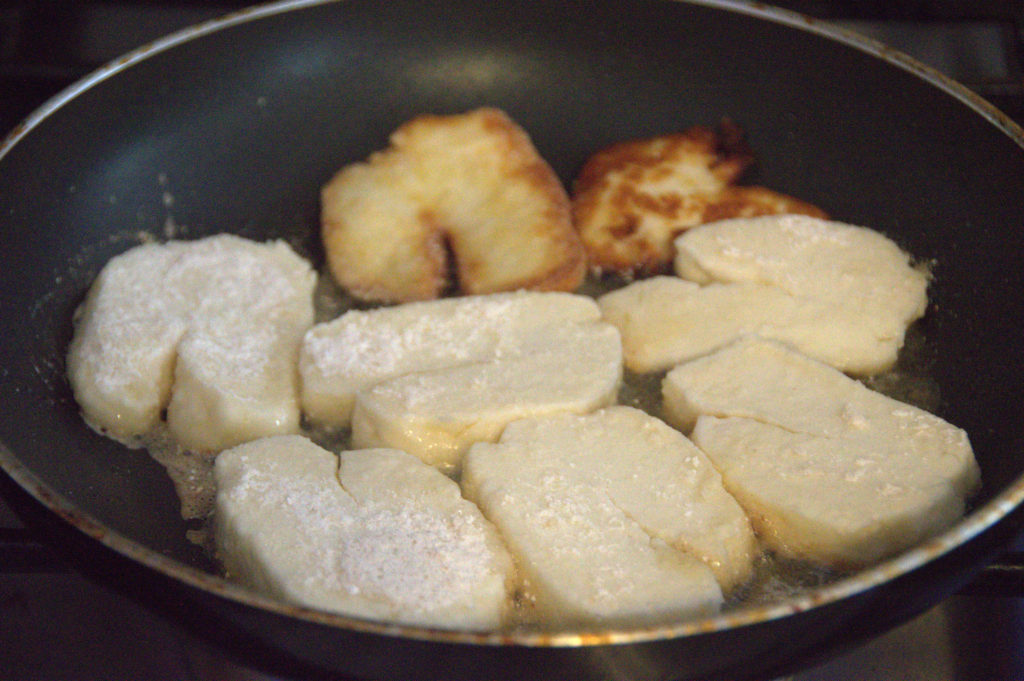 Halloumi is a soft curd-like cheese free of rennet and safe for vegetarians who do not eat rennet. Traditionally prepared from sheep's milk in the island of Cyprus.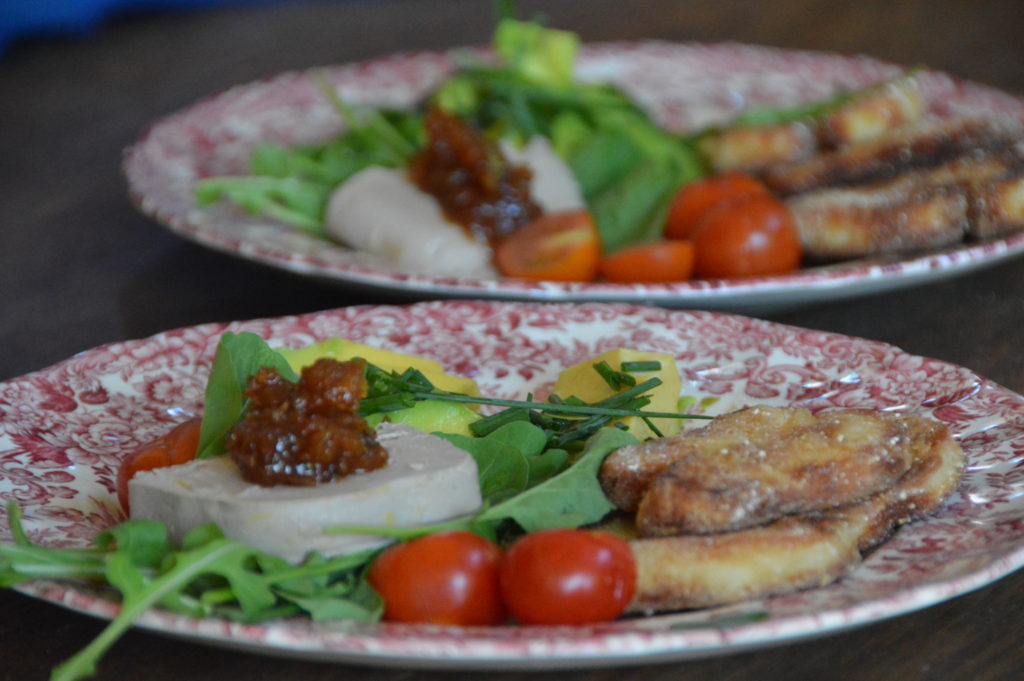 Other ways to us Halloumi:
Serve as they do in Greece, freshly, thinly sliced with watermelon and mint.                                               Use it in place of mozzarella in a Caprese salad
Fried Halloumi – I wanted to find a way of using up the toasted rice powder I had it left over from a larb making session. It gave the cheese a nice little crunch but if you don't have any on hand, don't worry.
Ingredients
1 Halloumi cheese
3 heaped TBL flour
1 heaped TBL corn starch or potato starch or even rice flour
1 tsp toasted rice powder (optional)
Fresh Ground black pepper (optional)
Olive oil
Method
Mix the flours together in a plate
If you would like to add a grind of fresh black pepper add it now
Rinse the Halloumi and pat dry
Slice, not too thinly
Pat each slice into the flours and shake off excess
Heat a glug of olive oil in a non-stick frying pan until just starting to smoke
Fry the slices of cheese until golden on both sides
Serve as part of a salad.
(You can skip the coating the slices in the flours completely if you like, just fry the cheese straight. It is great to eat immediately it comes out of the pan. I find that it gets rubbery too quickly cooking it this way, perhaps I am not frying it at the correct heat)
Toasted Rice Powder
This is quick and easy to do: Pour 2 TBL Jasmine rice into a large frying pan and cook over a medium heat, stirring often, until the rice becomes lightly brown
Remove from heat, cool and then grind – use a pestle and mortar or a spice grinder
Store in an air tight jar
While we had lunch we watched as the fledglings were being fed too. The parents made a nest in one of the shades over the outdoor lights just above our dining table.