Best restaurant reviews SXM – The former La Table D'Antoine is now SAO/Asian Factory.

Sometimes it is a hard to choose just where to go out to eat when with the family, especially when there is a family favourite cuisine. You always go there but you want to try someplace new. This one says yea, this one says nah, that one says I don't really care can we just go out! You know how it can be!
Well, the time we went to SAO was one of those sorts of times and we set out for an early evening meal without even booking on the understanding that if we could not get in at SAO we would try to get a table at one of the other restaurants that maybe open in the village square – and not complain wherever we ended up.
We all love sushi/sashimi and we had heard that SAO was fantastic. Newly opened we heard it leans towards Vietnamese rather than Thai cuisine, SAO was our first choice.
It was a bit of a concern that we were too early (with toddlers in tow we seem to do en famile rather early these days) As we parked right outside the evening sun was sending golden rays across the dining verandah; it looked as if no-one was about. My heart sank, were we going to be lucky to get a table? I just had this feeling that we would all enjoy eating there.
SAO/Asian Factory.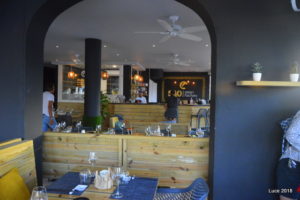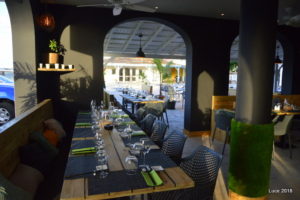 I apprehensively approached the entrance and was immediately met with the loveliest smiling server who was finishing some table settings. He said they were not yet open, but he would enquire.
Cut a long story short we were seated at a table before we could say Jack Robinson on the understanding that the table was booked – as was every other table in the house – and we would need to vacate early! The timing could not have been more perfect, we planned to be out of there well in time.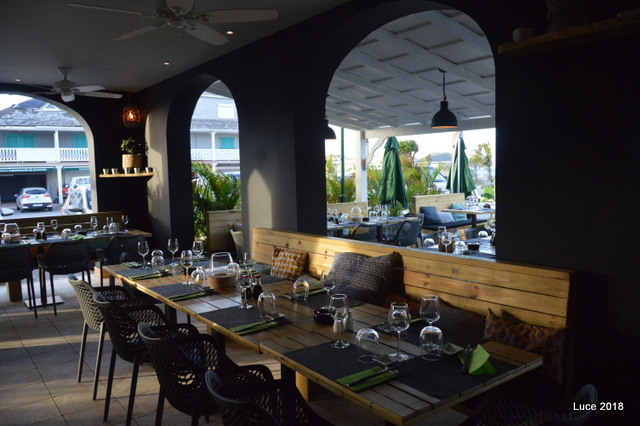 The restaurant has been refurbished after hurricane Irma did her worst to Orient Bay Village. Not to be put down at all the owners, Antoine and his new wife, recreated a fabulous lounge atmosphere where wonderful Asian décor draws you into exotic comfort.  The a la carte menu offers a blend of flavours and spices that reflect the diversity and richness of Asian cuisine. The SAO team are fabulous, and we could not have been any happier.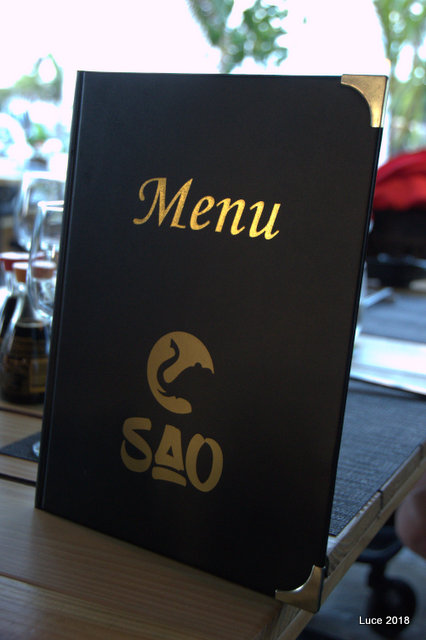 First up we ordered our favourite wine! There are wines and there are wines. And yes Rose is our go to water – err – wine but some of these Roses are a cut above the others and this one fits that bill! The bottle is a great shape too (lampshade bookends anyone?)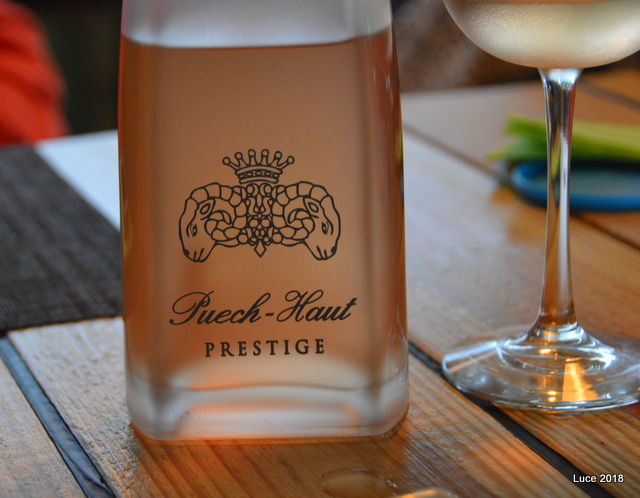 Then we got the children's plates out of the way. The chicken nuggets and rice was delicious of course.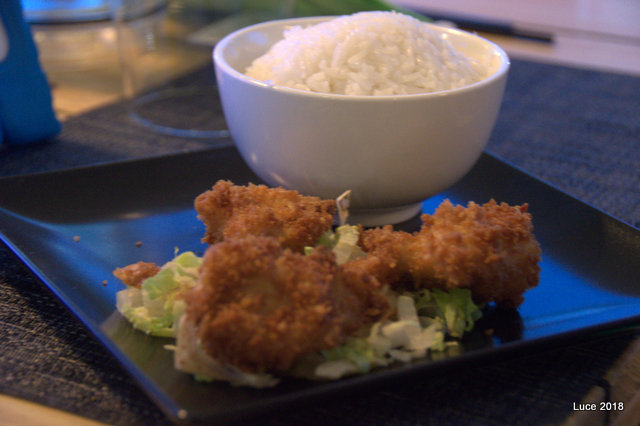 Share the menu – family style eating
Our Duck Nems starters were the best we have had. As usual we ordered a number of sushi rolls as starters too.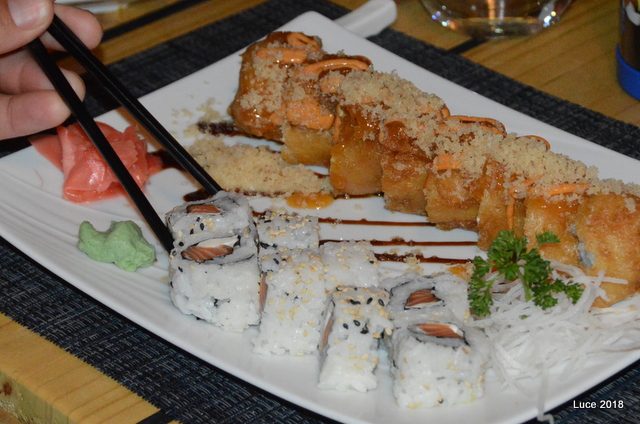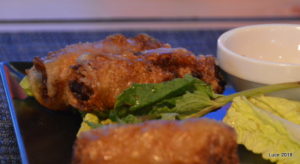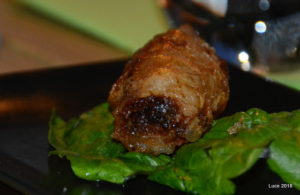 We had more of the sushi rolls for mains but we also had a warm duck dish……………..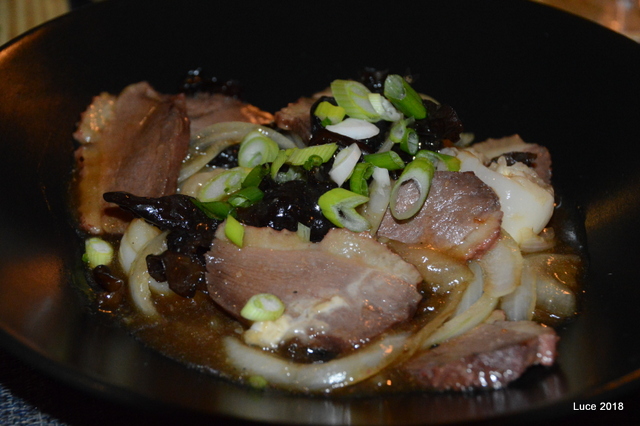 ……………………………….and stir-fried noodles!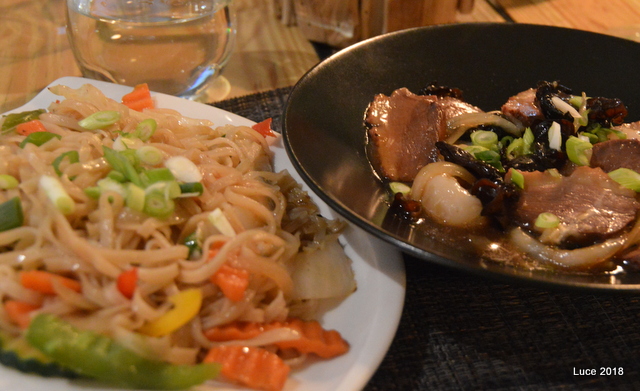 No meal at SAO would be complete without the delctable, very fresh Sashimi boat.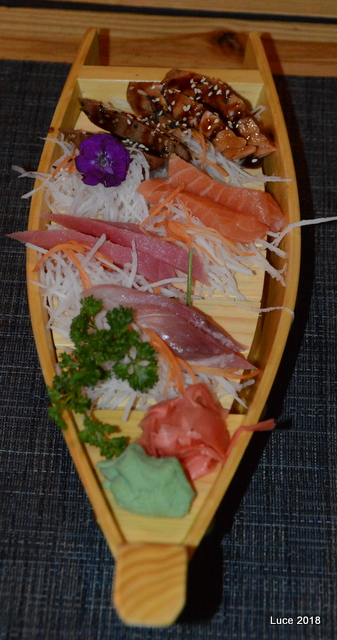 By now we were satiated  checking the time wondered if there would there be enough time to have dessert? There would be and so we choose to share a couple of  tempura fruit plates with the most delicous of all homemade ice creams. Juicy, drippy, crunchy, sweet complimented by creamy – what more lip-licking ending to a meal could one want?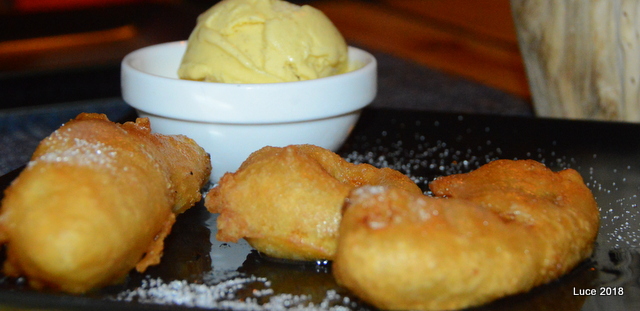 Our new absolutely newest favourite dining in Orient Bay Village is SAO/Asian Factory. (here)
We must remember to book in advance next time because they are very popular.