Dinner out with a friend.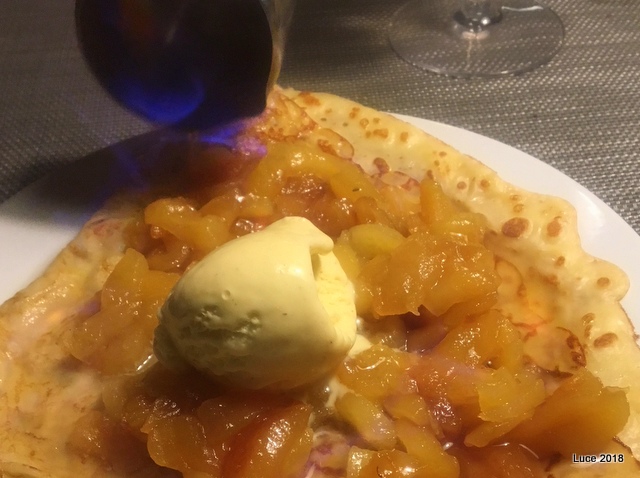 Dinner out, with a friend – I say this again and again – we are sooo lucky to have so many great restaurants on this tiny island. It is hard to choose where to go as one does form a little relationship with their favourite place to eat out. Once upon a time (oh, so long ago) we used to go to our fav over and over. This was a small place in Oyster Pond called PizzaStop. It was a fav, not just because the food was good, but because of the owners who were chef/front desk lass/service (so very fast and slick) and location.  Then things moved on and our fav lass changed her work places from one excellent restaurant to another, but we lost contact.
I had heard she was at BZH. I had been there on a couple of occasions, but as luck would have it, they were her days off. Recently a friend and I went for supper and, finaly, there she was! The hugs and happy tears were hard to stop. Yippeeeee!
BZH is very popular with many folk. The food is good, the crepes divine. The setting is getting more like it was since Irma with the plants growing back BUT the best is everyone's favourite server is there, Carole is the best!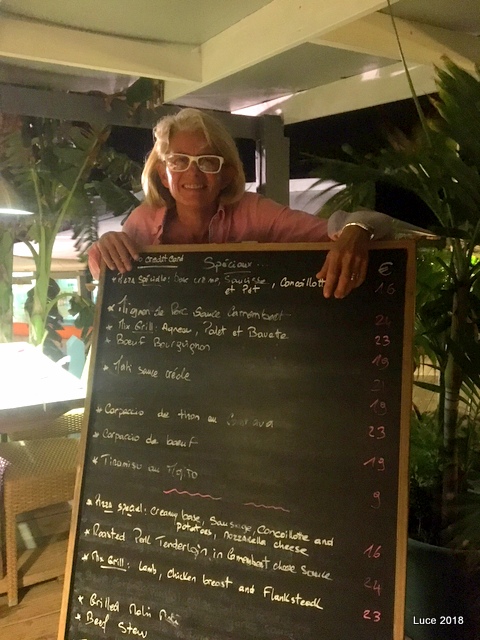 We decided to share every course starter, main and dessert. We had our own (two) glasses of rose each (hahaha, that I don't like to share!) The most surprising part of the evening was the expense of the bill. Essentially it was a meal for one person plus 4 glasses of wine. The wine was most acceptable.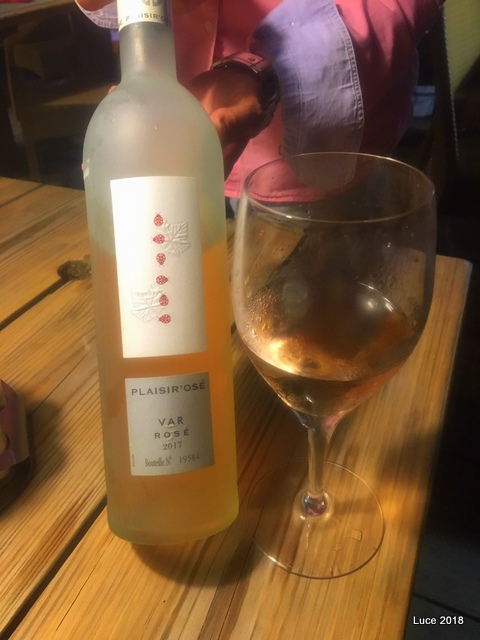 (One can't help but compare. The cost was 15$ more than the cost of a three-course fine gourmet dinner (plus an amuse bouche on the house) at one of the top restaurants in Grand Case. "Snails, pizza and crepe" versus "Rolls + tapenade, snails, stuffed/rolled steak and sides, amuse bouche, chocolate laver cake with ice cream and mousse and 2 glasses wine.)
Dinner
My dining companion did not enjoy her first choice at all. These were the escargot, said she has a preference elsewhere. The sauce was pleasantly buttery but not garlic-y enough, the sauce was very green (parsley.) I enjoyed them but would not order them again.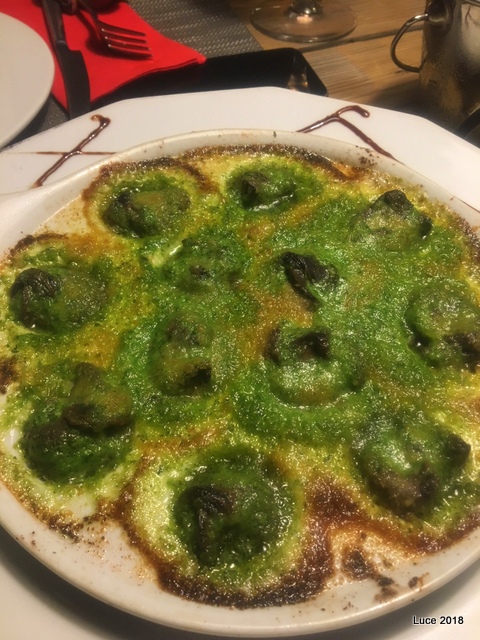 The pizza was excellent. I once had a "savoyard" pizza in Switzerland that I swooned over and as there were many close topping flavours offered on the BZH menu we asked if we could sorta swop the topping cheese from one but keep ingredients from another. They were very accommodating, the pizza was a great success. Raclette cheese, bacon, boiled potato, cream and egg. Was it our imagination that we could taste a bit of nutmeg? – The elusive flavours of this pizza were reminiscent of the Alps pizza and of tartiflette – Yes!!!! Bring it on. The base of the pizza was lovely and crispy. We could not fault this pizza at all.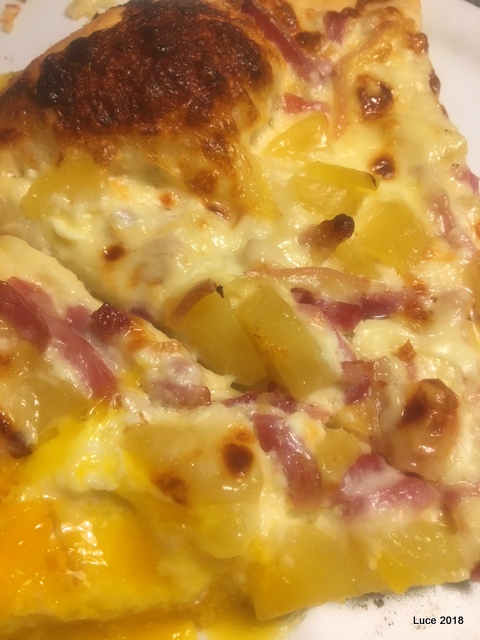 The dessert was my favourite, my dinning companion would have preferred a simpler crepe. We ordered the apple and calvados topping with vanilla ice cream. Setting the calvados alight and eating the resultant crepe was heaven. My companion did not like the kick from the alcohol.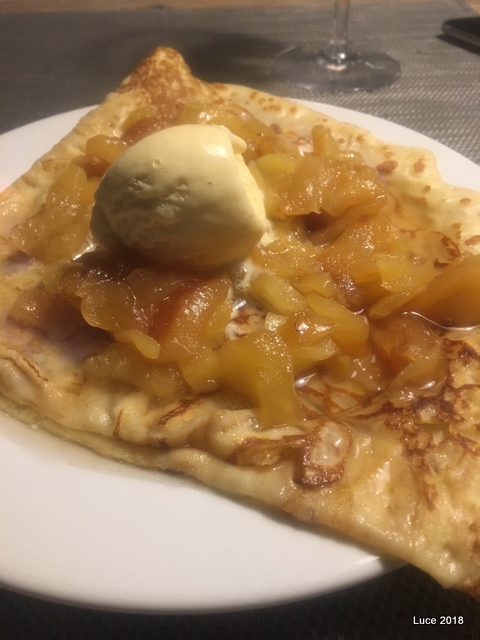 There will be "a nex' " visit there, we want to see Carole again! I will have the galette, I already know which one I will choose.