Best restaurant reviews SXM – Continuing excellence @ Mario Bistrot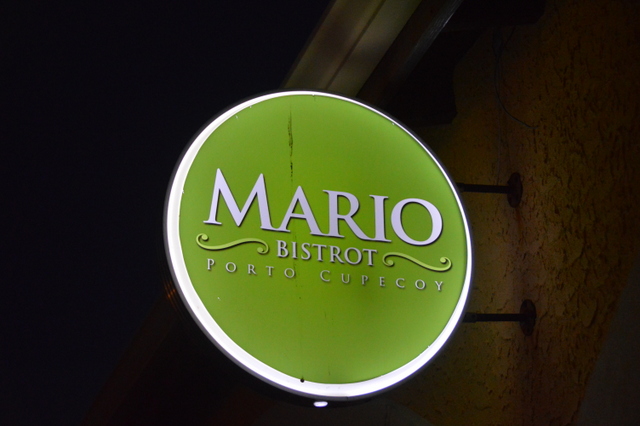 We loved Mario's when it was situated at the water's edge back in the day. For food and ambiance it was possibly one of our most favourite French restaurants back then.  Many years ago when Mario's Restaurant was to be found down a side street just outside Marigot there was a slight problem of parking closeby when there was a full house.  The restaurant looked over the waterway entrance to the Lagoon.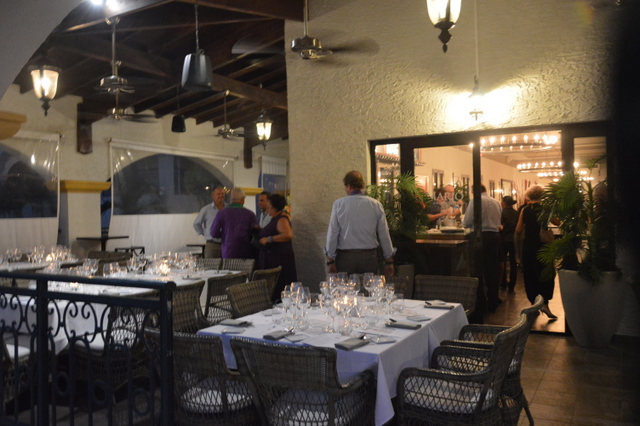 Life brings about change and eventually it was time for Mario to move to a new location. Porto Cupecoy became the place. Here he offers the same French cuisine he was noted for. Porto Cupecoy does not have quite the same ambiance but that is not to say it is a letdown, to the contrary there are many advantages of him being on the Dutchside. For one you can have a drink or three and not fret if you have gone over the limit. (I am not advocating drinking and driving at all – its easy to get a cab on the Dutchside as necessary.) The restaurant is in a square that has a great buzz at night. A fountain plays sweetly and sometimes there are musical events; there are other restaurants in the square so it is quite busy but there is plentiful easy parking.
Mario is a wonderful chef who willingly will adapt his menu to suit the guests even when they want something a bit out of the box or a bit unusual; (in the case of the Chaîne des Rôtisseurs the chef knows he will be critiqued at the end of the meal.) He accomplishes it all with his great joie de vivre.
Before each dish arrived the chef explained to the guests what they could expect.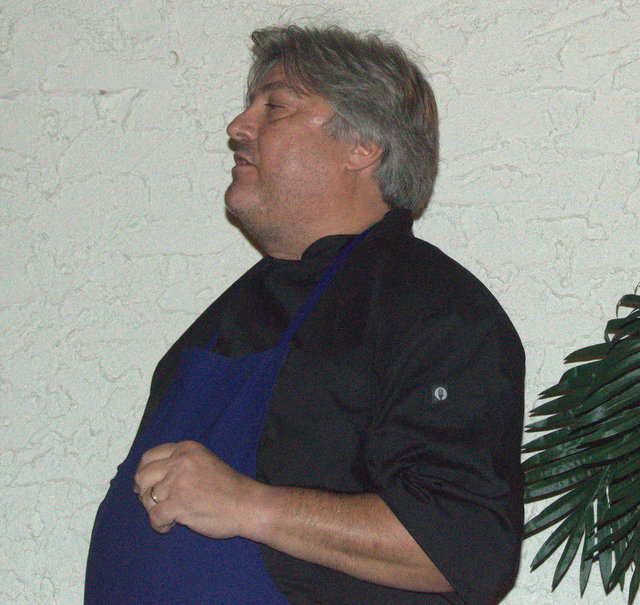 The members of the Chaîne des Rôtisseurs (here) enjoyed a "dinner amicale" at Mario Bistrot recently and quite honestly it was a superb meal with very good pairing of the wines. Members were delighted with his approach. Not everyone enjoyed every dish set before them (everyone has their own particular fussiness) but three out of five courses being swooned over by all is a pretty good statistic.
Dinner Amicale
We were greeted with a vodka cocktail (I am not sure what it actually consisted of) but it was cooling and refreshing with a strong cucumber flavour.
After mingling we took our seats and had the first course placed before us. The Chaîne des Rôtisseurs members look for several factors when enjoying a "dinner amicale," one of the most important is the service. Every guest seated per table needs to wait until all plates are set before everyone at their table before starting to eat. It is important that everyone be served together as quickly as possible.  At Mario the service was right on pointe!
Of course the food and wine pairing is also of paramount importance.
Our courses comprised of the following:
Warm Salmon Sashimi. – Plantain Chutney, Jicama Salad, Tempura Smoked Salmon Maki, Avocado Crema. Paired with Gloria Ferrer, Blanc de Noir, Sparkling NV/Caneros California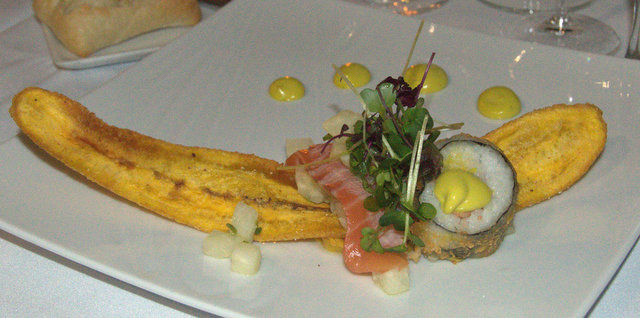 Duck Liver Parfait. – Cacao Crostini, Beet Macaron with Peach Rosemary Preserve, Foie Gras Snow. Paired with Chateau Kalian-Bernasse, Monbazillac/France 2013 Organic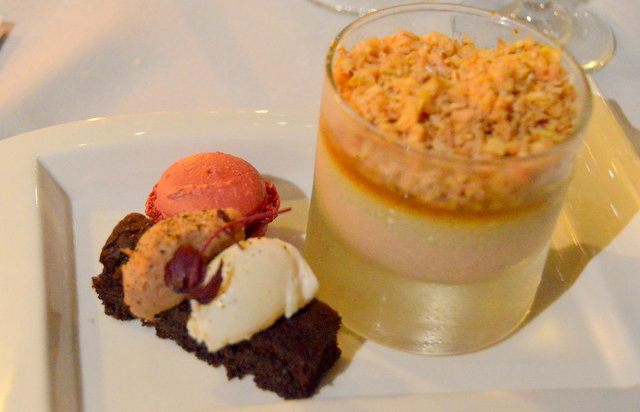 Blackened Scallops. – Sweet Pea & Butternut Squash Mousse, Corn & Black Bean Salsa, Chorizo Butter, Roasted Serrano. Paired with Chateau de L'Aumerade, Cotes de province, Rose, Cru Classe/France 2017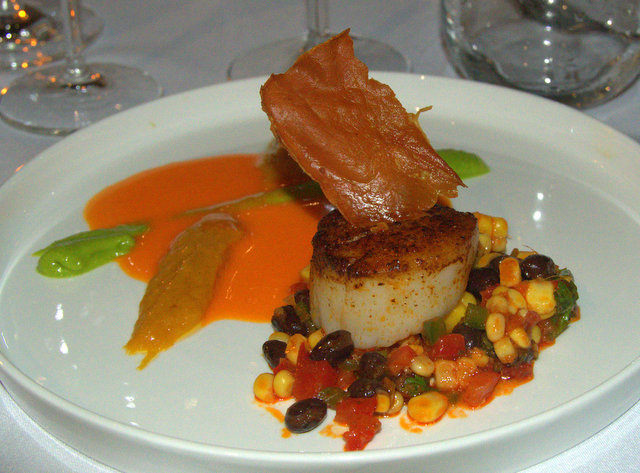 Veal Ossobuco Cake. – Garlic Bone Marrow. Saffron Risotto Croquette, Blood Orange Pinenut Gremolata, Confit Pearl Onions. Paired with Produttori del Barbaresco, Barbaresco DOCG, Piemonte/Italy 2014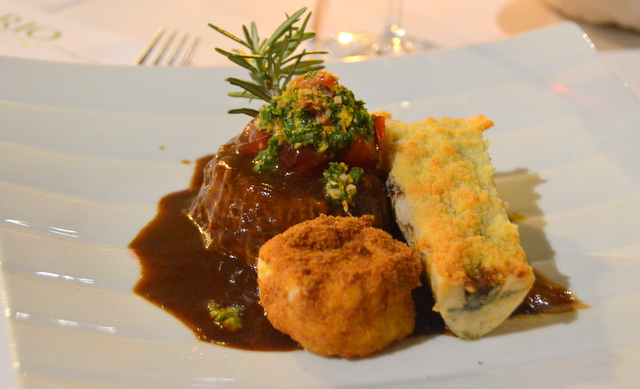 White Asparagus & Toasted Pistachio Cake. – Caramalized Pineapple, White chocolate Mascarpone Ice Cream. Paired with Dow's Fine Tawny Porto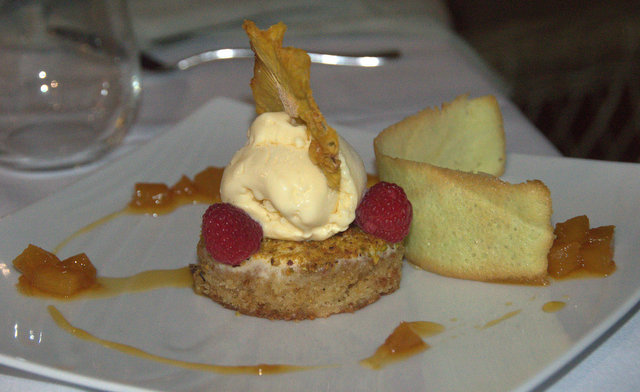 What a lovely Evening – fully recommended for superb service, ambiance, quality, flavour and execution.