Lil' Wannabe Master Chef Summer July 2018
Kids Cooking Workshops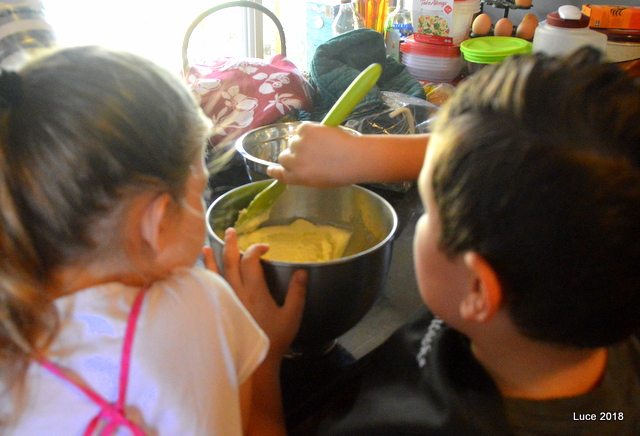 Kids as young as 5 ½ years of age really want to cook.
Lil' Chef Wannabe Workshop came about when we were all together one evening during the summer holidays when some mums were lamenting that they needed to have an out for their offspring and why did I not offer their youngsters cooking workshops.
Without any hesitation I said, "sure."
The comments from the mothers were typical of many mums – "I can't let my child mess up my kitchen" and "I freak when they want to use a knife" and "They don't like so many foods, how would I get them to cook anything, anyway?" and "I would prefer someone else go through all the above."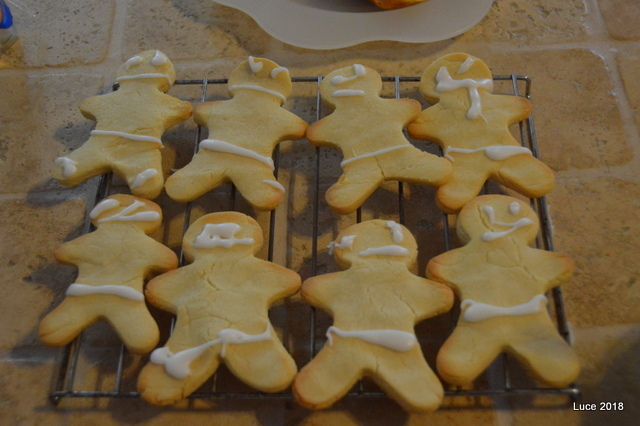 I have absolutely no problem with having children in the kitchen although it must be a controlled event, you know sharp knives, hot frying pans, ovens and stuff.
Many children have no clue these days where what we eat comes from, nor how food is treated and prepared before it gets to the table. I have heard comments and questions from the youngsters on so many occasions. "How is butter made? Where does it come from? Meat is meat and it is bloody! I don't like to let my hands get messy!"
What I have noticed is that the childen who play with playdough a lot are very dexterous when in the kitchen. The older kids write down the recipe ingredients and method. The little ones try to read from the printed version.
So the summer workshop with Lil' Wannabe Master Chefs addressed all the above. Look at these pictures, the kids have produced some really great dishes. They are learning so much and they are developing as Lil' chefs. (I can't take pictures and work with the kids at the same time so the pictures are a little limited.
The age group I take ranges from 5 1/2 to 12 years, no more than 8 per workshop. I can also take groups of older "kids" during the holidays.("kids" who need to learn some cooking skills before heading out into the big bad world of college.)
I will go back to holding adult workshops once the rebuilding is finished.
Lil' Wannabe Master Chef Workshops.
1 – Making butter, chicken mayonnaise, jaffles using homemade butter, flan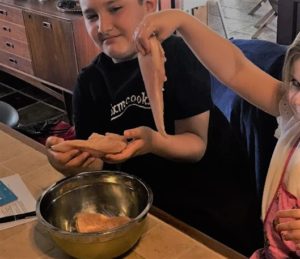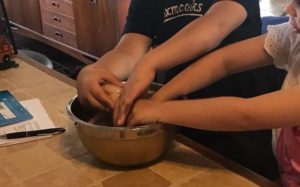 Season the chicken before poaching for the chicken mayonnaise (one Lil' chef wasnt sure of messy hands – by the 2nd workshop he was eager to cook with meat again)
2 – Cheesy French toast, fresh tomato sauce, iced sugar cookies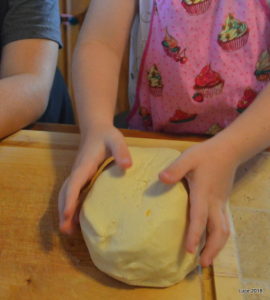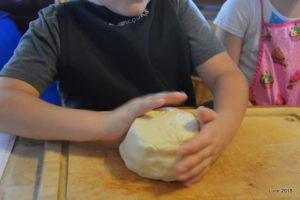 They got over having "messy" hands as they rolled the cookie dough.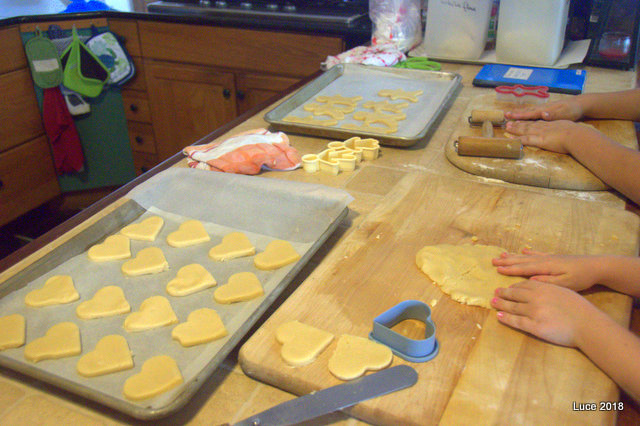 Using a sharp knife and cutting tomatoes took a bit of practise but……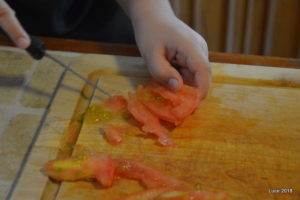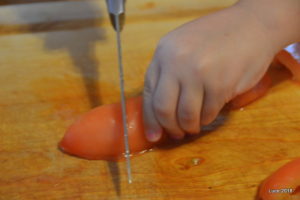 By the time they got to cutting onions they were becoming pro's!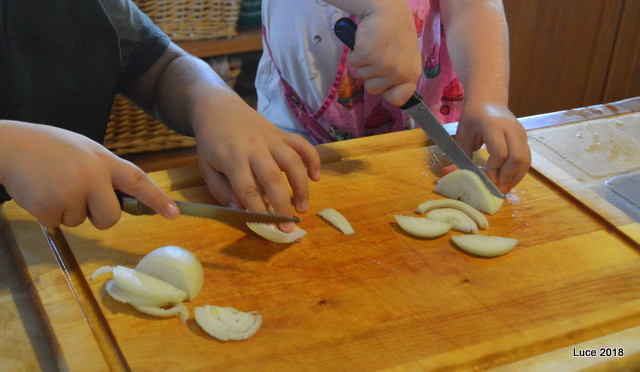 Cheesy French Toast and Fresh Tomato Sauce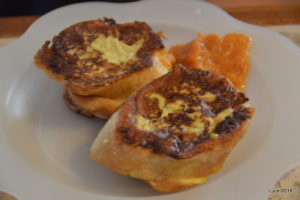 3 – Lasgana, chocolate dipped strawberries
Knife skills are improving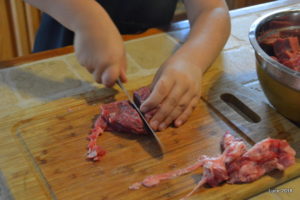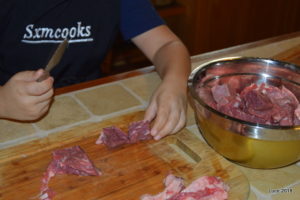 "Ooooh! Is that how we get minced meat?"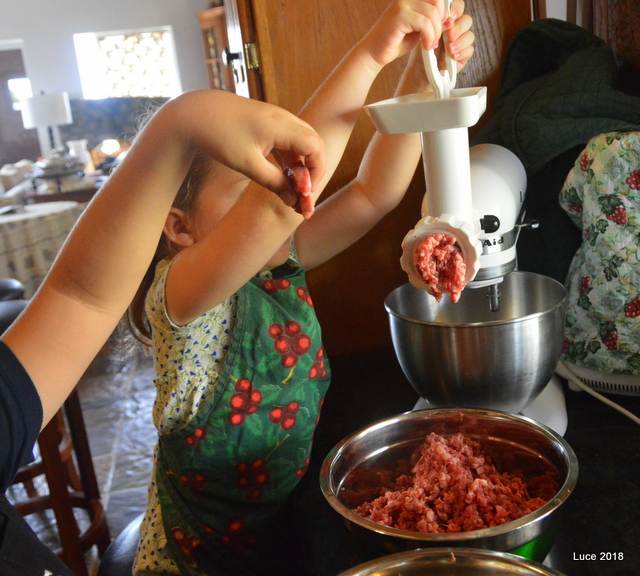 In their enthusiasm they chopped the tops of the strawberries right off – turning it into a learning curve they found it much more difficult to dip them into the chocolate.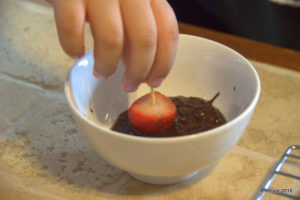 The lasagna was good (if a tad salty!)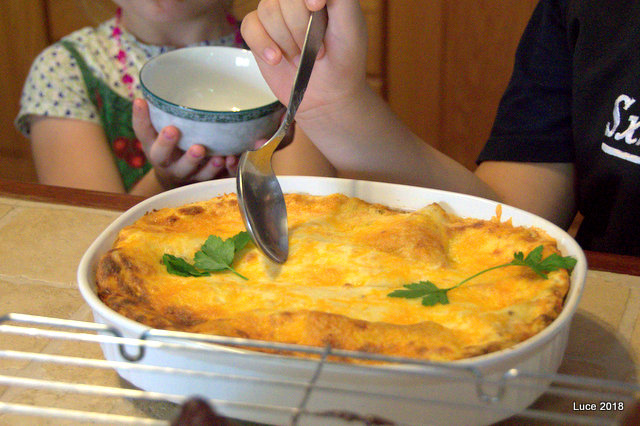 4 – Green Banana Fritters, Sponge cupcakes, Wee cheese and bacon frittatas.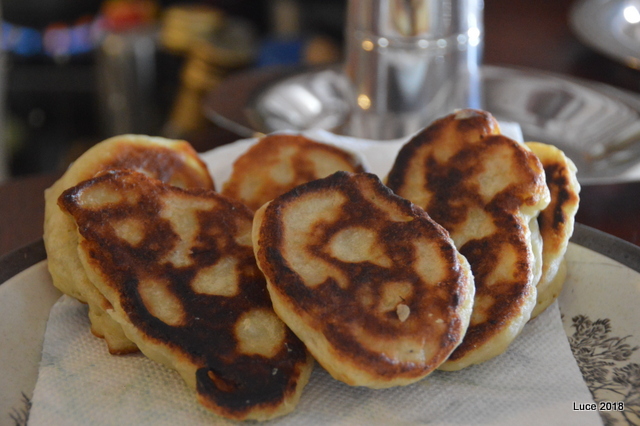 These were delicious. We made just a couple as they were a "new" concept for me too. Boiled green banana from the garden, mashed with butter and milk (as one would do for potato.)  Add a beaten egg, buttermilk and self-raising flour then fry. They did not taste of banana at all.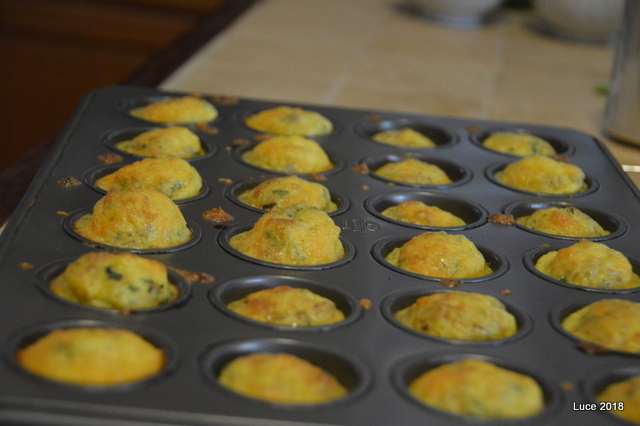 These small-bite frittatas were made with bacon, onion, parsely, boiled green banana, egg and cheese. No complaints about eating something "green."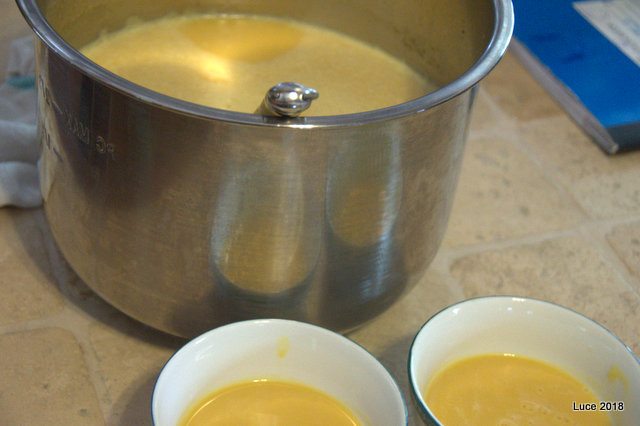 Butternut soup went down a treat too.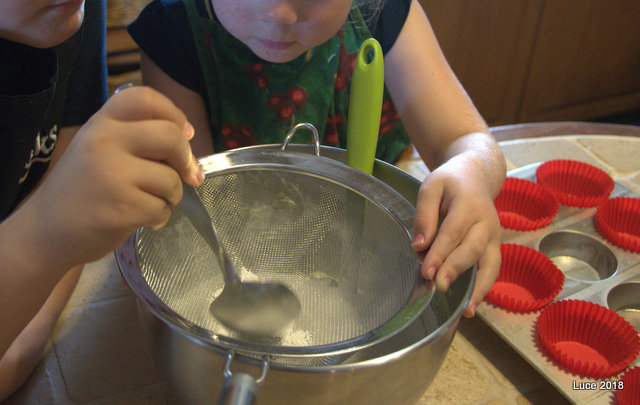 The most favourite cupcakes!!! I love the way they help each other out when cooking.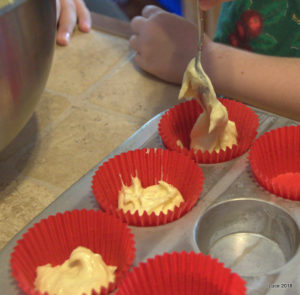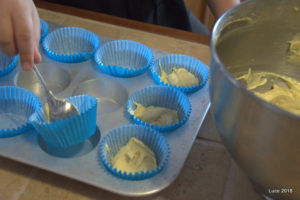 Batter into red for the girls and blue for the boys – kinda obvious and so sweet.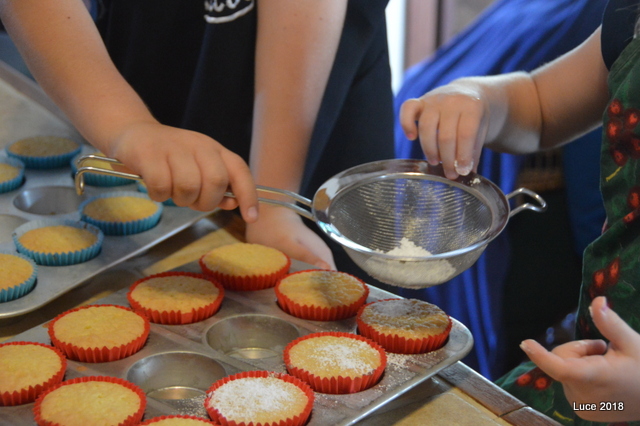 Some wanted no icing at all, some wanted "sprinkled" icing. We did not have time to do butter icing this workshop!
5 – Johnny cakes, Shrimp stuffed tomatoes, Apple pies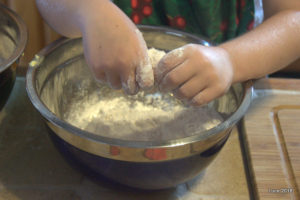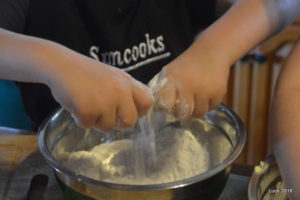 It took some practice to get the hang of the rubbing in method!
But the Johnny cakes turned out fabulously for a first time attempt.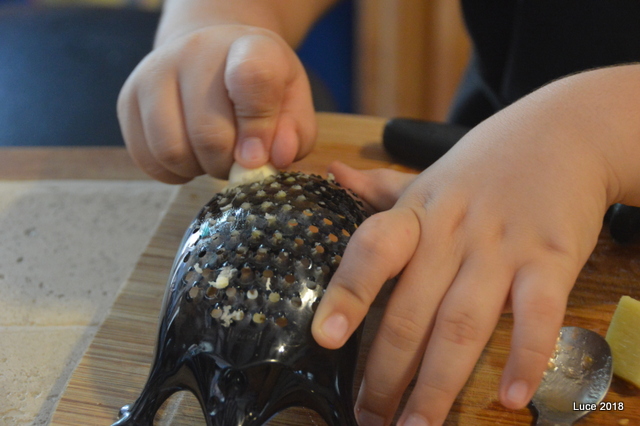 Ooops, a wee acident / more of a discomfort really / grated one knuckle!! Obviously not enough to leave any skin in with the ginger 🙂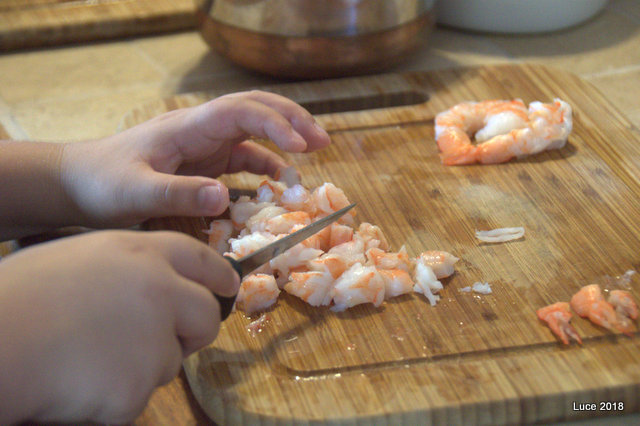 Cutting up the shrimp to go into the stuffing.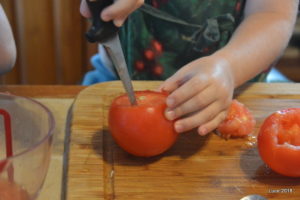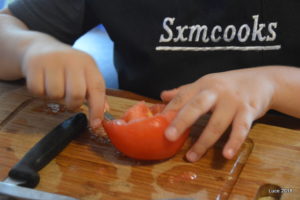 Using those knife skills again. Only one tomato turned out a bit broken. The other 5 were beautifully done!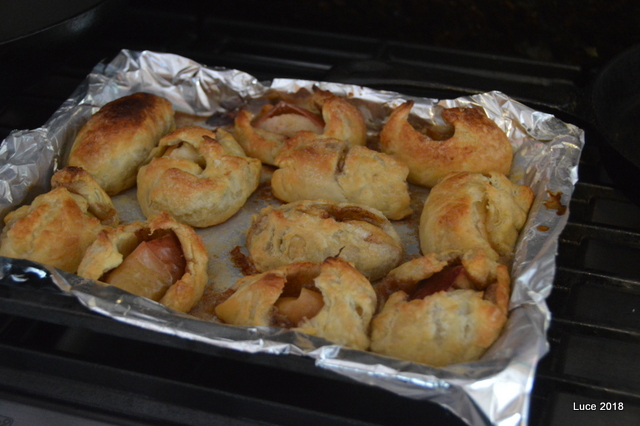 Puff pastry apple pies were very tricky to do. We will do more pastry work next season. The Lil'Wanna-be's say they can't wait.
6 – Borek, Fish Cakes, Jelly Fluff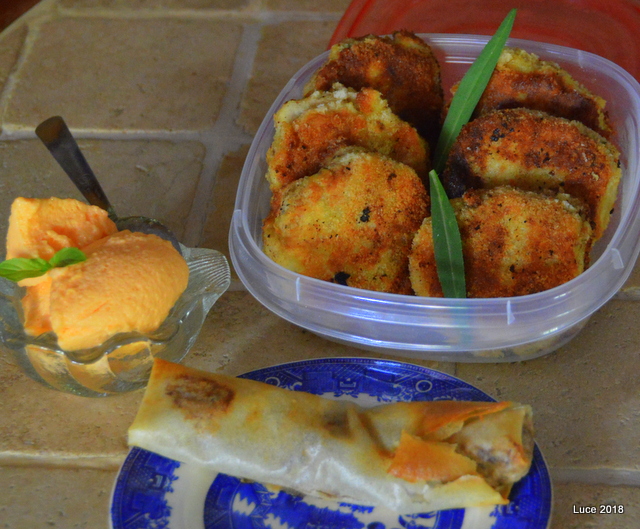 We used Brik to make Borek. The filling was with feta cheese – the rolling took a little practise.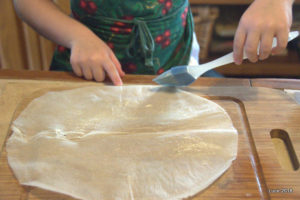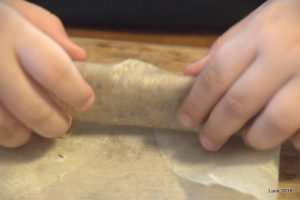 Next up; we mashed salmon, preserved lemon, egg, seasoning and mashed potato and form them into fish cakes which we dipped into beaten egg and bread crumbs. Little fingers did this exceptionally neatly.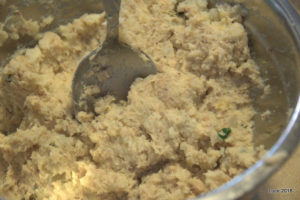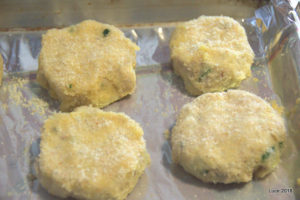 The fish cakes were delicious too.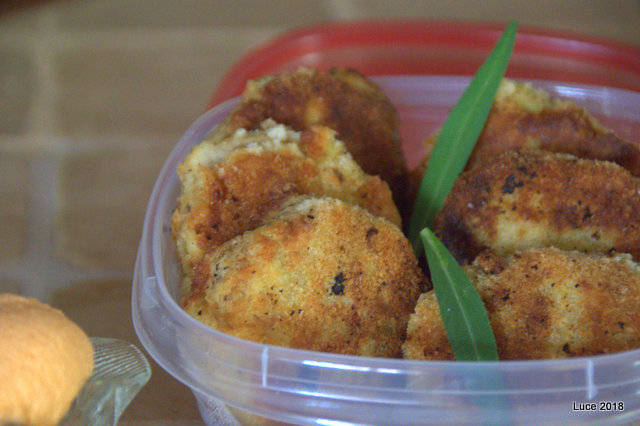 Dessert was Jelly Fluff. The Lil' Chefs were fascinated that when you whip canned milk it doubles in bulk.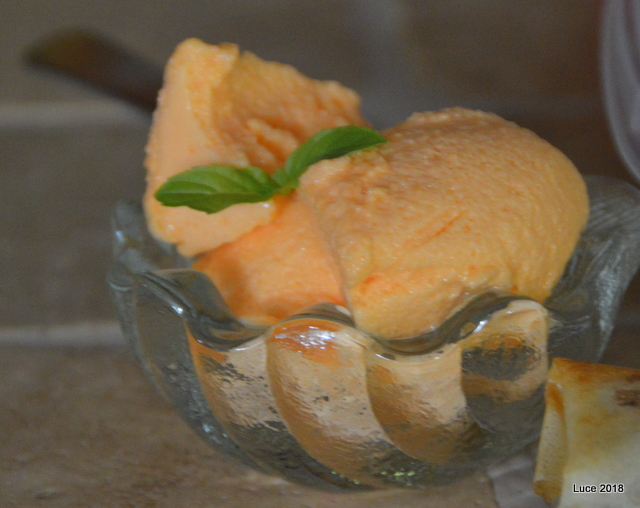 7 – Asparagus Quiche, Stuffed Mushrooms, Cinnamon Rolls.
I did not take many photos, I was so involved with the Lil' Chefs who had loads of fun this workshop.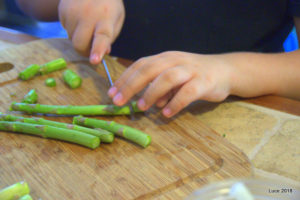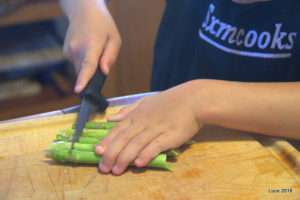 They are all getting their knife skills honed cutting up asparagus for the quiche.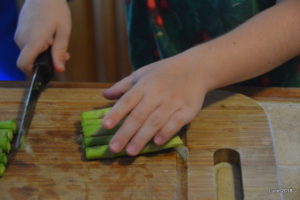 The quiche with loads of cheese, egg and cream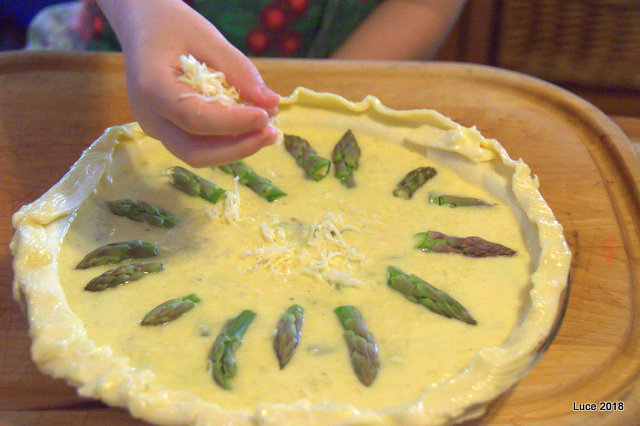 Stuffed mushrooms and quiche – the Lil' Chefs did a great job.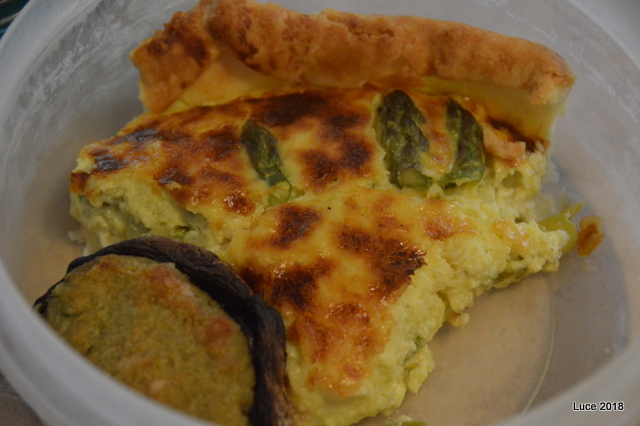 It was really great the way these cinnamon rolls turned out.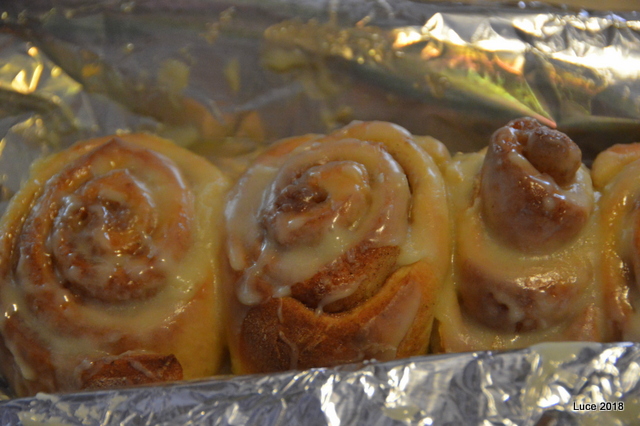 8 – Chicken Pies and green ginger wine watermelon.
We were going to make biscuits but the pies took many steps and it was really hot so a swim was needed.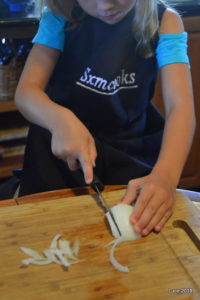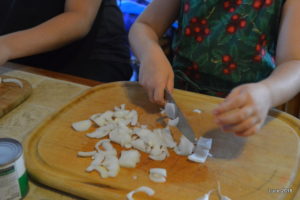 Cutting onions for the pot pies
The balling was a lot of fun. Amazing what little fingers can do.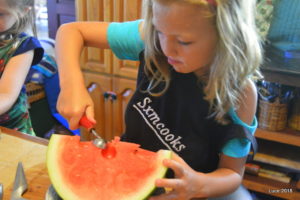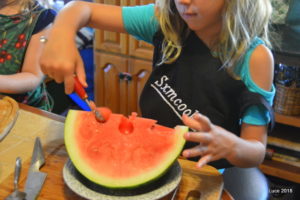 The finished dishes. The pies turned out well but the watermelon stole the show!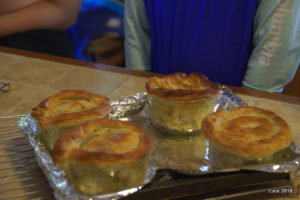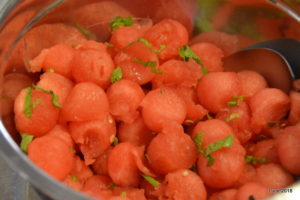 Happy Lil' Chefs, changed for a swim and now ready to eat the hot pies.
9 – The final summer cooking workshop for the Lil' Chefs.
They surparssed themselves making Cannelloni stuffed with 4 cheeses and spinach; Thai Papaya salad; Rice Krispie biscuits.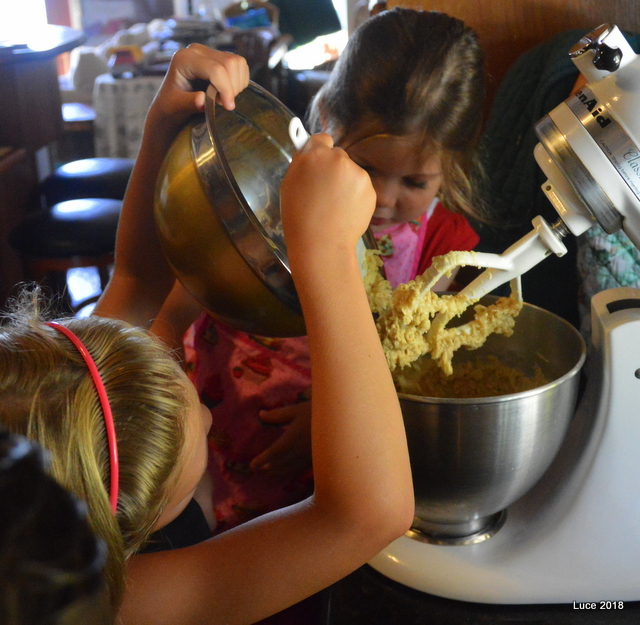 Concentration on mixing the biscuits.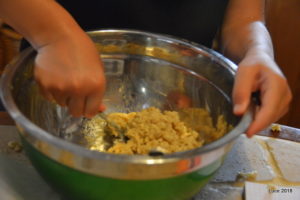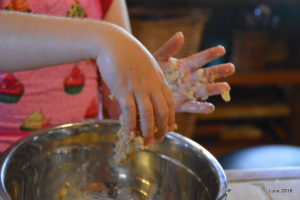 Stirring in the rice krispies and getting messy hands rolling the mix into balls.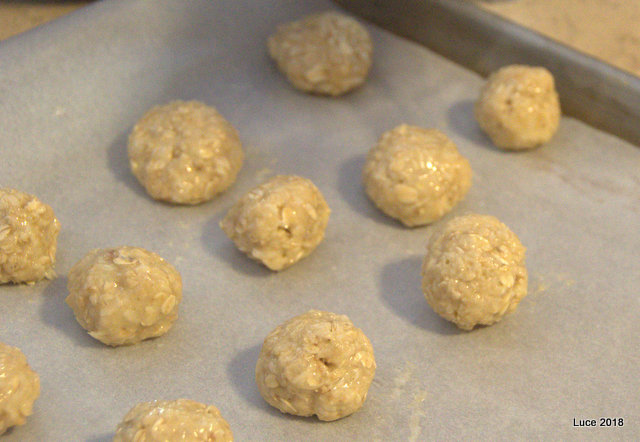 Very yummy, and crispy biscuits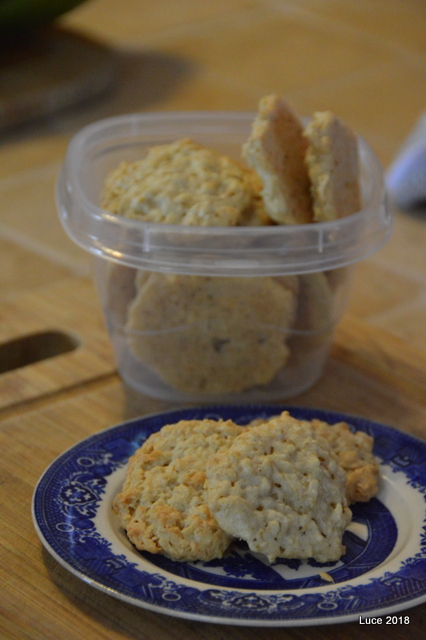 The finished Thai salad. The green papaya was not as green as it should have been – the skin was very green but the taste is good – for adults. Still they did try it.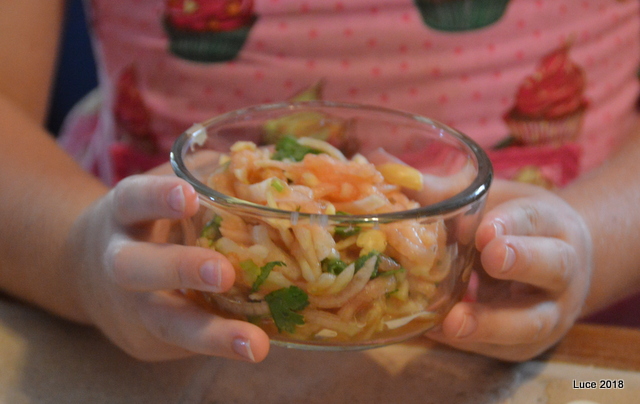 The concentration stuffing the tubes was great to see – they had fun doing this, they said.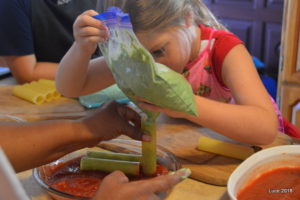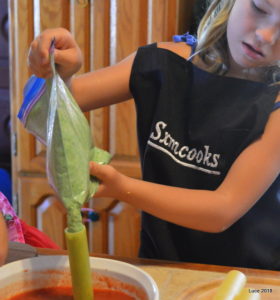 The ages of these are 5 1/2, 7 and 9 years old. The 5 1/2 year old needed a little help, the others did very well on thier own once they got the hang of it.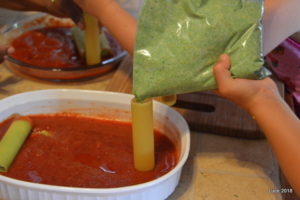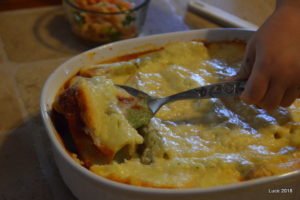 Good job Lil' Chefs!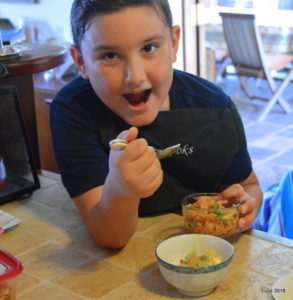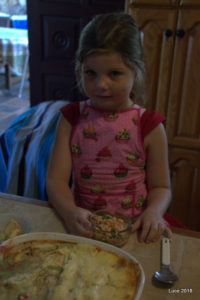 If you have a Lil' Wannabe Chef msg me about availability