Chatting with Chef Dino is always a pleasure. Dino, St. Maarten's first fully qualified born-here chef, has captured the hearts of many a fine-diner. His innovative approach to each dish leaves one's taste-buds clamouring for more. Known around the world for his signature restaurant "Temptation" Dino has now joined forces with Su Whathey (of Kangeroo Court and Taloula Mango's fame) after hurricane Irma devastated our shores. This new venture is a stunning restaurant called "Emilio's" located in a beautifully restored stone house on what is an historic tract of land. Dino, along with his amazing crew, serves dishes in keeping with the lush surrounds.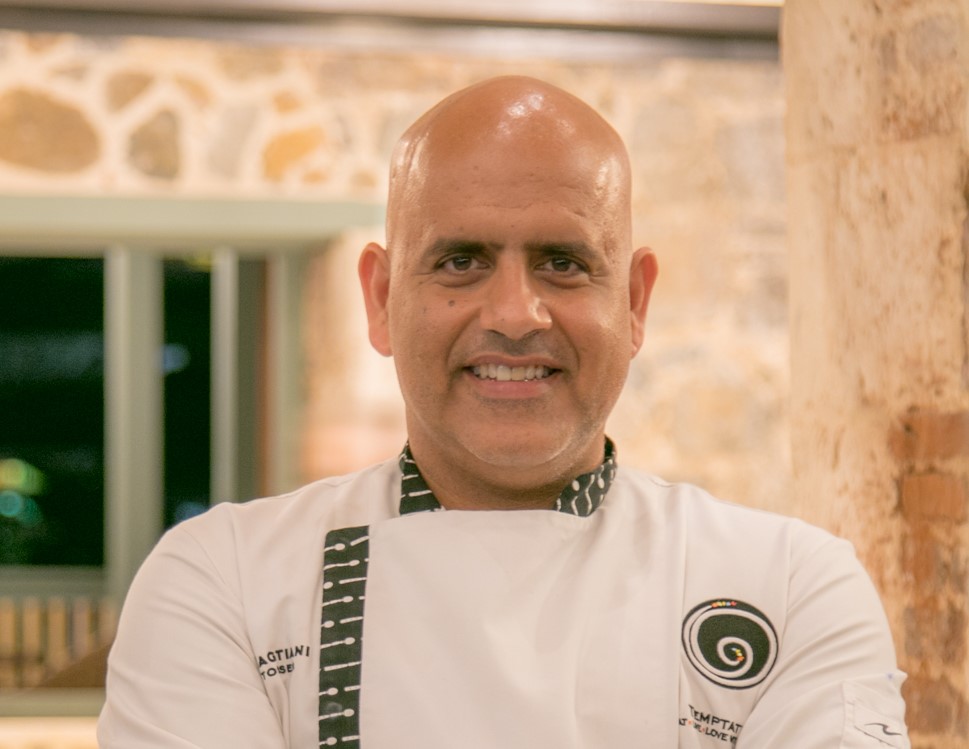 Where have you worked before, what are the names of some of the restaurants?
Don Carlos (sxm) Callaloo (SXM), Abraciamento's (NYC), Sheraton Port De Plaisance (SXM) L'Espinasse (Stage NYC), Adams Mark Hotels,  Le Meridian Hotels (London), Iguana Joe's (Aruba).

How long have you been cooking professionally? 
More than 25 years. (wow, I'm old)
How would you describe your style of cooking? 
Freestyle with my use of ingredients – classic French with the use of my techniques. Grilling, Sautéing, Poaching, Frying, Roasting, etc. VS Wok frying, Steaming, Open Fire Cooking, Clay and Wood Oven cooking which are not traditional, French cooking  techniques.
Do you have a favourite ingredient? 
Well if I'm working with chocolate, I always nibble, and will need more than what the recipe calls for. Any produce item in its peak  season is  always a delight, like Mangoes in season, vs out of season are 2 completely different fruits.

Is there another chef that you most admire? 
Anyone who works in the kitchen is a brother or sister to me, whether they are a Michelin Starred Celebrity or a prep cook in a diner. There  are  many local chefs who cook delicious, healthy food every day at very reasonable prices. It's a real labor of love. Katy Ozkan for her willingness to share her knowledge of healthy food, Maranatha for providing healthy meals to people at reasonable prices,  Renata De Weever   for being a culinary educator at NIPA and sharing her knowledge and skills to the future generation.
Was there anything that you thought you wanted to do before you started on your cooking career? 
Play Baseball, but I was not athletic enough.
Can you remember the 1st dish you cooked and served to diners other than your family? What   was it? 
Probably a private chef opportunity as a teenager while working to pay for college. I remember I was 19 years old and I cooked for Chef Mario Tardiff at Mario's Bistro in a private villa at Sapphire Club. I made a salad mandarin oranges and an Asian vinaigrette, Lamb loin with  hummus, and brown sugar cheesecake.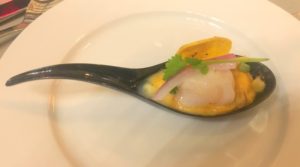 Is there one food that you're secretly obsessed with having at home? 
Ketchup (shhhh)
What foods are you craving the most right now? 
An almond croissant from Zee Best!
Is there a food that you hate? 
Hate is a strong word, especially for food. I'd say I'm not in a rush to eat Okra's, or oxtail.
Is there a childhood comfort food that you think about? 
Sunday BBQ, or the special sandwich I used to make using a KFC biscuit, the skin of the fried chicken, and coleslaw. I also think Johnny Cakes  with cheese from Risdon's.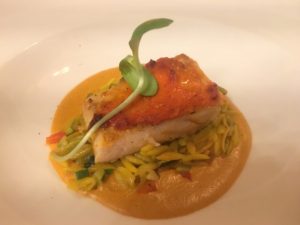 Has there ever been an ingredient that you did not want to learn to master (example blood, lamb brains) 
Shucking raw oysters, clams, never made me happy.
Which restaurant do you most enjoy eating at on your night off?
Escaping from the gourmet kitchen means headin to Lal's Indian, Sunset Beach Bar for Pizza, Yvettes for Conch and Johnny cake.
Any advice you would give to someone wanting to become a chef? 
Attitude, Integrity, and Education.
What are the 3 things you cannot do without in the kitchen?
Rubber Spatula, Comfortable Shoes, and a Sharp knife.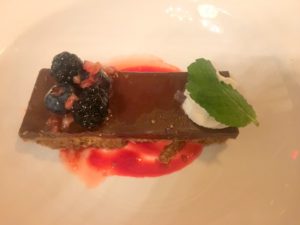 Who would you most like to cook for and why? What would you serve them and where? 
I write in my cook book, that regardless of gender, race, politics, the satisfaction that a soulful meal provides an undeniable connection of mankind. We all love great food, period!
For this reason, I wish to cook for Theo Heyliger, and Dutch PM Rutte at the same table, and hope that a delicious meal and good wine can be used as a vehicle to bring about more positive relations between them and our 2 countries based on mutual respect.