Stracchino –  Fresh Italian Cow's-milk Cheese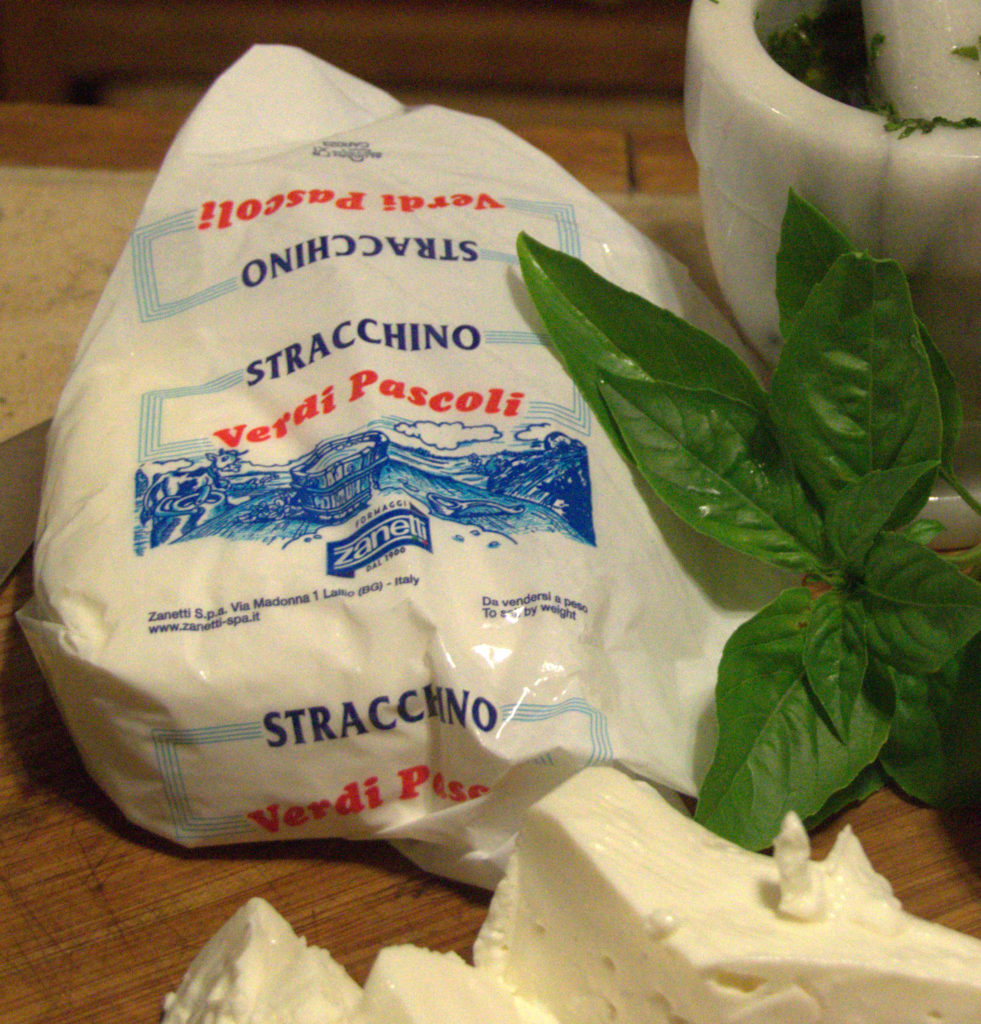 I spotted a block of cheese I had not seen before in the cheese section at the supermarket called Stracchino. It is by no means an inexpensive cheese, and apparently Stracchino is usually eaten on its own but also as a filling for some kinds of bread.
I really felt like something cheesy for supper at the week end. Stracchino looked like a creamy, fresh cheese, and I had visions of pasta and fresh tomatoes.
Stracchino is a type of Italian cow's-milk cheese, typical of the regions of Lombardy, Piedmont, Veneto, and Liguria in Northern Italy. It is eaten very young, has no rind and a very soft, creamy texture and normally a mild and delicate flavour. It comes in a square shape.
"The name of the cheese derives from the Lombard adjective stracco, meaning "tired". It is said that milk produced by tired cows coming down from the alpine pastures in the autumn is richer in fats and more acidic. These qualities were discovered, according to legend, in the milk of cows who were moved seasonally, up and down the Alps, to different pastures. The milk of such cows gives the cheese its characteristic flavours."
I winged it for this dish using fresh from the garden – such as it is after the bashing it got from Hurricane Irma.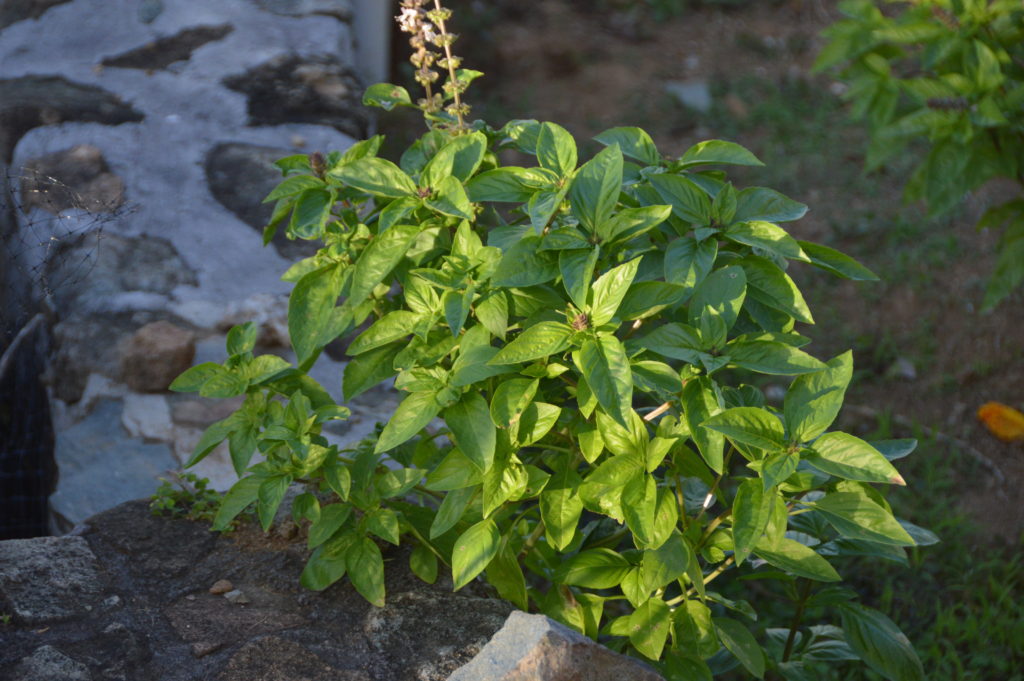 A big garden disappointment this season after the hurricane is that only one tomato bush survived and although there are loads of small green tomatoes appearing I am only getting a very few that ripen or, in fact, reach maturity. We can only think that those darn monkeys are up and about at the crack of dawn raiding the bush. I really must get around to caging this bed again.
There are some fresh basil bushes growing in the garden now, all the lovely rain we have had in the past weeks has certainly brought on the "opslag" basil (basil that has seeded itself.)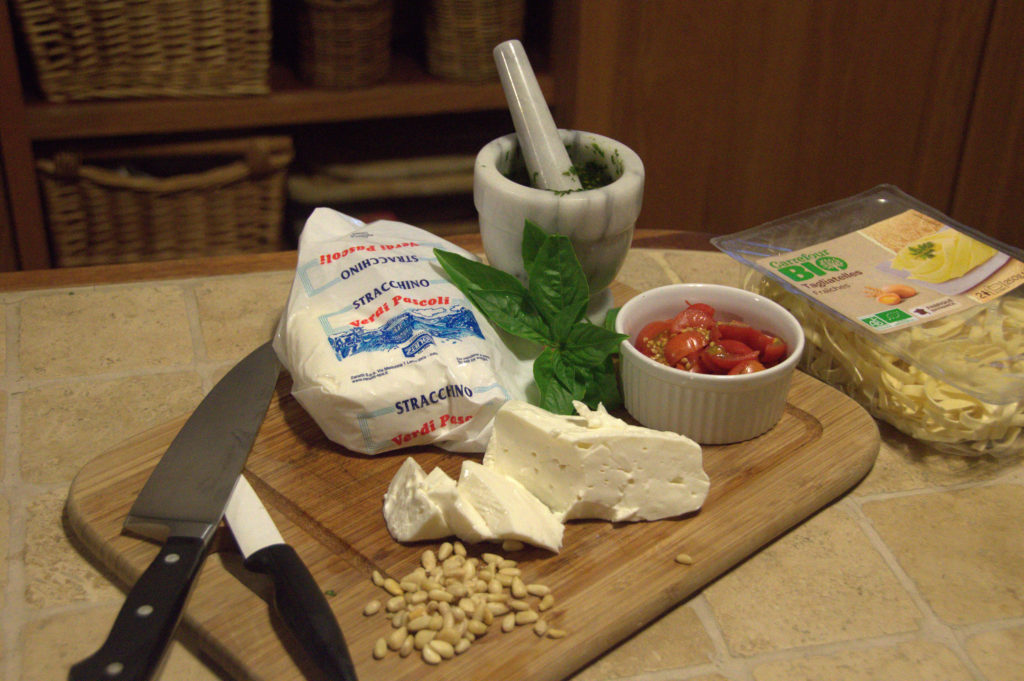 So, with a few delicious cherry tomatoes from the garden and a branch of Basil I set about putting a yummy supper together.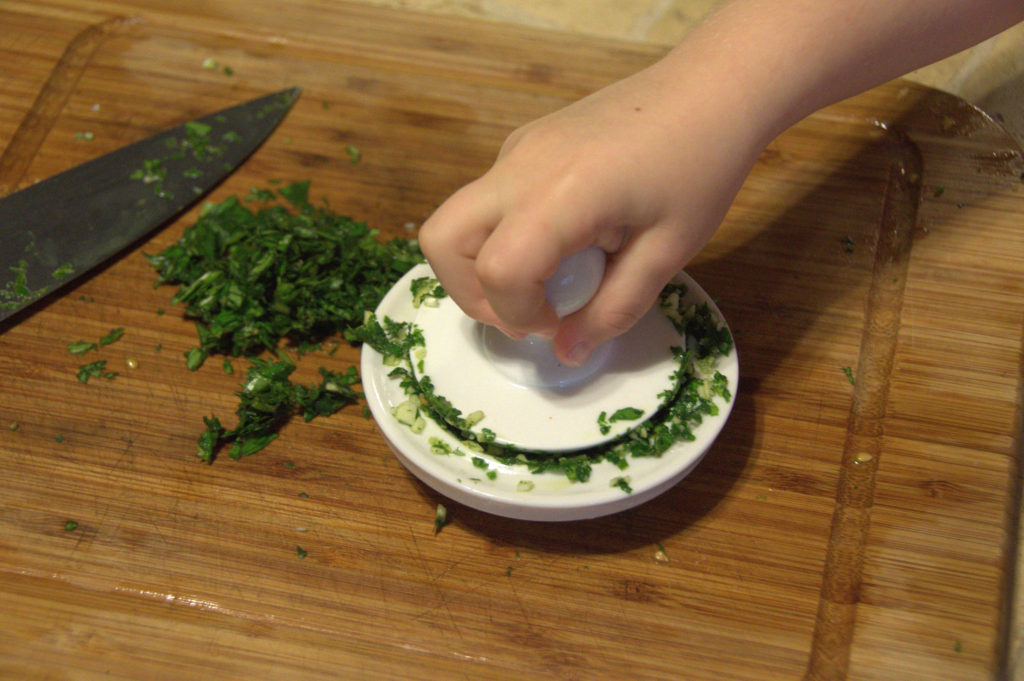 Missy Fussy Feeder gave this dish two thumbs up perhaps because she helped in the preparation of this dish.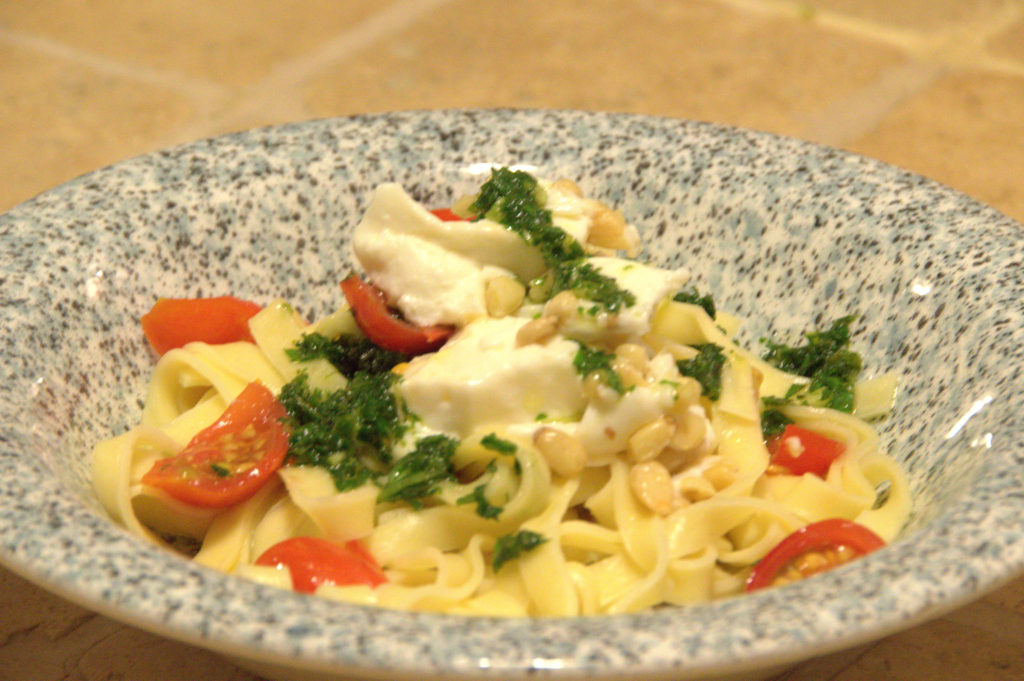 Fresh is Best Pasta with Stracchino
Ingredients
5 TBL chopped cherry tomatoes
2 cloves garlic
Good pinch of salt
Hefty slug of olive oil
Heaped TBL pine nuts
1 cup fresh chopped basil leaves
½ pack Stracchino Cheese
Pack Tagliatelle – any pasta will suffice but fresh is always good
Method
Finely chop the basil and garlic and pound in a pestle and mortar
Cut the cherry tomatoes in half
Cut the cheese in cubes
Chop the pine nuts
Stir the basil and pine nuts together with a good pinch of salt and the olive oil
Cook the pasta in a large pot of salted water
Drain and gently stir through the rest of the ingredients