Avantika has captured our heart (and our tastebuds) (here)
We love to eat Thai at any given opportunity so naturally we love going to the Thai restaurant on St. Maarten called Avantika.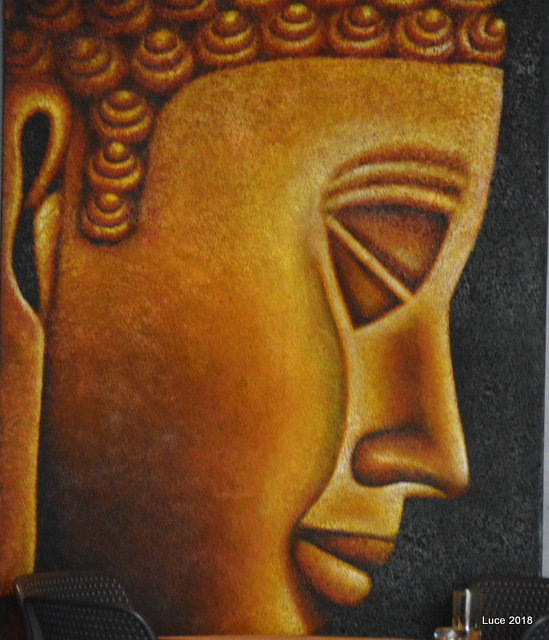 Eating at Avantika is not just about enjoying the good food, it is also about the vibe. There is a lovely vibe at this roof deck restaurant.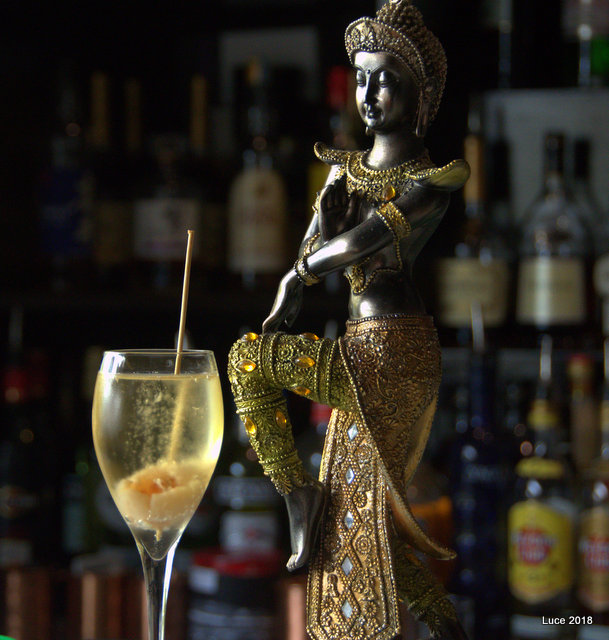 It is not just about the food, it is also about the bar. There is a great well-stocked bar with a fun person behind the bar making a slew of amazing drinks.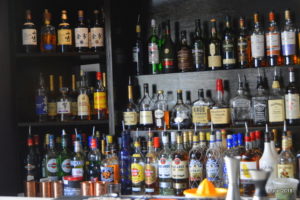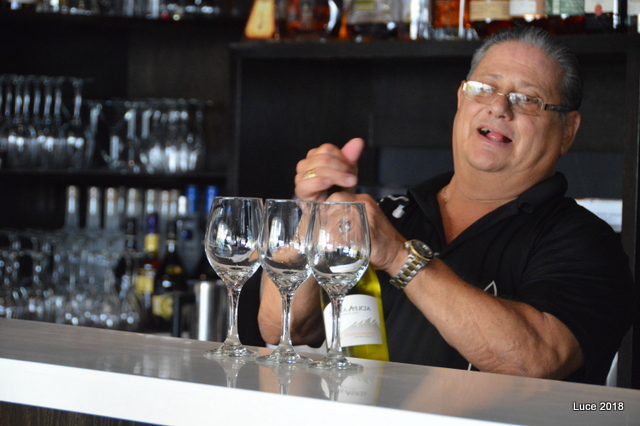 It is not just about the food, the vibe, the bar, it is also about the great service. Yes! It is all the above and more but the best, surely, is the great Thai food.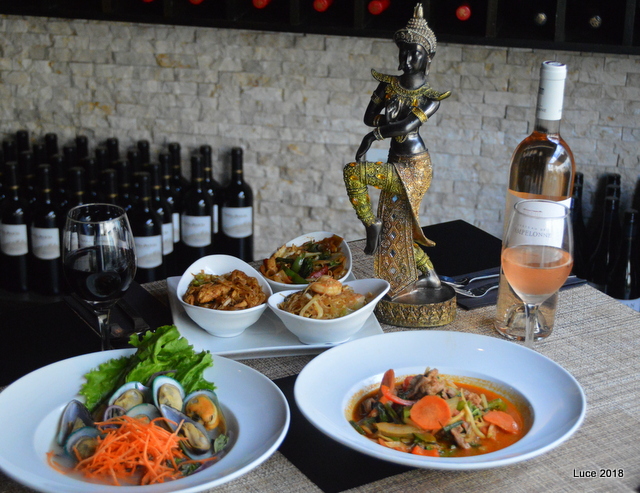 I was invited to join a photoshoot and food tasting at Avantika recently. This wonderful opportunity I could not turn down. Tasting various Thai dishes? Oh, what a joy. The food, prepared by qualified Thai chefs, rates top in our books. Some of the recipes are traditional and go back generations. The ingredients used are the freshest imaginable, every dish has crispy, crunchy vegetables, delectable light sauces and varying degrees of spiciness. The chosen dishes for the photoshoot and the tasting were all from the regular menu.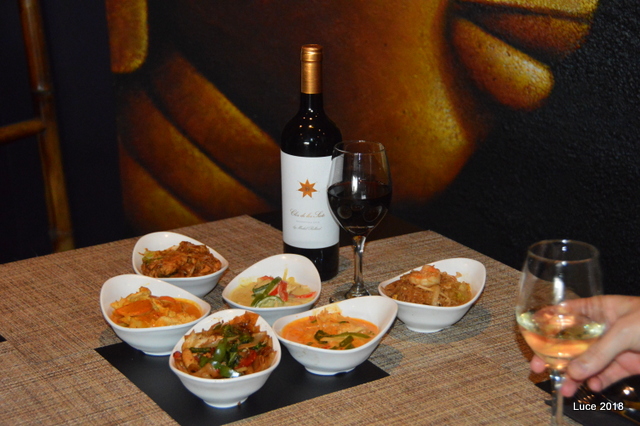 Enjoy some of the dishes through the photos – better yet why don't you head on over to Avantika and let your taste buds do the talking. You will be in Thai heaven.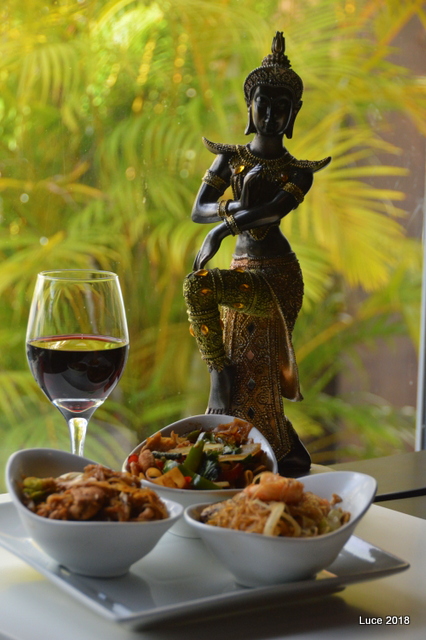 STEAMED GREEN MUSSELS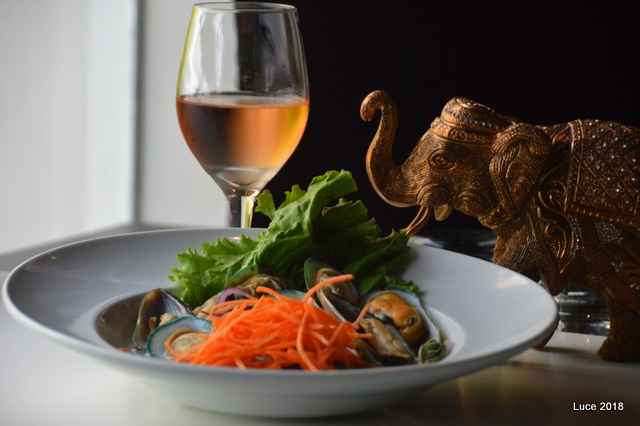 The mussels are delicious. These tasted of the sea. A friend heard me explain about this and had tried a mussel, took a sip of wine and then agreed how the tastes worked together to make the mussels pop.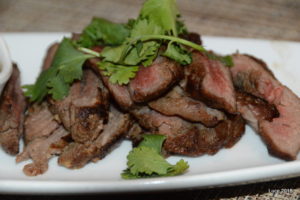 BEEF TENDERLOIN
Sliced grilled beef tenderloin marinated in herbs with a homemade sauce
The beef tenderloin with Thai flavours was out of this world; tender, juicy and more-ish. It is served with a sauce that compliments the beef perfectly.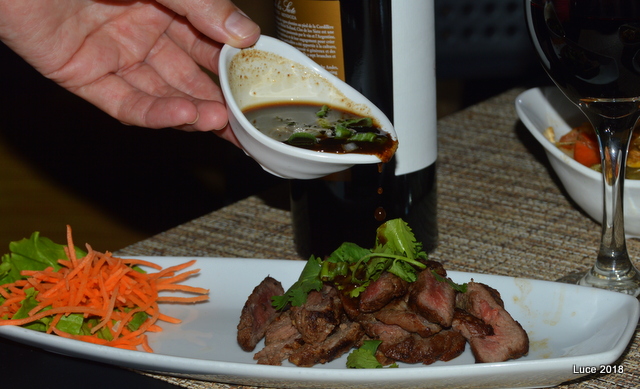 We were treated to a trilogy of STIR FRYs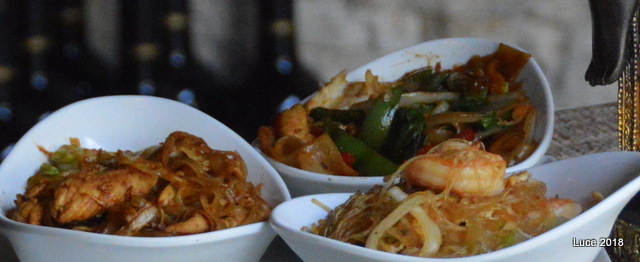 GLASS NOODLES
Glass noodles stir fried with fresh vegetables, herbs and eggs – we had this with the addition of tender, juicy shrimp
DRUNKEN NOODLES
Stir fry combination of noodles, chilies, bell pepper, onions, green beans and basil (the freshness of the basil really stood out)
PAD THAI
Classic Thai rice noodles mixed in an original tamarind sauce, with green onions, eggs, cabbage and a side of finely crushed peanuts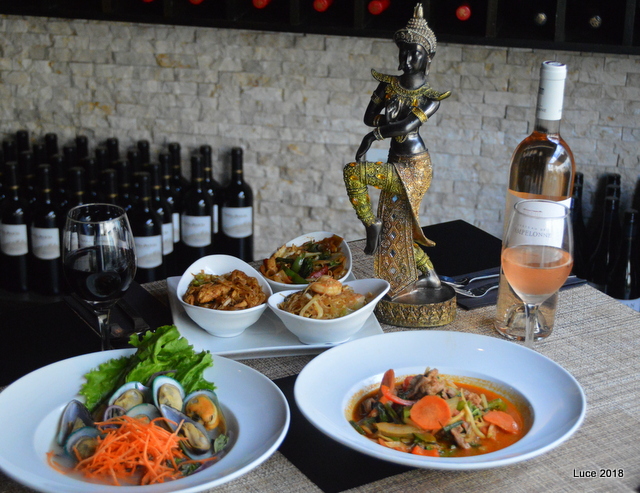 CURRIES
The large plates we tasted were curries of which one will be my go-to the next time I am at Avantika.
JUNGLE CURRY (V)
From the jungles of Thailand comes an infusion of herbs & spices found nowhere else. Its
a combination of curry, bell peppers, beans, onions, mushrooms, carrots & basil
This curry is full of fresh vegetables smothered in a light sauce. One feels good after eating such a clean and refreshing curry.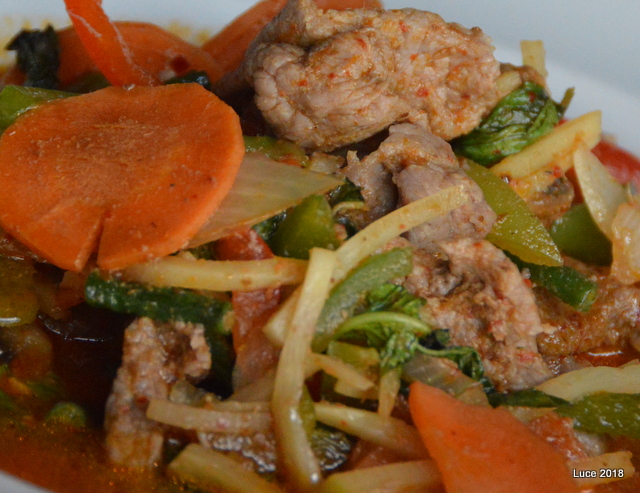 MASSUMAN CURRY (V)
Red curry with coconut milk, onions, carrots, potatoes and topped with roasted cashews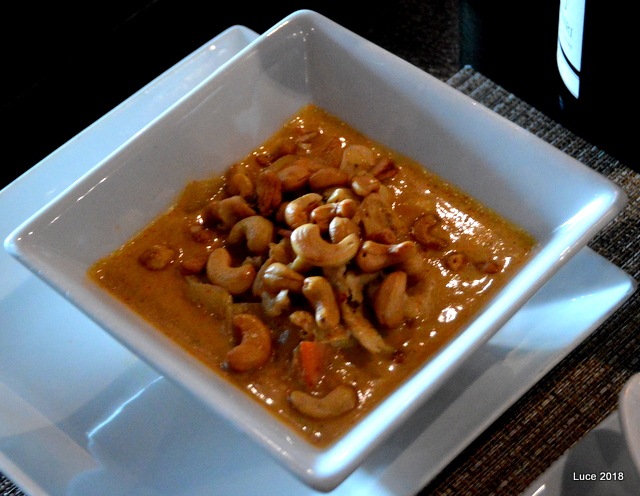 Now this curry was my absolute favourite. A rich, yet light, coconut sauce enveloping tender chicken was off-set by the crunchy cashews. I had not tried this curry before, it was not spicy, because we asked for lighter spiced dishes for the tasting. To make each dish spicier we were served with their delectable homemade spicy sauce.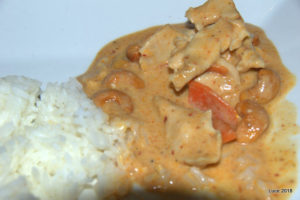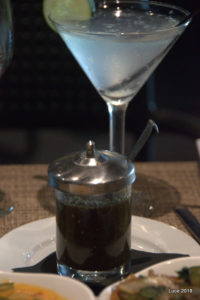 We were also treated to a trilogy of curries. These were the
RED CURRY; YELLOW CURRY; GREEN CURRY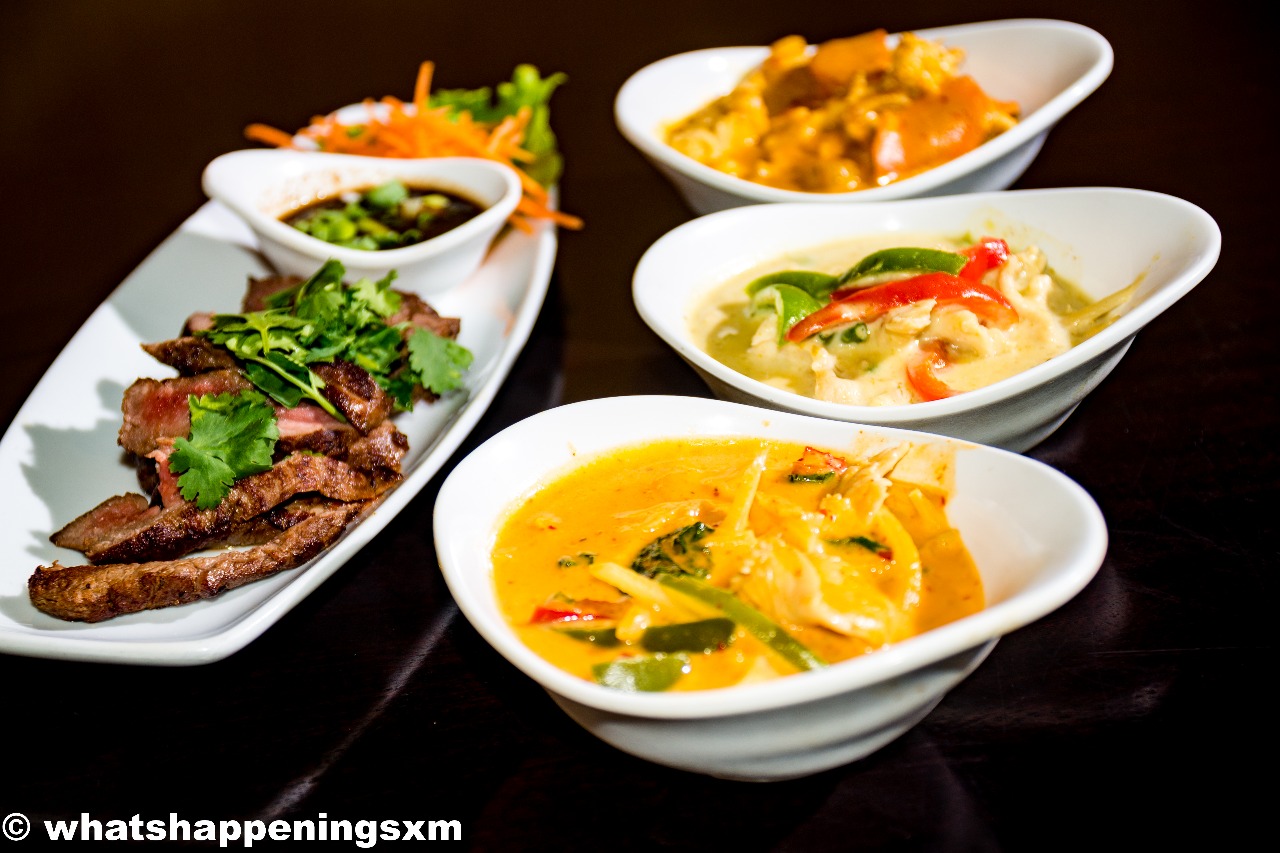 My favourite of these three was the yellow curry with perfectly cooked potato. The well balanced curry flavours were rounded to perfection when served over hot Thai Jasmin rice.  This rice, especially imported from Thailand, makes a big difference in the taste impact. At Avantika you get  true Thai flavours.
All the curries are food for the soul.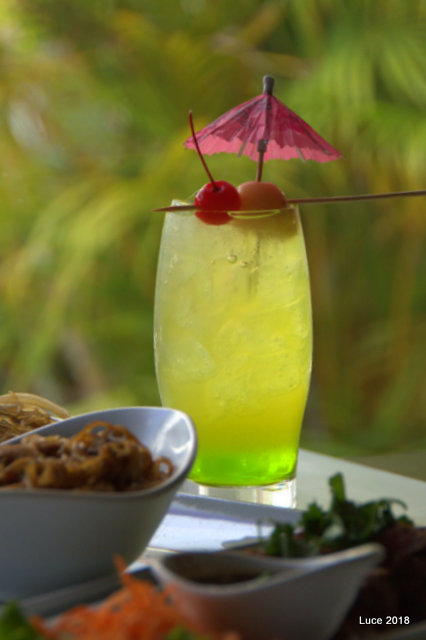 We were also able to taste the gorgeous cocktails but these we will tell you about next time when we taste the desserts.
I can't wait for the desserts, can you?
Booking is recommened at Avantika in Simpson Bay (here)