Private Dinner @ Adam & Eve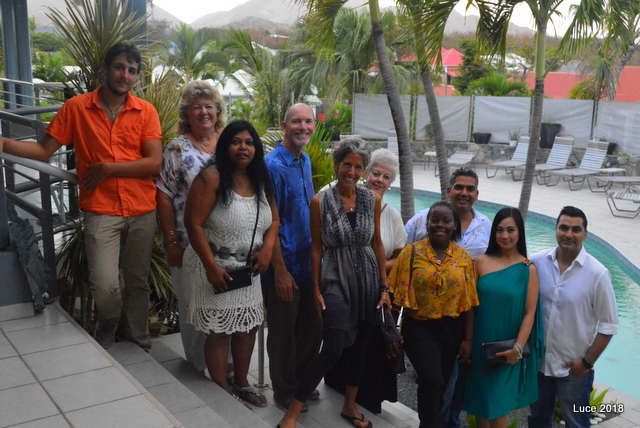 Willy, the delightful person who makes delicious artisan ice cream, (here) is a wonderful chef. Willy is ably helped by his lovely sous chef partner, Marlène. Willy also manages Adam & Eve, a beautiful hidden gem in Orient Bay. Adam & Eve is a naturist boutique resort but when things are slow – that is when there are no other guests – Willy cooks for private dinner parties.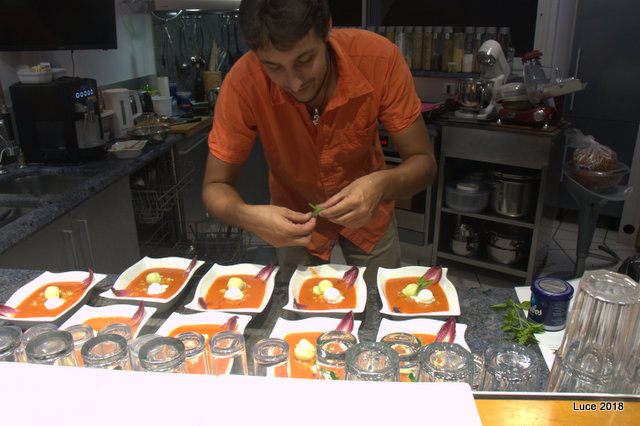 Huge gates glide open to admit a few cars in the parking. Wide sweeping steps guide guests up through dense growth of palm trees to an elongated pool laid out in front the common lounge and dining areas. The tiled path leads guests across a small bridge, over the meandering pool, to another short flight of steps that leads up to the common area.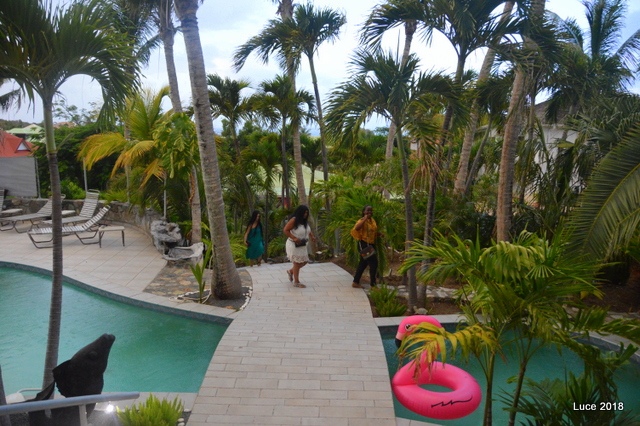 The house itself is of modern design in cool grey and white with statues, pictures and furnishings that depict easy living. Through the main room, in which a large glass dining table is placed, one can see a lovely waterfall cascading down through more palm trees.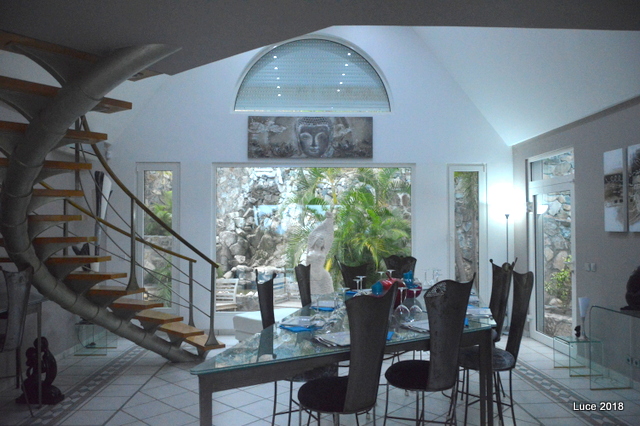 Off to the side of the lounge area is the kitchen and bar area. One can draw up a chair and watch some magic being worked in the kitchen while imbibing in some wonderful concoctions.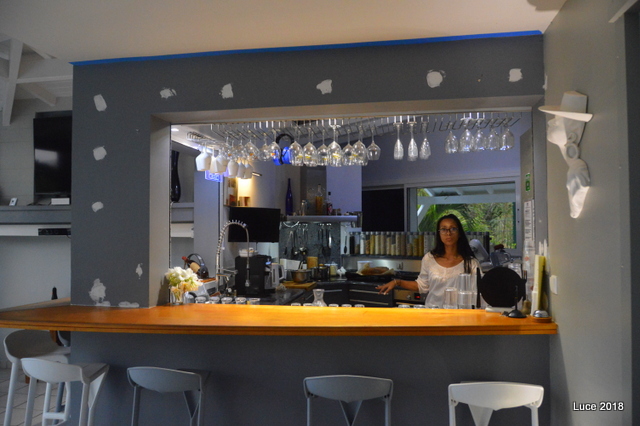 Our welcome drinks for this evening of deliciousness was a Kir Royale; JP.Chenet with a beautiful ripe raspberry sitting in the pink, so to speak!.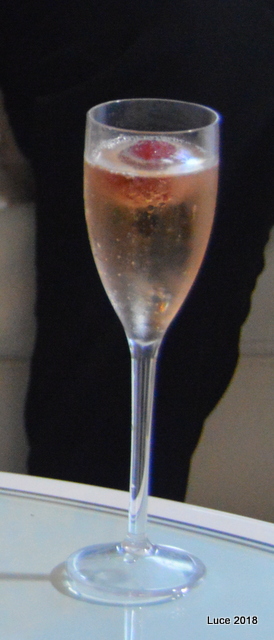 Accompanying this was an amuse of lobster, cucumber and lime with a cauliflower mousse. To say that our taste buds were tantalized is putting it mildly. The group, all nine of us, chatted amiably in the still, jungle-like evening; topped up with a tad more Kir we unwound from the cares of the day.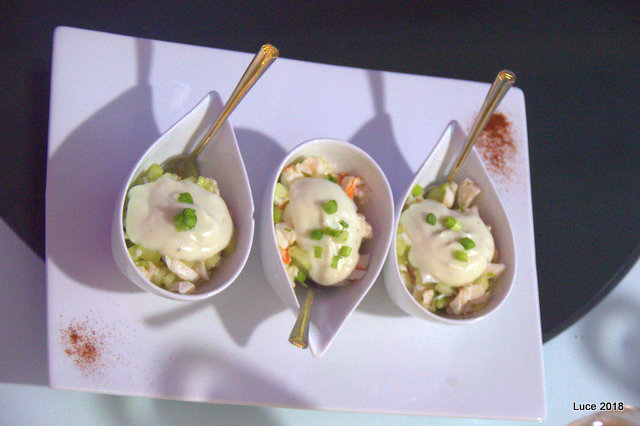 The dining table at Adam & Eve is a very unusual shape. Metal legs with a shattered-glass surface was simply set in keeping with the understated luxury. The first course of bright red gazpacho made quite an impact both in the contrasting colours and in the flavour. The soup, tomato based with finely diced veg (cucumber,) had two balls of ice cream floating in it. One was a celery sorbet and the other a goat cheese ice cream. This was accompanied by a crisply toasted slice of garlic bread.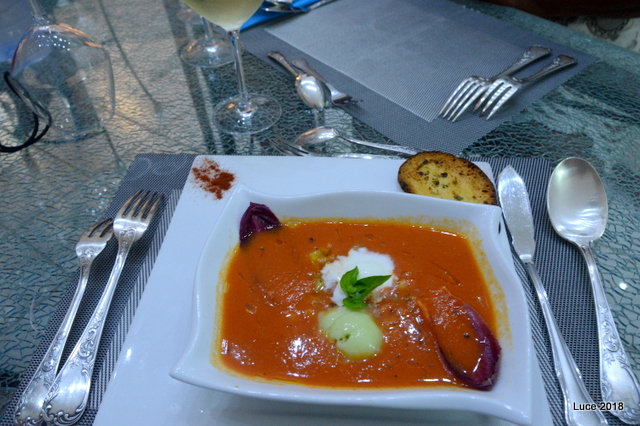 Does this sound a little odd, ice cream in soup? It was sublime to say the least. The hint of sweetness brought the layers of flavour right up to 5-star worthiness. A gazpacho lover I have not experienced this sublime way of serving before. Yes, goat cheese on garlic toast is an accompaniment I have had on several occasions, but sweet ice cream? Just perfect.
Our main course was lobster.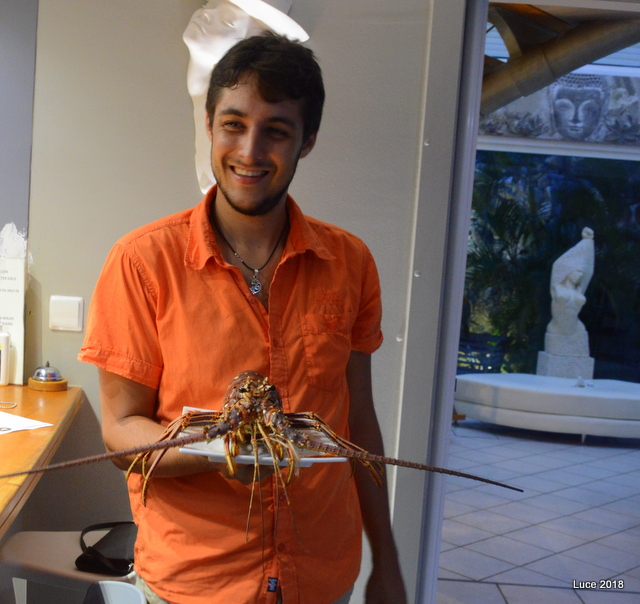 We met one of the lobster before the meal. He was a lively chap, so we knew these crustaceans were as fresh, as fresh could be. A whole lobster split down the middle was served with a small bowl of butternut mousseline flavoured with mint and ginger.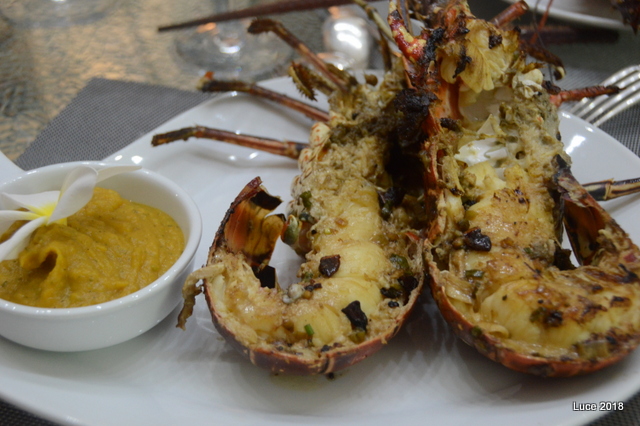 The sauce on the lobster was out of this world and again very different to any lobster flavoured sauce I have experienced. I did ask what was in it, besides the star anise butter I did not quite hear the rest of the ingredients. A good thing perhaps as I look forward to being served this again when I can try to guess the subtle flavours. No flavour overrode any of the other flavours, the umami was a perfect meld. The chef knows his oats! He knows how to wow his dinner guests. Sometimes chefs try to hard to impress, not Willy. He served confidently and certainly won through.
Beautiful and practical warmwater finger bowls were set on the table – just right for rinsing our crayfishy fingers.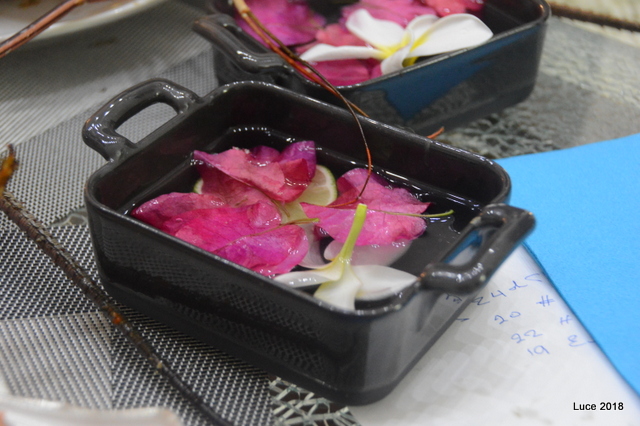 As you can guess, with the chef being an ice cream maker, dessert was ice cream. Several wee balls of the  ice cream and sorbet flavours he makes was served interestingly in an escargot plate with a small very fresh fruit salad on the side. Cape gooseberry, raspberries, kiwi, and mango slices with a dressing of granadilla (passion fruit.) I am not a great lover of ice cream but if I do find one I like I will devour it all and this happened with the lychee ice cream. The other flavours were strawberry, banana, rum and raisin, coconut, and chocolate with a hint of orange. This was accompanied with a slice of toasted coconut cake.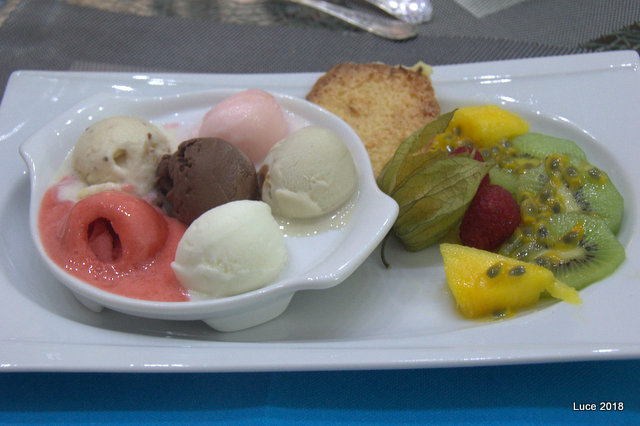 Fine wine, white and red, was paired with the meal. I only had the white as it was the perfect pairing for me.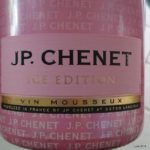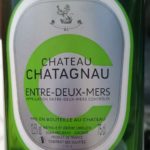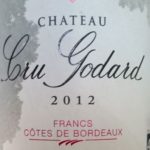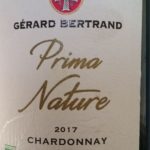 We were offered coffee and home brewed fruit rum (which cleared our heads with its potency.)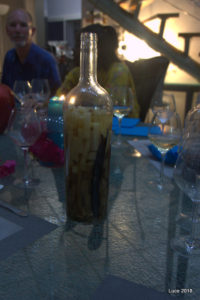 The evening, organized by Jeannie Shop n Drop, (here) is certainly one to be repeated.