Vegan dinner at Joga! (here)
An invite was sent out inviting us to enjoy a vegan dinner at Joga. In keeping with the philosophy of yoga and the lovely space Joga has for small group functions this was an eagerly anticipated event.
I went and thoroughly enjoyed eating a meatless meal.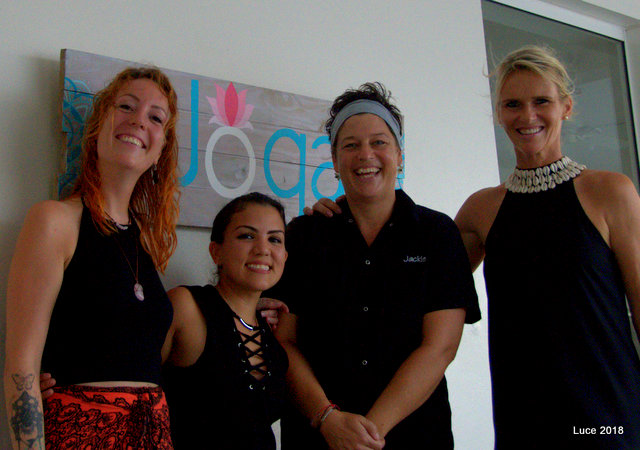 Now I am, admittedly, a carnivore, I love to eat meat, poultry and fish! I enjoy some veg and salads and can't imagine a life without fat, cream and butter. Once, going back quite some years, we used to go out for a steak at the steak house; a much looked forward to weekly outing. Then weekends we used to have braai's (BBQ's) with loads of meat and perhaps a potato cooked in the coals. During the week we would have many meals of fish – which we generally caught ourselves. The thought of eating an entire vegan meal just did not sit well.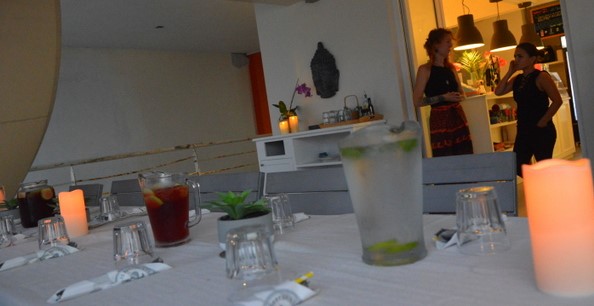 We have tried vegan meals and been disappointed. For some reason they were always spiced up or pretended to be what they are not. My gripe is also that the dishes are labeled in keeping with what is thought to be what canivores may like  – "vegan steak" or "vegan burger" – when a carnivore eats it one's entire being goes into shock as it is no more steak than it is some weird tasting …what?  When we have been served "mushroom steak" or "nut burger" as a carnivore we find the dish far more palatable.
Taste of the Sea, themed vegan dinner
The invitation to the Joga vegan dinner was one I really looked forward to because I had heard that the chef is very good. After attending a fairly recent vegan meal that simply did not make the cut I was eager to try her dishes. We were not disappointed at all.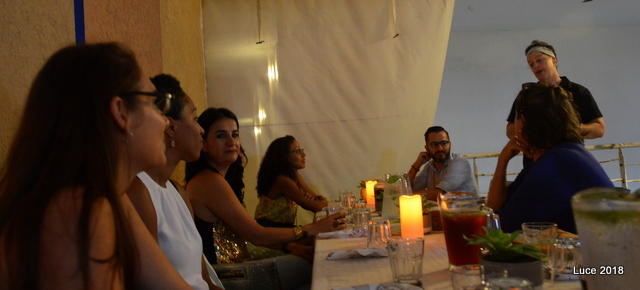 Chef Puur Jackie (here) certainly knows her stuff. We were presented with a menu that had the theme of the sea. Chef Jackie explained each course as it came out.
The menu had not a single bit of fish in it – it did have all the elements of salty, fresh tasting, briny, more-ish seafood flavoured dishes because this awesome chef knows that the flavours that go with the fish are what we hanker after. Lemon, seaweed, salt, crunch, soft, and importantly the visual aspect was in every dish she presented. She gave us a tasting menu that we could not fault. (Well, perhaps there were some ingredients that some of us are not that keen on anyways, vegan or not!) We did not miss the fish.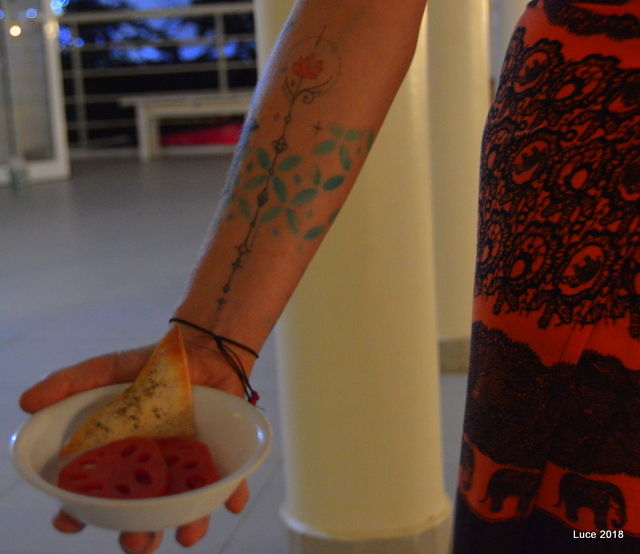 Dinner
The dining table was simply set for a group of about 20 guests. Jugs of fresh water and hibiscus water were placed on the table and a choice of red or white wine was offered. Wine should always be served in a nice wine glass, it makes even the simplest meals seem like an occasion.
First up was a soup.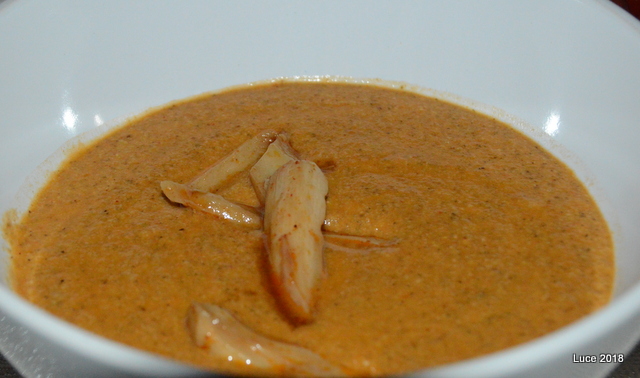 In keeping with the theme chef Jackie served a warm bisque that looked like it could be a lobster bisque but as she explained she has never had lobster bisque; her name for the nut-based soup with an oyster mushroom garnish was "Sea-bisque." It had a wow factor for sure.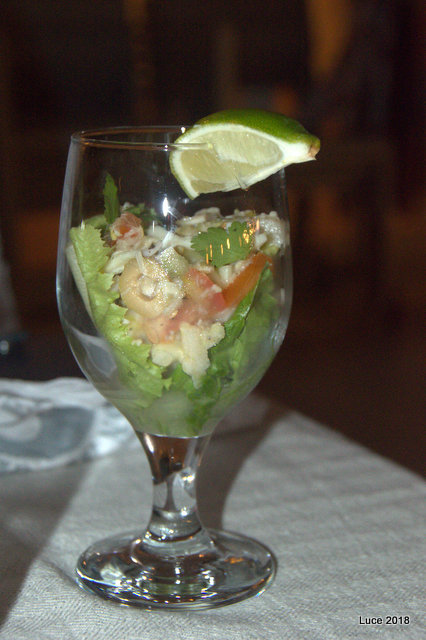 The next course was "ceviche."  Lemon "cooked" hearts of palm with the element of green olives on a bed of lettuce could quite easily pass for a seafood cocktail. I certainly did not miss the fish in the dish.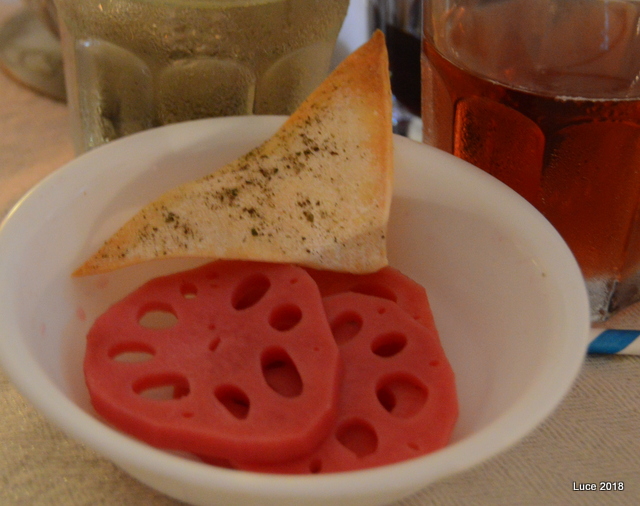 An amuse bouche of sliced lotus root pickled in beet juice made an appearance. The crackers were for the second course. These nori-dusted morsels were so good! I hope I can get the recipe.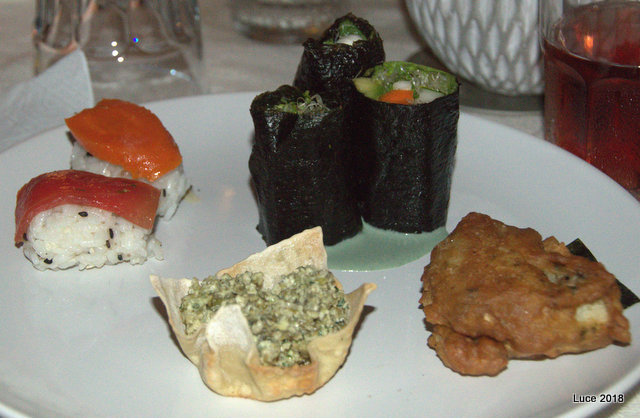 The main dish was a mix of textural elements comprising of sushi, sushi rolls, crispy pastry and tempura. The sushi rolls were fresh and crunchy nori wraps. The crispy pastry had a seaweed filling. The tempura was hearts of palm in a beer/chickpea batter. There were two sushi on the plate and these comprised of excellent sushi rice with a topping of smoked carrot (sublime) and watermelon. (Seriously???  Both were excellent substitutions. I believe that sushi establishments should offer these on their fishy menus.)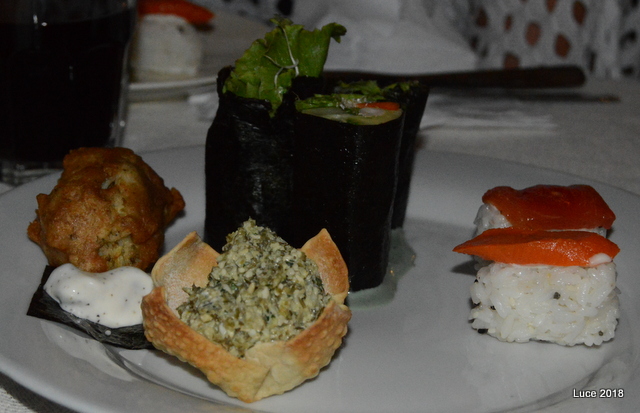 The dessert was indeed delicious. Individual salted caramel, almond, chocolate covered pies with a berry coulis.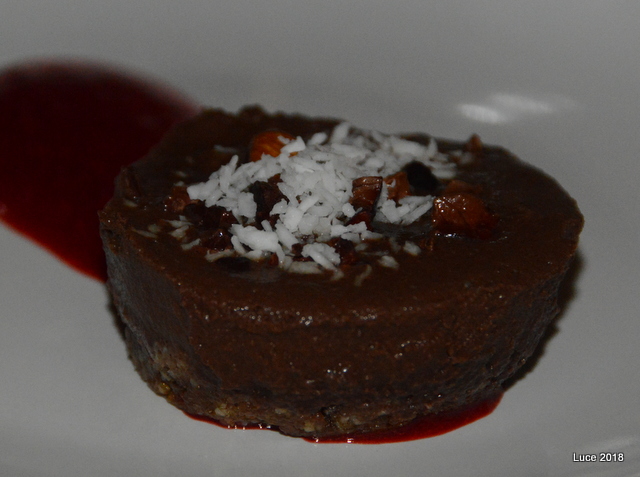 Future Plans
Next time Puur Jackie is the chef for a dinner at Joga take the opportunity to try an awesome vegan meal. You won't be sorry. The plan is for Puur Jackie and Joga to continue to hold themed vegan evenings every so often so keep tuned for their next dinner.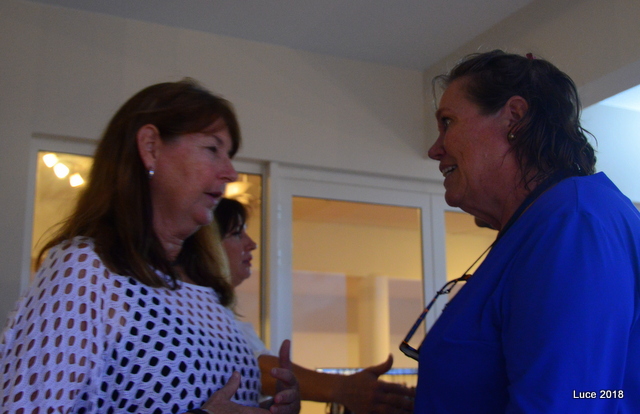 Vegans say that a plant-based diet can be healthy, varied and exceedingly satisfying. They are right. Eating vegan spares animals from being part of the human food chain.
I took a concentrated look at the weekly meals I serve these days, I see that we too are moving with the trend of eating less meat. Many of our meals are becoming more plant-based with some meat as a side rather than meat-based with a little plant on the side. We do follow the meatless Mondays too.
Puur Jackie (here)
Joga Simpson Bay (here)