Kedgeree – delicious Indian breakfast or brunch dish.

Oh my, I was in Super U and spied some delicious looking smoked haddock. Whenever I see this fish I think about my Gran and great aunts. They would have the family over for luncheon and the buffet table would be groaning with dishes that were so "Adult."  Kedgeree was one of them. Each aunt had their recipe version of this dish.
As I grew older my Gran would have me over for cooking sessions; yes, I loved to cook and had done since I was quite small, but Gran wanted to me to learn to cook some of those adult dishes. She used to say "My, dear, you never know when you may need to do all your own cooking. You need to have some dishes in your repertoire for those special occasions."
Kedgeree was not my favourite dish when I was young. I did not appreciate the complexity of the flavours.
Served today with some homemade tomato chili chutney it is a dish to put into the monthly menu.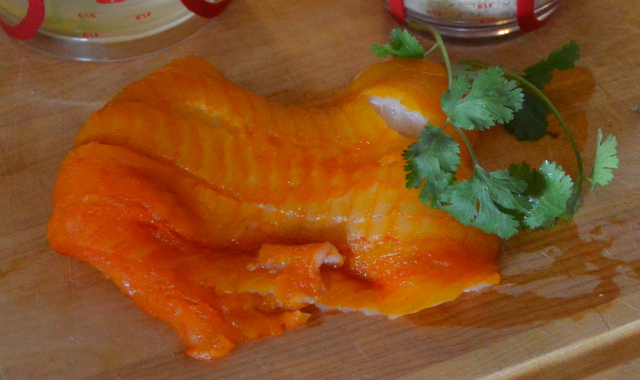 Kedgeree
Kedgeree is a traditional Anglo-Indian dish breakfast/brunch dish of cooked, flaked smoked haddock, boiled rice, parsley, hard-boiled eggs, curry powder, butter or cream (some recipes also suggest sultanas although these are not a favourite of mine, so you will not find them in any recipe I may make.) Haddock is a mild white fish; when smoked, it can be eaten as a main dish, or it can be added to quiche, soups, salads and chowders.
Preserving Fish
There are a couple of ways of preserving fish. One way is to keep it on ice in the freezer and of course it should always be kept chilled by refrigeration as it does go off quite quickly. Smoking of fish is done for the unique taste and flavour imparted by the smoking process. The traditional way of smoking is to hang the fish in a smokehouse over slowly smoldering wood shavings. Left overnight the fish will be infused with smoke giving it a rich, intense flavour.
Haddock
Haddock is a very popular food.  The fish is sold fresh, smoked, frozen, dried, and sometimes one can find it canned. Fresh Haddock, Atlantic cod and plaice are some of the most popular fish used to make true British fish and chips. Fresh haddock has clean, white flesh and can be cooked in the same ways as cod.
Smoked haddock is not that easy to find on island. I found some at Super U. Some smoked haddock is quite "tanned," occasionally the stores do carry smoked haddock without the dark golden glaze (un-dyed)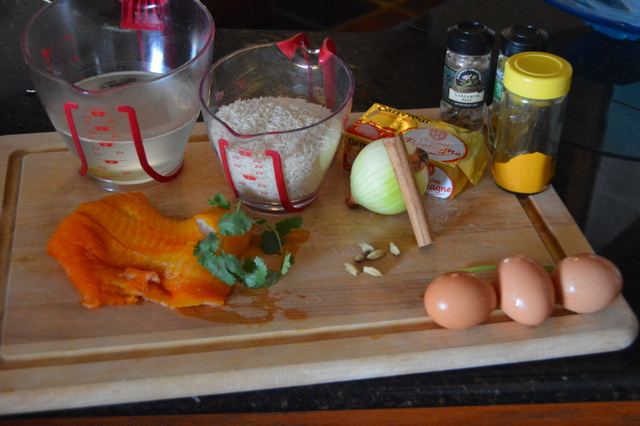 Kedgeree 
Fresh coriander was not freely available when I was younger, parsley was used instead.
Ingredients
50g butter
1 medium onion, chopped
3 cardamom pods, split open
¼ tsp turmeric
1 small cinnamon stick
2 fresh bay leaves
450g basmati rice, soaked in fresh water for 10 mins
1¾ pints fish stock or chicken stock
750g smoked haddock fillet (un-dyed if you can find it)
3 eggs
3 TBL chopped fresh coriander (or parsley)
1 lemon, cut into wedges
Method
Take the skin off the haddock and poach the fish in milk or coconut milk to just cover, about 4 mins.
When cooked taste the liquid, if the milk is not overly salty you can add this liquid to the stock when cooking the rice. If it is very salty – toss!
Set the fish aside, check for bones and flake.
Melt butter in a large saucepan, add onion, cardamom pods, turmeric, cinnamon stick and bay leaves. Stir well and cook until onions are translucent.
Tip in the rice, stir until well coated in butter.
Pour in stock, (add a pinch of salt if you feel it is necessary,) bring to the boil.
Stir well, turn down the heat to simmer, cover with a close fitting lid.
Leave to simmer for 12 minutes.
Hard-boil eggs for 8 minutes, then peel and quarter.
Flake fish, discard  bones.
Remove bay leaves, cinnamon stick and cardamom pods.
Fork flaked fish into the rice with the sliced eggs.
Gently stir in almost all the coriander (parsley)
Serve garnished with lemon wedges.